Let's face it — building brand awareness isn't the easiest task for a marketer. Trying to be a big voice in a field of so many is nothing short of difficult.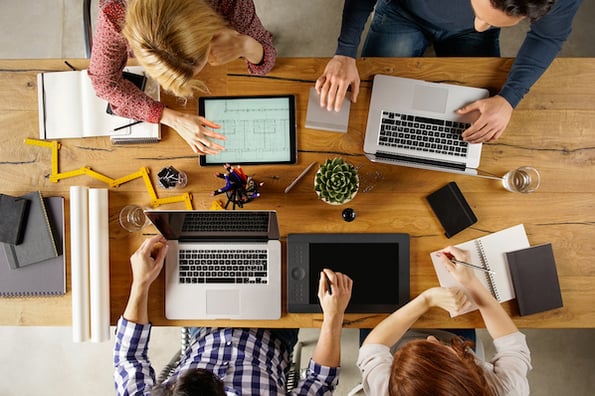 That is where public relations comes in.
Ultimately, the goal of public relations is to maintain positive communication with the world, and ensure your brand image represents your company's core values and offerings.
Of course, PR is easier said than done, particularly when you're trying to resonate with global audience. That's where local PR comes into play.
Those who are struggling with fostering brand awareness should look into the opportunities local PR can give them. As a more cost-effective route to spreading the word, local PR gives businesses repeat consumers in an accessible area and a chance to broaden coverage to the national level.
It's a good idea to look into leveraging some local PR if you find your business struggling to expand reach and generate leads. Instead of focusing on a broad campaign, however, local PR is a chance to tailor that campaign close to home, boosting its impact among your local community.
Here, let's explore the benefits of local PR, as well as some examples of brands that have successfully implemented local PR, so you can consider whether it's a good idea for your own marketing strategy.
Local PR
Local PR is about building brand awareness and creating positive and engaging customer relationships within a business's community. Local PR takes all of the aspects of public relations, such as maintaining a good brand image, and focuses it at the community level.
For instance, global PR campaigns have an impressive amount of potential reach, but language, budget constraints, and other factors can limit how it will resonate with an audience.
With local PR, businesses can build brand loyalty within their own community. Additionally, creating lasting relationships with local media outlets can lead to positive future press.
As you build relationships, keep your contacts organized in a free CRM like HubSpot so you can effectively follow up in the future.
Think of travel sites that host roundups of the top local spots to visit in big cities. Businesses with a close relationship with local media outlets that cover local spots would have a good chance of earning this exposure over a business that doesn't connect with local media.
Local PR comes with its own set of unique benefits: it's easier than a national campaign, less expensive, and targets physically-accessible customers.
A brand can really tailor its image through local PR and share a local story within a community to which its residents can connect. After all, part of public relations is how businesses communicate with people.
For a broad scope, this guide is an excellent resource for all things public relations. For inspiration with local PR campaigns, let's explore how three brands used local PR to resonate with their local communities
Local PR examples.
Take a look at how some brands, large and small, are making impacts locally. Through local PR, they've earned positive press and strengthened community ties.
These are only a few examples of local PR — more incredible public relations examples are listed here.
1. General Mills
Global manufacturer General Mills (products include Cheerios, Lucky Charms, Cinnamon Toast Crunch, and a number of other household breakfast cereals) provides grants every year for educational programming in Minneapolis, Minnesota.
The Hometown Grants are how Minneapolis-founded General Mills gives back to its community. Every year, the company picks a program or non-profit delivering educational experiences about hunger and food insecurity to the area and sponsors it. The grant also focuses on providing resources to the public K-12 schools in the area.
A company that is globally revered, such as General Mills, could have a hard time keeping positive relationships with local programs and offerings. However, with their grant program, they can continue to build those partnerships and improve their community.
2. Veggie Galaxy
One of my favorite places to eat here in Boston is a diner called Veggie Galaxy. The restaurant has won rave local reviews and even lends its space for Bitcoin meetups every Monday night.
Having the space to host local events or meetups helps build positive relationships around the community.
3. True Crime Obsessed
The first live podcast on Broadway will be performed on June 1st, 2020, at Hayes Theater in New York. True Crime Obsessed is a podcast about all things related to true crime documentaries, based and recorded in New York.
In anticipation of the Broadway announcement, the hosts of the podcast did an interview with New York-based Broadway site Playbill to promote their show.
Being the first podcast to perform in a Broadway theater is a national story, but doing press with a local, Broadway-connected site turns the national story into one with local scope. So, not only is the podcast building a relationship with Broadway and its press, but it is also framing the event on a national level, building more press for the engagement.
Now, let's talk about some quick strategies to get started with local PR.
Three strategies to get started with local PR
1. Find the Local Angle
Finding the local angle to your news that might only have national appeal is one way to connect your brand to local PR. Maybe you donate to a business in the community or only manufacture within your area. Having that local angle helps your brand appeal to the local press, as well.
2. Host Local Events
Alternatively, participating in local events held by other local businesses offers amazing networking opportunities. Even if the connections are with others outside of your industry, like Bitcoin is for Veggie Galaxy, there's always the possibility for future collaboration. Who knows, your next event might be held at a vegetarian restaurant, too!
3. Use Local PR for More Exposure
Another great time to incorporate local PR is when partnerships are being looked into. Local PR helps brand image around its community first, opening the door to more expansive coverage.
Sometimes leveraging local PR is a great springboard for gaining broader attention and finding a national angle. Other times, local PR earns you great ground in the community that surrounds you.