The way we ask for recommendations has evolved.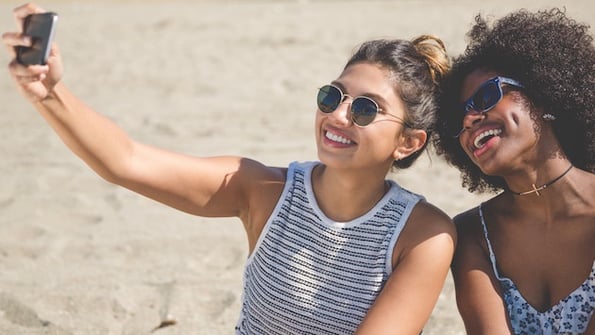 Whereas once upon a time we may have asked a neighbor to recommend a product or service, 47% of millennials now turn to social media for recommendations and reviews before deciding on a purchase.
But these consumers aren't always going to the social media accounts of brands. Much of the time, they're visiting the profiles of a special breed of social media personalities: influencers.
Consider this: Close to 40% of Twitter users alone have made a purchase as a result of influencer marketing -- and that's excluding the influence, if you will, of personalities on other channels, like Instagram.
And when we think of influencers, for many of us, A-list personalities and celebrities come to mind. Take Kylie Jenner, for example, who helped catapult the brand Fashion Nova into a favorite online retail brand.
Sure, celebrities might significantly help boost your sales and achieve your marketing goals. But let's face it: most of us can't afford their price tags. After all, it's reported that Kylie Jenner gets $400,000 for a single promotional Instagram post.
The good news is that marketers and startup business owners now have another option that will allow them to tap into the power of influencer marketing without putting their ROI in jeopardy.
This option comes in the form of a unique group of social media users collectively known as micro-influencers.
What Is a Micro-Influencer?
Micro-influencers are social media users -- unlike typical celebrities, experts, or public figures. They're individuals who work or specialize in a particular vertical and frequently share social media content about their interests. Unlike traditional "influencers," micro-influencers have a more modest number of followers -- typically in the thousands or tens of thousands -- but they boast hyper-engaged audiences.
Why Use Micro-Influencers?
At first, opting to use micro-influencers for your marketing campaign may sound counterintuitive. Would it be more beneficial to tap an influencer with millions of followers, as opposed to getting a micro-influencer with just a few thousand followers?
Not necessarily.
That's because when it comes to influencer marketing, the level of engagement is more crucial. It is one of the key metrics that will help you gauge the effectiveness of your influencer marketing campaign.
In a study done by Markerly, a converse relationship was discovered between the number of followers an influencer has, and the level of engagement each post gets. In other words, as the number of followers increases, the engagement rate decreases.
In its own study, Expercity found that micro-influencers not only generate 22.2X more conversion than the average social media user, but that 74% of them are rather direct in encouraging their followers to buy or try a product or service they're endorsing. That communicates credibility and transparency, which can help to build a loyal following.
Cost is another reason why many brands are now turning to micro-influencers. According to a study done by Bloglovin', 97% of micro-influencers charge $500 and below for a sponsored post on Instagram.
Source: Influence
Additionally, 87% micro-influencers charge $500 and below for a sponsored blog post.
Finding the Right Micro-Influencer for Your Business
With so many micro-influencers out there, it's no surprise that 73% of marketers point to finding the right one as one of their biggest challenges.
Source: Econsultancy
Of course, you can choose to hire an influencer marketing agency to help you find the right micro-influencers for your campaign. But if you want to be more hands-on in finding the right micro-influencer, here are seven questions you'll need to answer very carefully.
1. What are your goals?
The first thing to consider when finding the right micro-influencer is to look at what you're aiming to achieve. Do you want to generate more leads for your business? If so, look for micro-influencers that frequently host contests or giveaways on their social media accounts -- especially if they involve encouraging their followers to sign up in exchange for free trials, products or access to an exclusive event.
2. Who are the micro-influencer's followers?
When reviewing the followers of the micro-influencer you want to reach, look at to how well they align with your brand's buyer personas. Some of the things to consider are:
Where are the majority of the micro-influencers' followers based (geographically)?
Are they mostly male or female?
Which type of posts resonates with them the most?
3. Is the micro-influencer already a fan?
Working with a micro-influencer that's already using your product or service has several benefits. For starters, he or she might already be posting about your company and products -- so a partnership is more natural and appears more genuine to followers.
Also, micro-influencers who are fans of your products and brand are more likely negotiate lower fees. Some may even be willing to collaborate with you in exchange for some free products or services.
One way to find these micro-influencers is to perform a general search for blog posts mentioning your brand. Since Google ranks sites based on content quality, there's a good chance that the first two or three results belong to a micro-influencer in your niche.
Another is by using a tool like Gatsby.ai (which has an integration with HubSpot) to your website. Gatsby helps you search through your customer database for micro-influencers that have bought your products, and help you quickly retrieve their information so that you can reach out to them.
4. How engaged is the micro-influencer's audience?
As I mentioned earlier, a micro-influencer's engagement rate is one of the key metrics that will help you determine the success (or lack of it) of your influencer marketing campaign.
Review the social media accounts of the micro-influencer to see how many likes, comments, and shares each post gets. Although likes are good, I often recommend that my clients focus more on the number of comments and shares a post receives. That's because it requires more effort for a follower to leave a comment on or share a post than it is to click on the like button. Often, followers will only leave comments when they find the post compelling enough for them do so.
5. What kind of content does the micro-influencer produce?
Micro-influencers create their posts based on their own brand and image they want to convey to their followers and compare this against the image you want your audience to associate with your brand. There must be alignment between your perceived brand image the micro-influencer's, in order to ensure that the posts he or she creates for you don't look like a mismatch. Followers tend not to appreciate that -- after all, they follow this micro-influencer for relevant content.
6. Are they working with your competitors?
If you're seriously considering using influencer marketing, there's a chance that your competitors are also doing the same. Take some time to review the posts of the micro-influencers you want to work with, and see if they've worked with any of your direct or indirect competitors.
If so, how did the audience respond to the post? Was there anything mentioned by the micro-influencer about your competitors' products that you can leverage?
7. How many platforms do they use?
Although 80% of micro-influencers point to Instagram as their preferred platform for creating and publishing content, many of them are equally active on their own blogs and in other social media channels. Some even have access to traditional media like TV and magazines. The more platforms a micro-influencer can use to promote your content, the better for you.