UCLA scientists found that sixth graders who went five days without using a smartphone or digital screen were better at reading human emotions than those who stayed online. As evident by UCLA's study, offline communication is critical for maintaining relationships.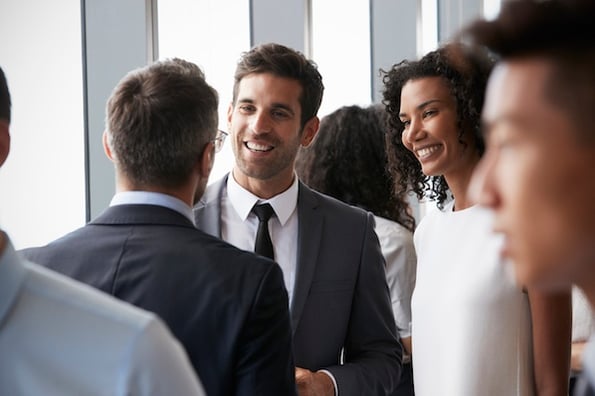 In business, nearly 100% of people say face-to-face meetings are essential for long-term relationships. However, most business interactions exist primarily online.
Online communities can create meaningful connections that lead to long-term relationships -- but if you only have conversations online, you risk losing that personal touch.
If you want to have more personal interactions with your customers, it might be time to add a human touch to your marketing by turning email flows and comment chains into offline communities.
At Typeform, we host Meetups with industry experts to connect people with similar interests, and to elaborate on topics relevant to our product. If you want to host events for your own customers, you have a ton of options.
To create a more well-rounded marketing strategy, let's dive into the benefits of offline marketing communities and consider how they can sync up with your online methods.
1. Align your offline community with your company's mission.
Every successful business has a purpose and something unique to offer. So if you want to create a successful offline community, figure out how you can create an event centered around something that nobody else offers.
If you're not sure where to start, ask your customers. Consider sending out a survey, or reach out to them on social media. Ask them: What do they come to you for? What do they like about you? Why do they choose you over your competitors?
Of course, your product or service won't appeal to everyone. But to foster a successful offline community, you'll need to bring people together who truly believe in your business and what it stands for.
For instance, Product Hunt recognized that giving its early adopters special status and connecting them with each other was a powerful way to drive growth.
The company began hosting happy hours and offline events to bring together their product users in real life and build a sense of community. By listening to this group of dedicated customers and delivering value, Product Hunt went from 40,000 to 400,000 users in the span of four months.
2. Determine a goal for your event.
What do you want to achieve with your offline community? Whatever your goal, it should tie into your brand and your online marketing objectives. It should also be tailored to your business' target audience.
If you're hosting events, make sure the events have a clear purpose that's obvious to attendees.
Clearly outline what your attendees can expect to get from the event -- will you provide networking opportunities, insight from industry experts, or is the event just for fun. Rather than considering what's in it for you, take the time to contemplate what's in it for them.
Whatever incentive you provide, map out how it will bring people closer to your company, and how it'll encourage them share your company values with friends and coworkers.
Hootsuite's member-organized workshops are a fantastic example of this. They have a clear educational purpose that offers people a reason to engage with their brand. The events are free, and they bring together people who are passionate about social media.
People can network and get industry insights -- all while learning more about the Hootsuite app.
3. Decide on a location.
Offline communities can reinforce loyalty in places where you're already popular, or boost brand awareness in more uncharted territory.
Wherever you choose to host your event, make sure you understand the local community.
Take inspiration from local businesses to see which issues they're promoting. Once people know you care about the same things, you'll be able to create a grassroots community that is loyal to your brand.
For instance, the Orlando City Soccer Club organized a scavenger hunt on social media by hiding three pairs of tickets across their home city. Then, they linked the real life search to their online communities using Periscope, Twitter, and Instagram to offer clues on how fans could find the tickets.
4. Encourage your customers to organize events.
If your business is running on a tight budget, you might not have the resources to organize an event. So why not encourage your loyal customers to run their own?
If your product or service is good enough, people will want to share the experience, and your following will grow organically -- both online and offline.
There's no marketing tool more powerful than your own customers.
Take kitchen appliance Instant Pot, for instance. Their product is worshipped by online communities, with fans setting up their own Facebook Groups. This has inspired offline communities who meet to swap recipes, and even Instant Pot cooking classes for students.
5. Avoid a hard sell approach.
You'll want to think of offline communities as another channel that targets the top of the marketing funnel. Instead of centering these communities around selling your product, make it about giving back to the community or offering a unique service -- even better if it's free.
Creating a face-to-face, human connection is key to getting people invested in your brand. If you offer a positive human interaction that really connects with people offline, then they're much more likely to want to engage with you online.
Grain Surfboards hosts events that teach people how to shape their own surfboards. The workshops don't focus on selling, but instead on creating a community of like-minded people who are interested in making their own surfboards.
These events drive sales during the classes themselves, and also serve as a powerful brand awareness tool. After a surf student leaves a class, Grain will be top of mind next time they run out of board wax.
6. Make your offline and online communities talk to each other.
Bringing online and offline communities together works in two ways.
First, you can reward your loyal online community members and customers with exclusive access to your offline events, such as:
Early registration
Discounts on ticket prices
Special members-only events
Additionally, you can provide your offline event attendees with special access to online communities, events, or perks. This will help you build a holistic community.
By forming a deeper relationship with your customers in this way, they're more likely to respond positively if you ask them to leave a review, share your content, or take a survey.
7. Moving forward: building a community that scales.
A community is a powerful thing. When people feel like you care about them, they care more about your business.
But any community must be able to scale to succeed. Once you've put in the hard work to build strong relationships offline, you need to make those people advocates of your brand. You need to empower them to spread the word through their own communities to get your name out there.
HubSpot does this with their global HubSpot User Groups, HUGs. HubSpot users can apply to become HubSpot Agency partners, who lead local user groups. Each meeting is by users and for users, and covers themes related to marketing, sales, or services, with industry experts.
This provides an emotional connection that endures both online and offline.
Connecting like-minded people with groups like these is the foundation of healthy offline communities.
An offline community represents a loyal following of people who are emotionally invested in your product. While an online connection to your company needs a good WiFi signal, emotional connections endure far beyond the limits of a laptop screen.