Companies are increasingly turning to software suites that can help them streamline their work processes, organize data, and boost productivity.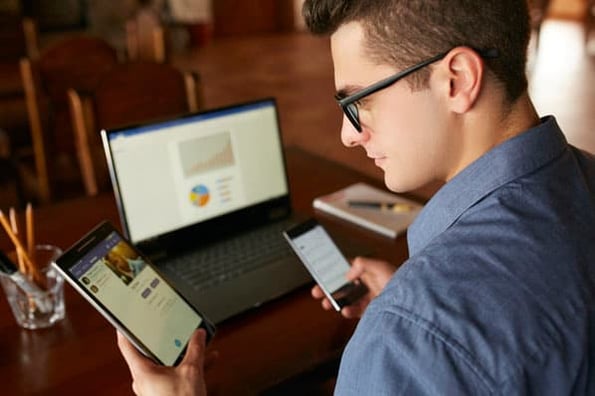 Even back in 2017, 83% of enterprises were using Microsoft Office's software suite to due daily tasks like managing email, writing reports, building spreadsheets, and presenting slideshows. Since then, other software suites like G Suite, which now boasts over five million paid users, have gained steam.
Although many people might interact with suites on a regular basis, some may still be asking, "What is a software suite?"
What is a Software Suite?
A software suite is a collection of applications and computer programs that have similar user interfaces and integrate with each other. They are also often owned by the same brand.
Also called an application suite, software suites are different from standalone applications because they are a group of apps that link together to create an overarching experience for the user.
Software suite users can often access all of a suite's apps from a desktop app or through a web portal. For example, Adobe Photoshop is a photo-editing software within the Adobe Creative Suite. Those subscribed to the suite may also gain access to other apps like InDesign or Illustrator.
Currently, some of the most regularly used suites are built for productivity. Many also use cloud technology to store documents and data.
To help you determine if using a software suite is right for your company, here's a list of six commonly used examples.
Software Suite Examples
HubSpot Enterprise Growth Suite
Microsoft Office 365
Google G Suite
Apple IWork
Adobe Creative Suite
Apache OpenOffice
Cost: Varies based on user numbers
For the more established business, HubSpot's Enterprise suite includes HubSpot's Marketing, Sales, and Service Hubs. Customers can also choose to just invest in one or more of the hubs without taking on the full Enterprise suite.
To get more acquainted with the HubSpot software before making a big purchase, the company offers its Customer Relationship Manager, or CRM, for free. With this tool, you can manage customer contacts, track customer activity, and learn more about how the Enterprise Suite's tools might help your company.
Cost: $5 per month/user (Business Essentials), $8.25 per user/month (Business), $12.50 per user/month (Business Premium)
Microsoft Office was one of the first software suites of its kind. Now branded as Office 365, it holds Microsoft Word, Excel, Outlook, and PowerPoint. Those who purchase the Business or Business Premium subscriptions can also opt into other 365 services like Exchange, Teams, and Sharepoint.
When multiple employees are using Office 365, they can also share documents the create to one shared cloud, called the OneDrive. This feature is available on all versions of the suite.
Cost: $6 per user/month (Basic), $12 per user/month (Business), $25 per user/month (Enterprise)
Google's G Suite is an alternative to Microsoft Office. It is mainly based online and includes Gmail, Google Sheets, Google Slides, Google Docs, and a number of other productivity tools. Data and documents are saved instantly in Google Drive and can be easily shared with other coworkers that have access to the suite.
The suite also offers simple peer editing and comment features, as well as integration opportunities with other office applications like Slack.
G Suite is quickly getting accepted in the office world because of its price, an easy-to-use interface, live editing, and document sharing features.
To learn more about how you can use G Suite to your advantage, check out our ultimate guide.
Cost: Free for all Apple users
IWork is Apple's response to Microsoft Office. IWork's suite comes with all Mac computers and devices. It includes Pages for writing and reports, Keynote for presentations, and Numbers for spreadsheets. Apple also offers its users some initial free space on its cloud, which can be increased for a price later on.
When using applications in IWork, all of the interfaces are clean, simplistic, and easy to understand. Projects created with any of its applications can also be converted to Microsoft formats.
IWork also allows you to create documents that have a sleak, Apple-styled design. Pages, Keynote, and Numbers offer a wide-variety of templates and design options.. While this is also a benefit on Office 365 templates, it seems to be embraced more heavily on IWork apps.
Cost: $79.99 per user/month (Creative Cloud), $109.98 (Creative Cloud + Adobe Stock)
This suite is specialized for those working in design, video, and photography. It includes a number of well-known Adobe programs including Photoshop, Illustrator, InDesign, and After Effects.
Users can subscribe to the apps individually or in a bundle. Once users make a purchase, their apps can be accessed and downloaded through the Adobe Creative Cloud website or desktop application.
Users can save projects and data to Adobe's cloud so that multiple users can work together on one document and share large files without hassle.
Video Embed: https://www.youtube.com/watch?v=V4VCTB2Pyio
Cost: Free
For those in small businesses or students with a low budget, OpenOffice offers a similar, free suite to Microsoft and G Suite. Users can use the suite's applications to make documents, spreadsheets, and slideshows. It does not seem like OpenOffice offers the same cloud storage and sharing options that the other office suites include.
Although OpenOffice has an old-school interface and isn't as intuitive as the other suites, users can save files to a variety of different formats that will be openable with other software. For example, documents can be saved in Pages or Word format so that someone with IWork or Microsoft Office can view and edit them.
Things to Consider When Choosing a Suite
Whether you're switching software suites, or choosing one for the first time, be sure to consider these factors:
Cost: How many users will you need to pay for and how often do you wish to pay?
Functionality: What are the main tasks that a suite could help you with? Will you use it for creating documents and traditional office tasks, or for audio or visual tasks?
Necessity: Do you really need all the applications in a suite, or just a few?
Data: Would you prefer to share and store data via a cloud service or through other means?
Adoption: How quickly will your company adapt to the suite? Will they need training for any of the applications that they'll need to use?