Imagine you could wave a magic wand and magically improve one part of your workday.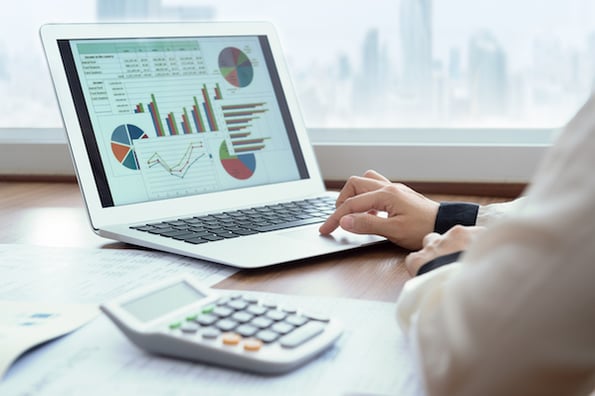 What would you choose?
Would you wish for more hours in your day? Or would you wish all the items on your to-do list be magically marked as complete?
For many, they'd like to achieve more during their workday. Oftentimes, we're left wondering where the day went and the empty checkboxes on our to-do-lists outnumber the ones we've marked as done.
It can be challenging to manage all of the tasks and goals you've set for yourself. Luckily, there's productivity software that can aid you in these day-to-day tasks.
What is productivity software?
Productivity software helps you manage your activities so you can produce work effectively and efficiently. The primary goal of these tools is to make it easier to manage the tasks you need to tackle in your workday.
The definition of productivity is, "the quality, state, or fact of being able to generate, create, enhance, or bring forth goods and services." Productivity can take many forms. You might be generating a piece of content for your salespeople or working on a project to launch a new product. No matter what you're creating, productivity software enables you to complete it.
Productivity Software Definition
Productivity software is an application that allows individuals to create items like documents, presentations, projects, designs, and charts. Examples of productivity software include organizational tools, presentation software, word processing programs, design programs, spreadsheet tools, and more.
With productivity software, you can organize your work tasks and get more done. Here are some of the best productivity software options you can use.
Best Productivity Software
HubSpot Free Sales Tools
Todoist
G Suite
Zapier
ClickUp
HelloSign
Slack
Toggl
Fellow
Price: Free
HubSpot Free Sales Tools provides salespeople with time-saving tools to help tackle their workday head on. These tools help them manage contacts, deals, and tasks. The email templates and scheduling tool make sending prospecting emails simpler and quicker. Plus, they can track the emails they send to see when prospects receive and open the messages, which helps you time your next outreach. And they can send the prospect a meeting invitation when the time is right.
Price: Free (Todoist Free), $4/month billed annually (Todoist Premium), $5/user/month billed annually (Todoist Business)
Do you have more tasks than you can manage? Todoist can help you get on top of them. You can quickly add your tasks, map out your projects and goals, and get reminders for deadlines. And it integrates with other applications you use to accomplish your tasks. You can access your list from your computer, phone, or tablet with Todoist's apps. It helps you stay on task and measure the progress you're making towards your goals.
Price: $6/user/month (Basic), $12/user/month (Business), $25/user/month (Enterprise)
G Suite is a collection of tools (e.g., Docs, Sheets, Forms, Slides, Sites) that allow you to create documents, spreadsheets, slide presentations, and more. Each piece of content can be shared with collaborators so multiple people can work on a presentation, modify a report, or edit a resource or whitepaper. Other tools in the suite, like Gmail and Calendar, provide a way to communicate effectively with coworkers and external contacts.
Price: $0 (Free), $20/month billed annually (Starter), $50/month billed annually (Professional), $125/month billed annually (Professional Plus), $250/month billed annually (Teams)
Zapier is a productivity software that connects all the tools you use during your workday. Its key feature is automation which speeds up the tasks that might have previously been done manually. You can connect the apps you use on a daily basis (e.g., CRM, Gmail, Slack, Trello, Asana) to create workflows that automate your tasks and allow you to scale your productivity.
Price: $0 (Free), $5/user/month (Unlimited), $12/user/month (Business), $19/user/month (Business Plus), Custom (Enterprise)
ClickUp is an all-in-one productivity platform designed to manage everything from your daily to-dos to complex projects like your business' entire workflow. ClickUp has powerful customization abilities and feature-rich experience to optimize processes, monitor updates, and work together in one place. Visualize your tasks in over 15 ways like List, Gantt, and Calendar, then use ClickUp's global timer and real-time reporting to keep efficiency at the forefront of everything you do. With hundreds of flexible tools, drag and drop functionality, and over 1,000 integrations to streamline your workflows, ClickUp can maximize productivity.
Price: $0 (Free), $15/month (Pro), $50/month (Business), Custom pricing (Enterprise)
HelloSign makes it easy for you to send forms and contracts to your contacts so they can sign with an e-signature. This productivity software connects with other apps like Gmail, GSuite, Dropbox, etc. which simplifies the process of sending documents to sign. Documents can be quickly sent to contacts, signed, and returned back to you.
Price: $6.67/active user/per month billed annually (Standard), $12.50/active user/per month billed annually (Plus), Custom pricing (Enterprise)
Speed up your internal communications with Slack. Instead of creating a lengthy email thread to get an answer to a question, start a Slack message with the individual you'd like to talk to. It makes it easy to reach colleagues and collaborate to complete projects.
Price: $9/user/month (Starter), $18/user/month (Premium), Custom pricing (Enterprise)
If you need help identifying where most of your time is spent on a given day, Toggl will come to the rescue. This time tracking tool allows you to analyze your day-to-day, evaluate where the most time is spent, and make adjustments to increase productivity.
Price: $0 (Free Trial), $5/per user/per month (Pro), Custom pricing (Organizations)
Fellow is a time management software that aims to increase meeting productivity. The tool comes equipped with meeting agenda templates, allows team members to assign tasks after a meeting, and enables feedback on work in real-time. It also allows teams to invite external guests to access meeting notes and action items. You can integrate Fellow with the other tools your team might already be using, like Slack, Asana or Google Drive.
With productivity software, you'll be able to get more done during your workday. Looking for more productivity resources? Check out this voice-to-text software to help you work faster next.