Around here, we give a lot of thought to the question, "What is the business case for VR?"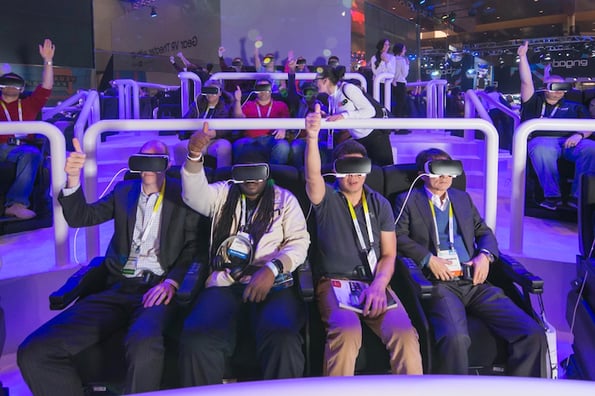 Last week, I had a chance to attend VRX -- an annual virtual reality (VR) industry conference and expo, where I was able to hear insights and reflections on the state of VR -- and where it's going next. On day two, the focus shifted to this question.
We've written about success stories with this still-emerging, immersive technology -- about experiences that could make even the biggest VR skeptics a bit of envy, about what it was like when our own team had a chance to play around with a VR headset, and about potentially game-changing hardware.
And yet, the question for many still remains: How is VR really going to benefit me, my business, and my customers?
Here's what the experts have to say.
Removing Barriers and Distance
Anjney Midha is the co-founder & CEO of Ubiquity6: an augmented reality (AR) platform with a mission to build experiences that bring people together in an immersive (albeit digital) way.
And when it comes to making the case for AR or VR, he said at VRX, the emphasis should be on an experience "that doesn't isolate you [and] allows you to interact with the world and people around you."
It's something that Midha said occurred to him when he become a student in the U.S. after growing up overseas. Now, that distance is one of the most compelling points in the case for VR: to remove barriers and distance between friends, family, and colleagues.
"Can you bring the people I care about," he asked, "into the spaces I care about?"
As a growing number of workplaces are adapting to remote employees, the idea of building a virtual workforce becomes more prevalent -- of creating an immersively digital environment where those who work elsewhere can meet and collaborate with colleagues in a way that makes it feel like they're in the same room.
"The jump from conference calls to video conference calls was a huge leap that allowed us to pick up so much context from watching someone's facial expressions, but video conferencing has struggled to scale that interaction," says HubSpot Senior Marketing Manager Janessa Lantz, who's also a fully remote employee. "Where I see the potential for VR to impact my day-to-day would be to make large meetings more closely mimic real life."
That more natural approach to conversation and collaboration could be one thing that allows for a more immersive, virtual workplace.
"It's nearly impossible to run a good meeting with a big group of people on a video call," Lantz says. "The audio makes conversation awkward and you lose so much relational context by not physically sharing space."
It's that idea of a more immersive, virtual community that feels more natural -- whether professional or recreational -- that many businesses within the VR industry, like Facebook-owned Oculus, see as an end goal.
"We're all really interested to see how Oculus Quest changes not only how people play games and people build games," Allison Berliner -- a product marketing manager for the Oculus Quest -- told me at Oculus Connect earlier this year, "but also how people learn and communicate, and connect with each other."
The Case for Data
"Before your conscious kicks in, your eyes actually tell you what you're going to do. That's important to keep in mind when building a [VR] experience," explained Vinay Narayan, VP product and operations at HTC Vive, during a VRX panel discussion.
His point: Eyetracking technology is something that, in recent years, has become more feasible and scalable with VR. Having that type of data -- and knowing where the user's eyes are going and where they pay the most attention -- can not only help VR content creators build more engaging experiences, but also, help businesses understand customer needs.
Eyetracking, then, can let businesses know if a user even saw the key part of the experience to which they were hoping to draw attention, Narayan said. "Looking at the data layer helps you figure out where you can solve your business problems, or even give you insights."
Take the example of Tobii Pro: a tech company that pairs VR with eye-tracking technology to help retailers learn where a shopper pays the most visual attention and plan store layout accordingly. I took it for a spin at SXSW in March:
"Very similar to an in-store shop-along or in-depth interview research, this is another tool that can be added on top of that," Amanda Bentley, Tobii Pro's Director Of Commercial Sales (whose voice can be heard in the background of the video above), told me at the time.
"You can get another layer of understanding not only how shoppers feel ... but also, what information do they actually process?" Bentley continued. "What are they attending to as they're making the decision to purchase products?"
Immersed in Education
VRX opened with a presentation from SuperData's VP of Strategy and Head of XR Stephanie Llamas on "What's really happened with VR & AR in 2018," where -- among other topics -- she discussed the highest points of supply and demand VR within enterprise settings.
As this slide shows, VR and AR opportunities aren't wholly occupied by gaming and entertainment. Much of the time, it's about partaking in an immersive experience to learn something new.
"VR has the potential to be an incredible tool for connecting the most curious, passionate and collaborative individuals together," says HubSpot Academy Senior Manager Christopher LoDolce. "The trifecta of learning is knowledge transfer -- typically teacher in front of the classroom -- an application like homework or something learned at work, and then, discussion. If you are able to simulate an in-person experience with VR and incorporate the trifecta, it would break down barriers."
"We believe people that learn together grow together. VR will take the asynchronous learning experience and flip it on its head."

- Christopher LoDolce, Senior Manager, HubSpot Academy
Pair that with the highest area of growth for VR, which Llamas predicted to be location-based: the concept of bringing a VR experience to users where they already are, to introduce them to the technology without requiring a purchase.
Taking a location-based approach to educational VR in a setting where people are already in attendance to learn something -- such as an industry conference or educational event -- could be one of the more promising business use cases for VR.
"Education is a no brainer for VR. The ability to have an immersive educational experience could really enhance on the top training and adoption of new skills," says HubSpot VP of Marketing Jon Dick. "You could imagine teaching about a concept like workflows in a more immersive way that highlights the journey a user is going on prior to diving into the software."
Where to Begin
Undertaking a VR use case could seem like a tall order for some businesses, considering the fact that it still has yet to go mainstream and many people are still learning about the benefits it could offer.

To address that, Narayan suggested a step-by-step approach to businesses building a VR experience, no matter what its purpose.
"Small incremental tasks go a long way, because it's low-risk," Narayan explained. "Map a customer journey. What do they want to do? What's important to them? You can solve sub-steps for that."
Started with the big picture and breaking it down into a smaller pieces, said GE Power Product Architect Connor McCollough at a VRX panel, has the potential to be a sustainable approach to successfully building a business-focused VR experience.
"Sometimes, the business just doesn't have an appetite for that big, light-at-the-end-of-the-tunnel vision," McCollough explained. "Break it down into smaller chunks, and solve the business case for each of those pieces -- and tie them back into a [bigger] vision."