If your business has a web presence, odds are you support it with marketing tools — plural. If your marketing efforts rely solely on a single, siloed application, you're selling yourself short.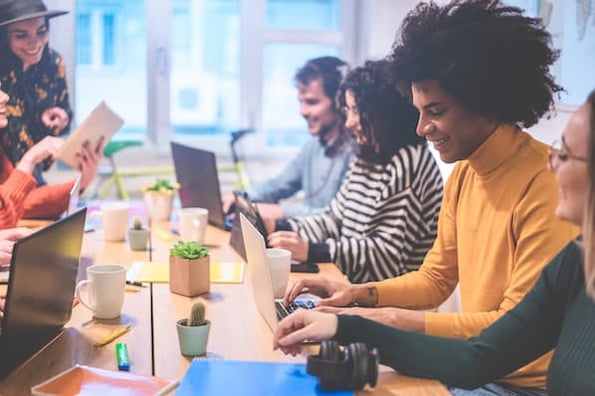 Digital marketing efforts are generally a sum of several parts — a collection of tools and resources that serve distinct purposes, complement one another, and ultimately work together to generate and convert leads.
That "sum of several parts" is often referred to as a marketing tech stack. Let's get some perspective on what that term means, which specific tools you can use to compose one of your one, and how those tools can help you through every stage of your business.
What is a marketing tech stack?
A marketing tech stack is a set of different technologies — each with its own purpose and grouped together with intention — that makes it easier for a business to attract and retain customers and analyze its marketing efforts.
When constructing a marketing stack of your own, don't hesitate to diversify. It can include everything from social media marketing resources to content intelligence software.
Include anything and everything you feel you need — so long as you can afford it. Your stack could wind up looking nothing like those of other companies in your space, and that's fine.
Stacks are often specific to individual businesses' particular structures and strategies. Your main priority is finding the tools that best suit your company's needs, ambitions, and budget.
Your Marketing Stack Grocery List
Every marketing tech stack should be tailored to aid with three functions: attracting prospects, engaging them, and analyzing the interactions you have with them. Each stage of that process can involve several possible tools.
Attract
SEO Tools
SEO — or search engine optimization — has become a crucial component of most companies' digital marketing efforts. Online visibility is an invaluable asset to any business with a web presence.
If your website turns up on the front page of Google when someone searches for a keyword — relevant to your space — your business will look more trustworthy and legitimate. That won't be lost on the savvy, skeptical prospects of the modern age.
A solid presence on search engine pages is no longer a luxury, specific to large enterprises. It's becoming a necessity for businesses of any size — particularly those in ecommerce. No matter what your business does, you'll gain a lot from well-constructed, well-executed SEO efforts. Having tools to help facilitate those in your marketing stack is a big help.
SEO tools: Ahrefs, Botify, Browseo
SEM Tools
Paid advertising on search engines has become one of the most popular lead generation tactics among marketers. Just like SEO, SEM — or search engine marketing — can be central to improving your company's online visibility. The quality of your SEM determines the placement of your paid ads on search engines. And just like a well-executed SEO effort, exceptional SEM adds a new layer of credibility to your marketing.
High ad placements mean your marketing material is relevant to your prospects and achieving its purpose. If you're willing to budget for paid ads, then look into incorporating SEM tools into your marketing stack. They'll allow you to get the most value of those kinds of campaigns.
SEM tools: Hubspot Ads, SEMrush, Supermetrics
Social Media Marketing
Social media plays a significant role in most companies' digital marketing. 91% of all businesses in the United States use it to support their marketing efforts. And for good reason — seven out of ten American adults have a presence on at least one social media platform.
The concept of social media is inherently personal. Users are encouraged to express their interests on their preferred platforms, making them some of the most straightforward locations to identify and reach interested prospects. An effective marketing stack will almost always include resources to help your social media efforts.
Social media tools:
Content Creation and Blogging Tools
Content creation is central to any marketing effort that relies on organic traffic. A well-maintained blog is one of the most effective assets available for garnering and retaining interest from prospects.
If you can establish yourself as a thought leader in your industry through the content you produce, you'll bring in a base of customers with an immediate interest in you and your space. That's why it's important to consider incorporating content creation and blogging tools when constructing your marketing stack.
Content creation tools: HubSpot, Wordpress, Wix
Engage
Chatbots
Once you've hooked prospects with your lead generation tools, make them feel important. Demonstrate how much you value them and their business. Offer them their first experience with your exceptional customer support. Chatbots can be a big asset to that process. They can guide and gauge customer interest while also answering questions your prospects might have about your product, service, or business as a whole — no matter when they ask them.
This kind of software allows you to engage with your prospects automatically. If you create helpful, intelligent chatbots that can explain your product or service comprehensively, you'll demonstrate that your business is well-managed and able to answer questions they might have as customers.
Chatbot software: HubSpot, Drift, LivePerson
Email Marketing
When done right, email marketing can both capture and sustain your leads' interest. It's designed to guide them through the purchasing process. Email marketing software allows you to reach a wide range of prospects with a degree of personalization that most other marketing applications can't offer. You can send content to leads based on their interest levels, buyer personas, and where they stand in their buyers' journeys.
Email marketing tools allow you to connect with and engage prospects on a more personal level than others on this list. There are several types of email marketing software available, and a solid marketing stack generally features one.
Email marketing software: MailChimp, Constant Contact, ActiveCampaign
Marketing Automation
A solid Marketing automation software might be the most critical application to include in your marketing stack. Almost every other tool on this list can hinge upon the data marketing automation tools can gather. Marketing automation platforms can organize and store customer data, score and manage leads, and perform several other functions to help construct and guide your marketing campaigns.
An exceptional marketing automation platform provides the foundation for a well-constructed marketing stack. No matter how you want to structure yours, consider adding marketing automation tools above all else.
Marketing automation software: HubSpot, Ontraport, Nextiva
Sales Engagement Platforms
Your company's content and messaging should have some degree of consistency to them. You want your business to have a unique voice, message, and messaging cadence. Sales engagement platforms can help you establish that. They contain resources that allow content and messages to be centrally accessed and edited throughout an entire company, ensuring cohesion in messaging for sales and marketing efforts.
Sales engagement platforms perform other functions as well, including enabling integrated communication within your business, offering engagement analytics, and providing actionable insights and guided selling. If you want help defining your brand voice, consider incorporating a sales engagement platform into your marketing stack.
Sales engagement platforms: Groove, VanillaSoft, Outreach, SalesLoft, ClearSlide,
Analyze
Web Analytics
If you want to understand how your prospects and leads are interacting with your website, you'll need web analytics software. Like a marketing automation platform, it's one of the most crucial components to an effective marketing stack. It measures, reports, and analyzes your web traffic, providing the basis for you to gauge the efficacy of your online marketing efforts and understand what you could be doing better.
Without web analytics software supporting your marketing stack, you could be shooting in the dark when it comes to honing your marketing efforts. You need to know what is and isn't working for you, and web analytics software is one of the best means of understanding that.
Web analytics software: Sisense, Google Analytics, Looker
Business Intelligence
Business intelligence software tracks customer purchasing patterns and trends. It's an aggregate of tools used by companies to retrieve data, analyze it, and ultimately turn it into actionable insights and solutions. The data business intelligence software uses comes from internally generated data — not from outside sources.
Business intelligence software can be another useful tool in a marketing stack. By leveraging one to track customer purchasing patterns, you can get a new layer of insight that can ultimately guide your marketing efforts.
Business intelligence software: Oracle BI, Domo, Tableau
Content Intelligence Software
Content intelligence software analyzes your customer data using artificial intelligence, machine learning, and natural language processing to improve your content marketing efforts. It can give insight into what content you should share, update, and promote — among other important factors and actions relevant to the content you produce.
If you're making a substantial push in terms of content marketing, you could get a lot of mileage out of including this kind of software in your marketing stack. It can help you identify the right voice and topics necessary to establish yourself as a thought leader in your space.
Content intelligence software: Ceralytics, Crayon, BuzzSumo
A/B Testing
A/B testing software is designed to help you optimize your conversion rate. With A/B testing, two or more versions of a single webpage at random to your website visitors and identifies which version has the best conversion rate. It's an effective way to hone your marketing efforts by allowing you to experiment with different web copy, messaging materials, and content.
Leveraging A/B testing is an effective way to bolster your marketing efforts. It allows you to better understand what your customers want out of your messaging. If you're interested in tools to help you refine the tone and strategy you use to reach your customers, this kind of software can be a valuable asset to your marketing stack.
A/B testing software: Optimizely, VWO, Adobe Target
There's no definitive list of resources you absolutely need to use to build your optimal marketing stack. You might wind up constructing one entirely specific to your business. Ultimately, you have to feel out how which applications and platforms work best for your needs, structure, size, and budget. Regardless of what it ends up looking like for you, a marketing stack will almost always be an asset to your online marketing efforts.