Imagine you own a business that films and produces yoga routines for at-home practice. As search engine results pages become more crowded, your chances of ranking for a popular industry keyword -- such as "yoga" -- begin to diminish.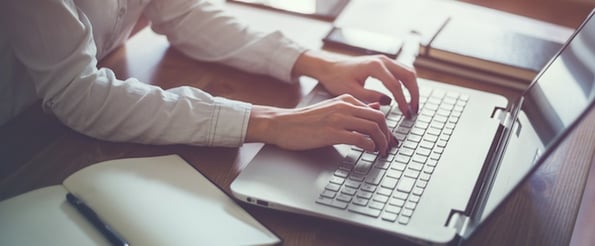 But as it turns out, that's not the end of the world. These days people are actually conducting more specific, conversational queries -- think: "how do I teach myself yoga?" -- to get the information they're looking for, faster.
Unsurprisingly, Google responded to this change in behavior by introducing RankBrain -- a machine-learning artificial intelligence system -- as well as Hummingbird -- a search algorithm designed to focus on the meaning behind the search terms being used.
The result? An increased number of long-tail keyword variations that are regularly searched within a topic. Jackpot.
But with more topic opportunities on the table, how can you be sure that you're going after the right ones? To help you avoid wasting time on topics and keyword plays that won't generate a meaningful return for your business, we've put together a simple process for validating your ideas before you start writing. Check it out below.
How to Validate Your Blog Post Topics: A 3-Step Process
1) Get to know your audience really well.
Ideally, you're already conducting market research and thinking about your audience before you start writing a piece of content. But in case you're not, or you need to refresh your memory, here are a few questions you should be asking when you're brainstorming blog content ideas:
Who searches for information on this topic? What are their ages, job roles, and demographic traits?
What emotions do you want to evoke? What are their goals?
What do you want viewers to do with your blog posts once they read it?
When you have a clearer idea of the demographic and psychographic traits of your ideal audience, you can then use this information to substantiate your list of ideas. Chuck the ideas that don't fit their mold, and keep the ones that do -- it's that simple.
2) Create a topic cluster based on your persona research.
Once you know who you're writing for, figure out what questions they need answers to. To start, think about providing solutions to challenges your audience is facing.
For example, in the yoga example above, your audience's problems might include: not having enough time to go to the gym, a lack of nearby gyms, an inability to afford a gym membership, or high levels of stress.
From there, marketers should ask questions to determine the specific angle of their content. What's the best way to deliver this information -- a blog post, an infographic, or a video? What content has already been published about the topic, and what angle can I pursue to differentiate mine?
One of the best ways to organize your thoughts and finding here is through a topic cluster -- a new way to strategize blog content geared toward how search has evolved.
Continuing with the yoga example, you'd want to create a topic cluster centered around "yoga" as the main topic. Then, you'd come up with subtopics that are related to yoga but based on long-tail keywords that are easier to rank for in search. These could include "at-home workouts," "exercises for stress relief," "yoga for beginners," and "online yoga classes."
Here's an example cluster that HubSpot's Head of Growth & SEO Matt Barby created. Notice that while the core content topic is "workout routines," the cluster content -- referred to as pillar content -- spans a wider variety of related topics.
By clustering ideas around one core topic that is relevant to your audience, it become easier to generate content that you know will resonate.
"This is a very simplistic overview but can work as a light framework for prioritizing content ideation and production," explains Barby in an article detailing the full process. "The role of the pillar content is to cover the core topic broadly and also perform well at converting visitors into leads (or whatever your conversion goal is). The cluster content that is built for each of the subtopics will focus on gaining greater topic visibility and funneling traffic through to the pillar content in order for them to convert."
3) Use tools to gut check your topics.
Once you have topics in mind for blog posts, do some testing: Just because you think the topic is interesting and good for search engine optimization doesn't always mean it will resonate with your audience.
Here on the HubSpot Blogging team, we propose blog topics and titles alongside a reason why we think they will perform well. Here are some of the tools we use to determine if an angle is worth writing up:
TitleTester: As the name of the tool suggests, TitleTester allows you to plug different title options into its tool to analyze which has the highest clickthrough rate. Use this tool to test different angles on a topic to see which generates the most interest.
Twitter Polls: Ask your followers to vote for topics they're most interested in reading more about using Twitter Polls. Use that data to guide your topic choosing before starting to write.
Twitter Chats: Figure out which Twitter Chat most closely aligns with the topics you're writing about, click on the hashtag, and see what types of questions people are asking about. That will give you an idea of a content gap that your blog post could fill with resources for your audience.
BuzzSumo: BuzzSumo analyzes how many times a URL has been shared via social media or linked to by another domain. Do some quick competitor analysis by dropping in links to content on the topic you're writing about to see how different angles have performed in the past.
Blog Comments: Does your blog have commenting enabled? If not, it should, because feedback from your subscribers is the exact answer to the questions you're asking -- what content is my audience interested in? Take positive and constructive feedback from readers to inform your strategy.
Once you've aggregated responses to different tests and questions you've asked your audience, choose a topic and title with the greatest level of engagement and response, and start writing your blog post.
Quality > Quantity
The biggest takeaway for marketers is to emphasize blog post quality and relevance over quantity. Instead of writing multiple blog posts without a review of the strategy behind them, it will be difficult to rank in search and achieve lead generation goals.
For HubSpot customers, HubSpot Content Strategy will help guide you through the process of creating a topic cluster. Based on data from the HubSpot Keywords App, Content Strategy and the Blog Topic Generator will recommend topics that you should create content around, and advise against topics that will be hard to rank for or are unrelated to your central topic. It's coming soon to the HubSpot software, and users can sign up for early access now.
How do you decide which topics to write blog posts about? Share with us in the comments below.