You know, I'm beginning to think that the key to virtual reality's success might not be getting into the hands of as many consumers as quickly as possible.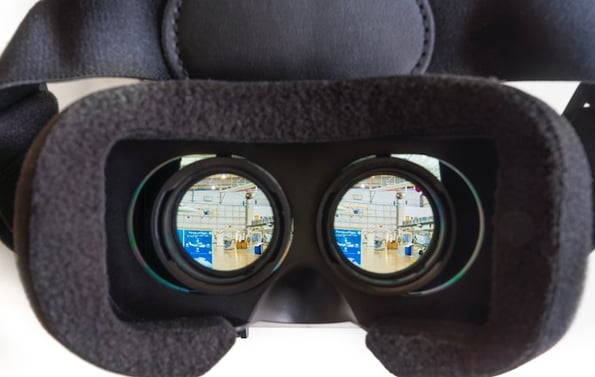 True: That goes against some of what I've previously written about virtual reality (VR). I've shared Facebook CEO Mark Zuckerberg's goals of getting one billion people using VR (by when, we don't know). I've covered the appeal of what it's like to use an Oculus Go headset. I've discussed why the latest Oculus headset could be a game changer, and I've confessed my fears of what life might be like should VR go fully mainstream.
And despite all the time I've spent using, thinking, and writing about VR -- it seems there was something important I was missing all along. Something that could be key to marketers successfully adding VR to their strategies. Something about making VR relevant, even to those who see no need or place for it.
So, how did I come to this revelation? It all started when I attended a VR demo at Oracle OpenWorld this week. Here's what happened when I went, and what I learned about the potential power of VR in marketing.
The "Nature of Data"
In partnership with the World Bee Project, an organization dedicated to the preservation of bees and pollination ecosystems, Oracle Analytics created a VR experience to help users understand seasonal bee behavior.
Within the experience, users can pick up virtual "honeycombs" to learn different facts about about the behavioral patterns of bees, with a combination of videos and three-dimensional charts to help represent what's happening before, after, and during pollination season.
Here's a look at one of those visuals: a graphical representation of the amplitude of sound emitted by bees at various points in the season.
Buzzing around with the "Nature of Data" VR experience at Oracle OpenWorld
By physically looking around, the user is guided through a number of charts measuring things like this amplitude, the colonization volume of bees throughout the year, and more. It was interesting -- and a new way of looking at data about an endangered insect population.
There were two things that struck me about the experience. First, as someone who works through data quite a bit in the day-to-day of her job, one of the most challenging aspects is figuring out how to make that data relevant to the audience I'm trying to reach. It's possible that an organization like the World Bee Project is working on something similar: getting important data about the global pollinator crisis into the hands of the people most likely to act on it.
But how can such an organization accomplish that goal? Well, that's where my second key realization came in.
Bringing VR to the Audience First
Most, if not all, Oracle OpenWorld attendees don't sign up for the event to learn about pollination patterns and bee population endangerment. Rather, most are there to learn about analytics, automation, data security, and other business tools.
But by partnering with a seemingly unrelated business -- Oracle Analytics -- the World Bee Project was able to communicate its mission and work to an audience that it may not have otherwise been able to reach.
That's one of the core tenets of experiential marketing: to create a way for users to experience your brand in a tangible way. And notice, if you re-read what I've written about VR, that I describe the various apps and games for which I've used it as experiences.
Aha. So maybe that's the key to successfully integrating VR into a marketing strategy: to create a way for users to experience what your brand does and represents in a seamless, low-barrier way that brings your organization to them, and not the other way around.
The #NatureOfData with @worldbeeproject #OOW18 #analytics #dataforgood pic.twitter.com/CmzIiTtAfd

— Barry Mostert ☁ (@Oracle_Barry) October 22, 2018
So, what does that look like in practice? Well, take the example of the World Bee Project's partnership with Oracle Analytics. Not only was the former able to amplify its purpose before what was likely a new audience, but also, the latter was able to illustrate a use case for its products and services in an immersive, mission-driven way.
That challenges marketers to ask four key questions:
How can I create a VR experience in a way that amplifies my brand's mission, in a way that reaches an audience that doesn't already know about me?
Who can I work with to create and promote this experience?
Who can I partner with to create a VR experience that shows what my product is capable of doing for an interesting organization, in a way that surprises and delights users?
Where does it make sense to distribute or demonstrate this experience?
Notice that none of these questions aim to figure out how to quickly get more VR headsets into the hands of as many consumers as possible. Instead, the focus is getting the right audiences to immersively experience your brand in VR -- which raises awareness not only of you, but also of VR technology's potential.
Companies and organizations of all sizes "should absolutely be paying attention to these developments, not only to prevent themselves from being left behind, but also to potentially put a stake in the ground," says POP Director of Interactive Paul Mealy, "and really differentiate themselves from competitors early on by capturing their corner of the world with these technologies."
The VR Experience Itself
As for building the actual VR experience, it doesn't require a ton of bells and whistles. Finding the right talent could be a product of whichever partnership you choose, or you could work with a freelancer, depending on what sources you each have available.
Take the Nature of VR experience, for instance. While interesting and immersive, it wasn't anything fancy -- rather, it was a combination of three-dimensional charts representing the bee behavior that was portrayed in the videos also being displayed. And just by turning my head, I could look at what the entire experience had to offer.
.@worldbeeproject founder Sabiha Rumani Malik discusses the role of #OracleAnalytics in saving bee colonies. #natureofdata #oow18 pic.twitter.com/WgmbTTqem4

— Oracle Analytics (@OracleAnalytics) October 22, 2018
Of course, it seems as though there are plans to make the experience even more interactive. One way of doing that, explained Oracle Solution Engineer Jeff Dodson during the demo, would be allowing users to dig into the actual charts to enlarge or get more details on specific data points, explained. Again, here's a solution to the omnipresent challenge of figuring out how to make data relevant to a given audience.
And because of the way today's experience was able to do that, I've walked away with a newfound interest in protecting the world's bee population, as well as a new perspective on how marketers can use VR -- in a way that could contribute to the technology's widespread success.