Most business school conversations over beers end with a hangover -- Neil Blumenthal's ended with a billion dollar business.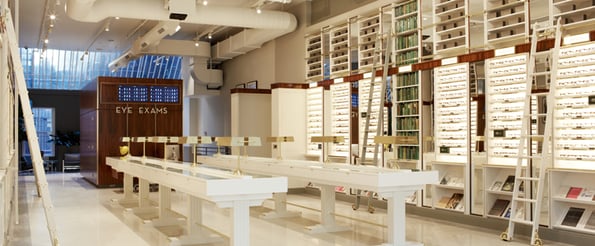 If you aren't familiar with Neil's name, you're likely familiar with the brand he and his co-founders started: Warby Parker. Because Warby's brand is ubiquitous thanks to the company's product and marketing success, many consumers all over the globe think of the company as an overnight success. In reality, the brand is a product of years of blood, sweat, and of course, a few beers.
The Warby Parker Mission Statement
"Warby Parker was founded with a rebellious spirit and a lofty objective: to offer designer eyewear at arevolutionary price, while leading the way for socially conscious businesses."
In the most recent episode of The Growth Show, we sat down with Neil to talk about Warby Parker's success. Below are a few key insights from our conversation that you can incorporate into your company's own growth strategy.
Invest Time in What's Important
Warby Parker hit its annual sales goal within three weeks of launching its website, so it's easy to think they were successful right out of the gate. But the truth of the matter is what Neil and his classmates spent a full year and a half creating the brand, product, strategy, and values that would eventually become Warby Parker -- the initial success of the launch was a direct reflection of that hard work.
Neil noted that the brand's intention to break into the world of "health and fashion" made it particularly important that they get buy-in from top-tier consumer periodicals. To that end, Neil and his team met with 40 (!?) fashion PR firms and consultants before deciding on a team that helped land them in Vogue and GQ the month of their launch. The Warby team recognized early that the bar for a minimally viable product is significantly higher in the consumer fashion market than it may be in other realms of tech -- and invested time, money, and energy accordingly.
Listen Selectively
Most parents are outraged when children selectively listen, but blocking out certain people and messages can actually be an invaluable skill when you launch a business.
Case in point: Countless people told Neil and his team that no one would ever buy glasses online, but his team was convinced there was a significant need in the market for a player willing to think and act differently by eliminating the middle man from the process.
However, the Warby Parker team didn't block out all external advice. They met with a Wharton pricing professor pre-launch, who warned them that their cost of goods would double after launch and that they should double their price accordingly. The Warby team went with a $95 price point (far above their initial idea of $45, but lower than $99 for fear of being perceived as a discount brand) and built the Wharton professor's insight into their model.
Sure enough, their cost of goods doubled as they upgraded hinges, finishes, and supplies to fit their premium brand perception, and the professor's sage advice resulted in a win-win on pricing and packaging for the company.
Hire Empathetic Employees
Entrepreneurs talk a lot about hiring for aptitude and culture fit, but very few test for empathy as a core value to join the team. Neil and his co-founders actually fired one of the organization's first employees because he wasn't friendly enough in emails to customers.
Sound drastic? Not for a company committed to delightion. For some brands, customer delight is a PR strategy. But for Warby Parker, it's a non-negotiable part of the company's business model and recruiting model, and ensures that every person on their team, whether she's a retail associate or Chief Financial Officer, is unequivocally committed to delivering the best for the company's customers.
Align With the Right Mission
Warby Parker sells glasses, but the brand is also a promise to give back to developing countries by providing eyewear to people who need it most through their "buy a pair, give a pair" business model. The mission matters not only to Warby's customers, but also to its employees, enabling the company to grow fast online and in the retail space.
Warby Parker is a great example of an organization that does well by doing good, leading with its mission front and center. The enthusiasm of the company's fans and followers shows that approach paying back in spades. Your business model may change, your pricing may alter, but your mission should continue to engage your team and your target market whether your company is 10 months or 10 years old.
Prioritize the Long Game
Having 20,000 customers on a wait list sounds like a great problem to have, but in reality having 20,000 impatient, unhappy people could be the beginning and the end of a business if mishandled. When the company sold out rapidly of its existing inventory, Neil and his three co-founders worked with their outsourced developers to develop "sold out" functionality (they hadn't imagined they would need it), fielded calls and emails from customers, and were transparent about the delay in shipments to keep people updated on orders and engaged with the brand until their glasses arrived. Warby recognized that your startup isn't defined by short-term demand, but by long-term relationships, and the strength of their business and their brand is a direct reflection of investing in those relationships early and often.
Make Feedback the Cornerstone of Your Culture
In addition to beers, Neil and his co-founders spent a lot of time at their favorite corner table at a local restaurant giving feedback to each other. While the entire founding team had worked long and hard hours before, they knew actually starting their own company would be a grind, and that launching a company often meant friendships and relationships would end ended badly.
So instead of wishing and hoping it would work out, Neil and his co-founders made a pact early to commit to the business and to being open, honest, and constructive in their feedback to each other. One of my favorite quotes from Neil was that "arrogance and entitlement impede innovation." It's a good reminder for all of us that the smartest jerks in the room don't prioritize the customer or self-improvement. So be transparent with your team about what matters, what doesn't, and how you'll work together -- doing so prevents countless roadblocks and rifts later on.