We've all heard this maxim, "First impressions last", so we are aware how important it is to strike a good impression.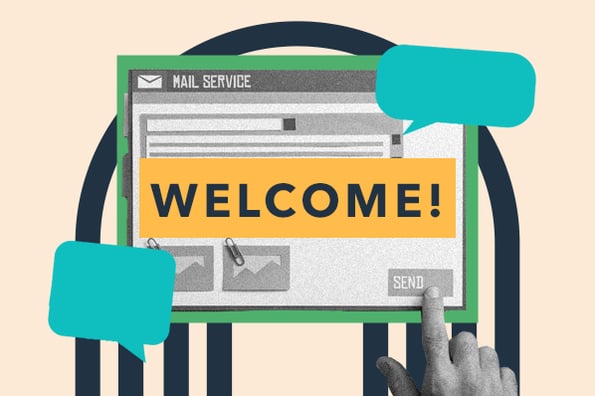 Showed up late for a job interview? That's a bad first impression. Eat a clove of garlic and forget to brush your teeth before a first date? Also a bad first impression.
It turns out that the "make a good first impression" principle holds true not only in face-to-face encounters but in email interactions as well. The outcome of giving a good impression in emails goes a long way to connect with potential business contacts or customer
What is a welcome email?
A welcome email is the first email you receive after signing up, subscribing, or submitting your email to an online store. It's important as it is the first impression a company makes with a new customer, blog subscriber, or newsletter subscriber via email. Welcome emails can deliver videos, special offers, a sign-up form, or just a friendly hello to establish a relationship with a new contact.
When you send a welcome email to a new blog reader, newsletter subscriber, or customer, you're making a first impression on behalf of your brand. To help ensure you're making the best first impression possible, we've rounded up some examples of standout welcome emails from brands big and small.
Pro Tip: Use HubSpot's free email marketing software to easily create a high-quality welcome email sequence like the ones featured below.
Each example below showcases different tactics and strategies for engaging new email subscribers. Let's dive in.
Email Newsletter Lookbook
Tell us a little about yourself below to gain access today:
The Components of an Impressive Welcome Email
One factor that really impacts the customer onboarding process is the welcome email. While there's no one-size-fits-all format, there are several key components that can help your email stand out from the crowd and connect with your intended audience. These include:
1. Compelling Subject Lines
Making sure recipients actually open your emails is the first step in making a good impression. Subject lines are critical, so opt for short and straight to the point subjects that state clearly what you're sending, who it's from, and why it matters to potential customers.
2. Content Recommendations
While the main purpose of welcome emails is to introduce your brand, it's also critical to add value by providing the next steps for interested customers. A good place to start is by offering links to the great content on your website that will give your customers more context if they're curious about what you do and how you do it.

3. Custom Offers
Personalization can help your welcome emails stand out from the pack. By providing customized introductory, offers on products consumers may be wanted. By basing it on the information they've provided or data available to the public via social platforms, welcome emails can help drive ongoing interest.

4. Clear Opt-Out Options
It's also important to provide a clear way out if users aren't interested. Make sure all your welcome emails contain "unsubscribe" options that allow customers to select how much (or how little) contact they want from you going forward. If there's one thing that sours a budding business relationship, it's the incessant emails that aren't easy to stop. Always give customers a way to opt-out.
10 Examples of Standout Welcome Emails
So what does a great welcome email look like? We've collected some standout welcome message series examples that include getting started messages, thank you emails, and offer templates to help you with your customer onboarding process from start to finish — and make a great impression along the way.
Type of welcome: Get Started
A welcome email is a perfect medium for introducing folks to the characteristics (and eccentricities) that make your brand unique.
For Virgin America, that means putting the "I love you" hand symbol front and center. This small gesture signals to the recipient that the folks at Virgin America care about their customers. The playful accompanying copy, "Welcome aboard," and casual call-to-action, "Grab a seat," also helps to position Virgin America as a hip, fun-loving brand right off the bat.
Type of welcome: Get Started
Sometimes the tiniest of elements in a welcome email can speak volumes about a brand. And when it comes to Food52's welcome email, their preview text at the top of the email, "We brought snacks," definitely accomplishes this.
Also known as a pre-header or snippet text, the preview text is the copy that gets pulled in from the body of an email and displayed next to (or beneath) the subject line in someone's inbox. So when you see Food52's welcome email in your inbox, you get a taste of their brand's personality before you even open it.
Food52's welcome email also does a good job of building trust by putting a face (make that two faces) to their name. As soon as you open the email, you see a photograph and message from the company's founders.
Type of welcome: Video
From the subject line, down to the conversational tone in the email body, the image of a welcome email above keeps it friendly and simple, so the focus stays on the introductory video inside.
Monday.com is a task management tool for teams and businesses, and the welcome email you get when you sign up makes you feel like a CEO, because Roy Man is speaking directly to you. The email even personalizes the opening greeting by using the recipient's first name, and this is well known for increasing email click-through rates (especially if the name is in the subject line).
The more you can make your email sound like a one-on-one conversation between you and your subscriber, the better. If you have just so many details that you need to inform your new customer about, follow Monday.com's lead and embed them on a video, rather than spelling them all out on the email itself.
Type of welcome: Thank You
Let's face it, the internet-using public like us are constantly bombarded with prompts to sign up for and subscribe to all sorts of email communications. So as a brand, when someone takes the time to sift through all the chaos in order to intentionally sign up for your email communications, it's a big deal.
To acknowledge how grateful they are to the folks who actually take their time to subscribe, Kate Spade uses a simple but effective tactic with their welcome emails. They say "Thank You" in big, bold lettering. y placing that "Thank You" note on an envelope, Kate Spade recreates the feeling of receiving an actual thank you letter via mail. (The 15% off discount code doesn't hurt either.)
Type of welcome: Get Started
If there's an ideal "attitude" that welcome emails should give off, Lyft has it. The company's simple but vibrant welcome email focuses entirely on the look and feel of the app, delivering a design that's as warm and smooth as the lifts that Lyft wants to give you. At the same time, the email's branded pink call-to-action draws your eyes toward the center of the page to "Take a Ride", an inviting language that doesn't make you feel pressured as a new user.
Type of welcome: Our Story
The Munk Pank's welcome email is the story of why the company was founded. This is a healthy snack store founded by a husband and wife. In their welcome email, they mention that they started the company because they never seemed to find nutritious snacks to keep them energized and on the go.
This is an excellent version of a welcome email because they let their customers know they can relate to the problems they're facing and they've been there. This helps in building trust and relatability; it also gives customers a peek into what they should expect from their products.
The email ends by sharing the company's mission to help them live a healthy lifestyle. This welcome email lets subscribers know that they're joining a tribe that is concerned about their healthy eating and lifestyle; a mission that goes beyond snacks.
Type of welcome: Why Us
Who Gives a Crap is an organization that sells organic toilet paper, and they're very passionate about it. Their welcome email is equally fun and informative. They state all the reasons why you should opt for organic and eco-friendly products. Then, they sweeten the pot (pun intended) by noting that they donate 50% of their profits to global sanitation projects.
The email reminds the buyer that they still get the toilet paper at the same price they do in the supermarket. They also have a compelling call to action in their welcome email that offers 10% of their products for people who subscribe to their email list. The company added their "Shop Now" button for convenience, so if readers are convinced to buy, they can do so in one click.
Type of welcome: Offer
SAXX Underwear specializes in men's underwear, and their welcome email is very catchy and creative. Their subject line "welcome to you and your balls" is just a taste of how they use a humorous and relatable tone to connect with their audience.
Their welcome email is very visual, too. They demonstrate their comfort guarantee with images of models wearing their boxers.
The welcome email also gives a 10% off code for their first-time buyers and directs them to their store. Besides the offer, they present their refund policy boldly to provide reassurance for prospects who may be unsure. These gestures help to build trust with their new subscribers and encourage them to buy from them.
What really stands out in the SAXX Underwear welcome email is the tone of the copy and the careful yet bold and catchy choice of words.
Type of welcome: Video
When you sign up for InVision's free prototyping app, the welcome email makes it very clear what your next step should be.
To guide people on how to use InVision's app, the company's welcome email doesn't simply list out what you need to do to get started. Instead, it shows you what you need to do with a series of quick videos. Given the visual, interactive nature of the product, this makes a lot of sense.
Type of welcome: Get Started
No fancy design work. No videos. No photos. The welcome email Drift sends out after signing up for their newsletter is a lesson in minimalism.
The email opens with a bit of candid commentary on the email itself. "Most people have really long welcome email sequences after you get on their email list," Dave from Drift writes, before continuing: "Good news: we aren't most people." What follows is simply a bulleted list of the company's most popular blog posts. And the only mention of the product comes in a brief postscript at the very end.
If you're trying to craft a welcome email that's non-interruptive, and laser-focused on adding value instead of fluff, this is a great example to follow.
Bonus Example: HubSpot's Welcome Email Templates
Need a little help in getting your welcome email efforts off the ground? We've got you covered with welcome message templates to streamline the connection process. The example below is one of four templates offered in our free kit (which also includes 40+ customer email templates) and showcases a straightforward example of a great welcome email.
Simply fill in the details, tweak the text to reflect your brand voice, and start sending.
Now that you've seen some great examples of welcome emails, let's dig into the process of writing a great email and catching customer attention.
How to Write a Welcome Email
Write a catchy subject line.
Restate your value proposition.
Show the next onboarding steps.
Generate the "A-ha" moment.
Add helpful resources.
Provide customer service contact information.
Conclude with a call-to-action.
1. Write a catchy subject line.
Research shows that while more than 90% of welcome emails are opened, just 23% of them are actually read. That means if your welcome email doesn't catch the eye of your new customer, they may not know you sent it at all.
The best tool you can leverage to increase email open rates is the subject line. A catchy and actionable subject line can draw customers in and make them curious about your content.
When writing subject lines, be sure to include what your email is promoting and how it will benefit your customer. Remember to be concise, because the reader can only see a sentence or two in the preview. A good rule of thumb is that your subject line should provide enough information to peak the reader's interest, but not enough so that they need to open your email for the full details.
2. Restate your value proposition.
Although this may seem like an unnecessary step to take, it can actually provide some significant benefits.
The most obvious benefit is that it provides the customer with some reassurance that they made the right decision signing up. It's never a bad thing to remind customers why they created an account with you, and it clarifies exactly what they can expect to achieve with your product or service.
This also gives you the opportunity to clearly explain any ancillary services or features that you offer that could create more stickiness with your business. This is especially true if you have a complex solution with unique features that customers might not know about.
3. Show the next onboarding steps.
Now that you've reminded them why they signed up, get them fully set up with your product or service. Usually, there are steps that users must take after signing up to get the most out of the platform. Examples include:
Completing their profile information
Setting preferences
Uploading necessary information (e.g. contacts into a CRM, profile picture for a social media profile, etc.)
Upgrading their account or completing an order
4. Generate the "A-ha" moment.
This is one of the most important steps to take in a welcome email, and there's a substantial and data-driven reason behind that. Former Facebook head of growth, Chamath Palihapitiya, discovered that if you can get a user to acquire seven friends within 10 days, they were much more likely to see Facebook's "core value" and become a returning active user. This is known as an "a-ha moment," in which the customer understands how they benefit from using your product or service.
The goal is to get the user to this aha moment as quickly as possible so your product sticks and the customer achieves success as soon as possible. This will produce a better overall customer experience and ultimately help your business grow.
To get this done, first identify your business's "core value" and the obstacles or prerequisites customers must complete to receive this value. Then you can use your welcome email to guide new customers through these tasks.
5. Add helpful resources.
As mentioned in the previous step, you want the user to see the value immediately. But, customer success doesn't stop there. Depending on the nature and complexity of your product, customers may need additional help. For example, customers might require guidance on troubleshooting, utilizing advanced features, or getting the most value out of your core features.
It's likely that you've already created help content addressing common questions from customers. Whether it's tutorial videos, an FAQ page, or helpful blog posts containing best practices, this help content is essential to customer success. Why not include it in your welcome email? This gives them the tools they need upfront without forcing them to search for the information after a problem arises.
6. Provide customer service contact information.
The final step to setting your customers up for success is making sure that they know how to contact you. You can spend all the time in the world creating excellent help content, but you can't foresee every possible problem that will arise for your customers.
Even if you could, customers are only human, and not all of them will be willing to pore through your help resources to find the answer to their questions. So it's best to be forthright with customers on how they can get in touch with you for additional help.
Adding this contact information to your welcome email is a great way to lay the foundation of trust needed for building a relationship. It drives customer loyalty and reassures readers that you are available if they need you. Avoid sending customers on a treasure hunt just to find a way to ask you a simple question. This will lead to frustration and send them into the arms of your competitors.
7. Conclude with a call-to-action.
You should wrap up your welcome email with a call-to-action that entices customers to begin the onboarding process. After you've demonstrated your company's values and explained how you're going to help them achieve their goals, customers will be eager to get started. So, make things easier for them by providing a button at the end of the email that triggers the first step in the onboarding process.
Here's one example of what this could look like.
How to Write an Employee Onboarding Welcome Email
The onboarding process has a huge impact on how the new employees feel about your company, so it's important to give it the time and energy it deserves. One of the important parts of this process is the onboarding welcome email. It has to match the company's tone and outline all the expectations you have for the new employee. If this is your first time writing an onboarding email, you'll find the following steps helpful.
Here are the steps to follow when writing an onboarding email.
1. Decide on the content of your onboarding email.
Before you start, it's important that you are aware of the content of an onboarding welcome email.
The contents are going to vary based on the conditions. For example, an email onboarding remote employees is completely different from an onboarding email for an employee who will work onsite.
For an onsite employee, the onboarding email should include:
Welcome events
First-day schedule
Arrival instructions
How to access their workstation
Break room details (where to warm lunch, get coffee, etc.)
Dress code
What they're required to bring (passport, ID, social security work, or any other paperwork)
Parking information
Contact information
For a remote employee, the content may include:
First-day schedule
Contact information
Sign up details for collaboration tools
Welcome video conference meeting (time to be held)
Again, you can change the content based on your company's needs.
2. Decide on the tone you want to use in your email.
The next thing you need to decide on is the tone you want to use in your onboarding email. Do you consider your company friendly, casual, or super formal? Whatever your answer is, it should reflect on the tone of the onboarding email. This gives the employee an idea of the kind of workplace environment they should expect. It also sets the tone for how your new employee is expected to use when representing your brand.
3. Draft your onboarding email.
The next step is to draft your onboarding email. While the tone of your email might change to fit your needs, here is an example of a template you can use.
Dear [Employee's name],
We are very excited to welcome you to [company name]. Please remember to carry your ID to get easy access to our premises. We expect you to be in the office by [time], and our dress code is [formal/super casual].
At [company name], we pride ourselves on creating the best environment for our employees. As you'll see, our team has already prepared your workstation for you and set up your software to make your first day easy. You'll also be given access to your designated parking spot, a customized company bag, t-shirt, and mugs, among other goodies.
Our team has also planned all the details for your first week to ensure you settle easily. You'll receive a document with your schedule and agendas for your first week from HR when you arrive. Human Resources will also help you fill in the required paperwork and answer all your questions. After the meeting with HR, you'll be assigned a mentor who will show you the ropes in our company and how we get things done.
Our team is excited to meet you during the [planned event].
If you need any clarity prior to arrival, please reach out to me by phone [phone number] or email. I'll be more than happy to help.
Welcome to the [company name], [employee name]. We are looking forward to working with you and watching you grow and soar to greater heights!
Warm Regards,
[your name]
[your signature]
4. Edit your email.
After writing your email, make sure you edit it to ensure you include all the necessary details. You can also use tools like Grammarly for any grammatical errors. You can also have a colleague double-check the email. Remember to attach any necessary documents, links, or images as supplemental information.
5. Send or schedule the email.
Lastly, send the email or schedule it to ensure it is received in a timely manner. For example, you want to avoid sending an onboarding welcome email on Sunday evening, which may give the wrong impression.
This will allow the new Employee to be psychologically prepared and find the necessary documents.
Make a Great First Impression
Bottom line? Whether it's in-person, over the phone, or by email, first impressions matter. Your welcome email is often the first chance a prospective customer or contact has to see what your brand is all about and if you don't stick the landing, they'll likely go somewhere else.
Luckily, writing a great welcome email is simple. It's not necessarily easy, but if you focus on what matters such as compelling subject lines, great content, personalized offers, and always, always a way to opt-out, your first impression can help lay the groundwork for long-term relationships.
Editor's note: This post was originally published in April 2016 and has been updated for comprehensiveness.