Selling was an early impulse of mine. I went door to door propositioning people for empty soda cans when I was six years old.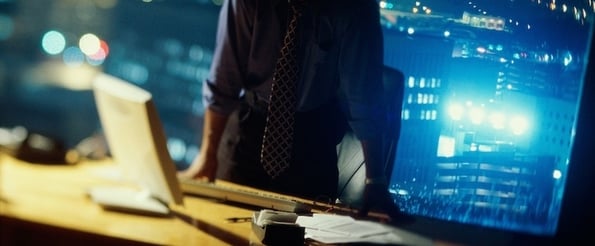 I would cash in the cans and share the profits with participating neighbors.
But it wasn't until I saw my dad reinvent his career at 50, as a salesperson, that I began to think of sales as something I could pursue. He had spent decades in a corporate job, and selling finally gave him the autonomy and freedom he'd been searching for.
Getting Started in Sales
I started my sales career in financial services, one of the few industries where entry-level salespeople have full ownership of their book almost from day one. It gave me a lot of growth opportunity right away, and I immediately developed a passion for lead generation. But not the kind I was seeing from my coworkers.
They would rip a sheet out of the white pages and dial every number. Or they'd get a list of BMW owners and call with special coverage offers. I knew there had to be a better way.
I started using my own money to buy leads. I set up alerts for when new leads would come in, so even if it was two o'clock in the morning, I'd call them. This worked, but I could tell the leads were grimy and companies were using questionable tactics to get them.
That's when I started researching different lead generation strategies -- which is how I found HubSpot. It put lead generation in my own hands. I loved it. I wanted to learn everything about becoming a more effective seller and making my job more enjoyable.
Joining HubSpot
So, how did I do it? How did I go from HubSpot account executive to senior sales manager and then director of sales in under five years?
Here's the key: It wasn't by doing my job.
A lot of individual contributors in sales believe you should advance your career by exceeding your number, being the best salesperson at your company, and waiting in line for the next management position.
That's definitely one way to get promoted, but it's a pretty ordinary path that will give you ordinary career growth. I took a different path.
When I joined HubSpot in 2012, the company was focused on inbound marketing. But early on, I attended a company meeting where our founders talked about the goal of becoming a multi-product company that included sales software.
If that was where the company was headed, I knew there would be a lot of needs along the way. And I knew those needs would include a marketing site, new leads, and a sales process. So I got ahead of it.
The Nights-and-Weekends Project
I continued doing great work at my day job, but I spent my nights and weekends building the first marketing site for HubSpot Sales. I branded it, did my own inbound marketing, and began generating leads.
Three months in, the website was receiving thousands of monthly visitors and hundreds of monthly leads. I was happy with the progress, so I sent my website project to our CEO, Brian Halligan.
Was I nervous to share my work with the CEO of the company? Not really. I'd read an article Halligan wrote for Inc. encouraging employees to start nights-and-weekends projects. If those projects were successful, Halligan was happy to implement them at HubSpot. I wasn't nervous to share my work with Brian. I was nervous that my peers would think I was kissing some major ass.
But I knew I needed to take steps that would grow my career and test my skills. If I could prove to myself that I could be successful at inbound marketing and at HubSpot, I knew I would have the freedom and skillset to start my own company and work for myself at any time.
The Pay Cut
Sharing my project with Brian got me an introduction to the gentleman who was building HubSpot Sales, Christopher O'Donnell. He and I hit it off immediately. I think a big reason why was because I was and am a builder: I get excited about working on things outside my daily to-do list. That's the kind of person you want to bring into meetings and bounce ideas off.
In 2014, I became part of his team. It wasn't planned (on my end, at least). Christopher came over to my desk one morning and told me to pack up my stuff because I was joining the product team. This new position paid less than my role as an account executive, but I went with it. I never complained. I invested every single thing I had in learning and growing the business and finding new avenues for growth.
It was me, six software engineers, and a product manager. Over the next few months, we built the HubSpot Sales product.
The Promotion
The product we had at the time was called "Signals." It showed you who opened your emails and clicked on your links. But it wasn't bringing in revenue. Our goal was to reach $1 million annual recurring revenue (ARR) by December 2014. I worked with the team to push product limits and source new users. We doubled our goal.
In 2015, Mark Roberge, our CRO at the time, was tasked with growing the HubSpot Sales business. Roberge told me he needed someone to hire and manage the new salespeople. He said, "I'll let you take it and scale it, but as soon as it breaks down, you're done. I'll let you go with it as far as you can take it." Ultimately, I hired and managed a team of 40 sales, support, and customer success reps. I also took the organization to more than $10 million ARR.
In 2016, Brian Halligan asked me what I wanted from HubSpot. I said, "I don't want any more money. I just want to be director of sales. How do I get there?" He told me if I continued to grow the business through June 2016, he would promote me to director.
The middle of June passed, and I hadn't heard anything. At HubSpot's annual anniversary party, I ran into Christopher O'Donnell, and he told me he had a surprise. Halligan came around the corner and gave me a stack of business cards with my new title, "Director of Sales," right on the front.
Do More Than Your Job
Advancing your career is about more than doing a good job and waiting in line for the next opportunity. It's about understanding where your company is growing and identifying how to serve the needs of the business before those needs become problems or major initiatives.
That's how you become someone people are excited to work with, and that's how you achieve exponential career growth.
This type of growth won't always feel like progress. Sometimes it's hard. Sometimes it's uncomfortable. Sometimes you'll feel lost. And you may have to take a few perceived steps backward to take a massive step forward in your career. It's worth it.
Do the work. Be exceptional at more than just your job. And don't be afraid of being uncomfortable. That's how you get better -- fast.