If you own an Amazon Alexa device, you can use Alexa Skills to be more productive; keep track of your day, finances, and calls; make travel easier; hear the news you care about, and more.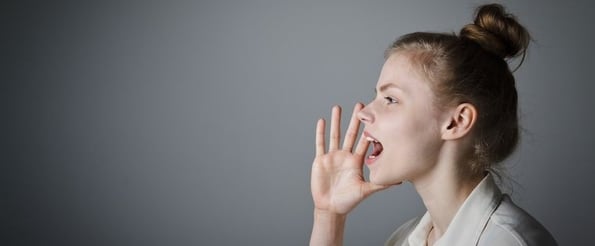 Alexa Skills are built-in capabilities activated by your voice. New ones are added to the Alexa Skill library all the time.
The 30 Best Alexa Skills for Professionals
Productivity Alexa Skills
Web analytics: Monitor website performance
If you need to know how your site is performing, this Web Analytics Alexa Skill will be highly useful. It pulls website and blog traffic -- for a specific day, month, or year. You can also get detailed metrics like average session duration, pages per session, and more.
Welto: Track your finances
As a salesperson, your income changes on a quarterly or even monthly basis. That means you should always know how much you're spending and saving.
Welto eases the burden of personal finance management. You can ask, "What's my current balance?", "What are my expenses this month so far?", "How much money have I made this year so far?" and more.
In addition, the highly useful timed bill pay option means you'll never incur late charges or overdraw fees again.
Shopify: Get important store information
Shopify store owners, rejoice. This Alexa Skill will answer all your questions about your business, orders and sales, best-selling products, average purchase value over a specific time period, store visitors, unfulfilled orders, and more.
Anything that's on your mind can be answered in a second, so you can make smarter decisions faster.
Although primarily designed for freelancers and other professionals who bill by the hour, this Alexa Skill is a no-hassle option for tracking your time.
Just say, "Start a new timer for prospecting," or "Create a new time entry for two hours for client meeting."
Instantly add events to your Google Calendar without skipping a beat. Not only will Quick Events make sure you're not scheduling over an existing event, it'll let you add all the necessary details, such as date, time, length, and location.
Meetings are set to 50 minutes by default, but you can specify any length -- even all-day and multi-day ones.
Life Bot: Get ready for the day
Life Bot makes your morning a little less hectic. New features are added every week, but here are the current ones:
"Alexa, ask Life Bot to start one-minute meditation": You can also ask for two, five, 10, or 15 minutes.
"Alexa, ask Life Bot for my calendar": The app will tell you the next three events in your Google Calendar.
"Alexa, ask Life Bot to send me a reminder about X": You'll get a text reminder.
"Alexa, ask Life Bot for my news": Not only will you hear personalized news headlines, the articles will be sent to your phone.
Weather Sky gives you a detailed summary of the weather or temperature for any location in the U.S. The default is for that day, but you can also ask about weather for future or past dates.
That's not all. If you ask for, say, a blizzard, you'll hear corresponding sound effects. This is a great white noise solution if you like falling asleep to the sound of rain or working to the sound of snow.
Communication Alexa Skills
Vonage's Conference Manager integrates with your Google Calendar to find your upcoming call, identify the conference call number and your meeting code, and dial in for you. The call will go through your Alexa device. Simply say, "Alexa, have Conference Manager start my call."
The skill currently supports WebEx, Citrix GoToMeeting, BlueJeans, and Vonage Business. Support for additional services is coming soon.
Chat Bot for Slack makes it insanely easy to post to Slack. Link your Slack account, then specify the channel you'd like to post to and your message.
For instance, you might say, "Alexa, start Chat Bot. I want to post 'Closed Solange deal' to 'wins.'"
When you're running around and can't spare the time to pick up your phone and type a text, SMS With Molly is a lifesaver. You can say "Alexa, tell SMS With Molly to send 'Running five minutes late' to Hugh" or "Alexa, tell SMS With Molly to send 'Be outside in 10' to Blake."
Enable the skill, add your most frequently used contacts, then start texting. You can send up to 30 messages per month.
Travel Alexa Skills
Uber: Order an Uber
If you've got an in-person meeting, you can save valuable time by ordering your Uber via Alexa. Just say, "Alexa, ask Uber to request a ride." Riding in style -- or trying to save money? Say, "Alexa, ask Uber to order an Uber Black" or "Alexa, ask Uber to call an UberPool," respectively.
You can also change your default pickup location, ask how far away your driver is, or cancel your ride. And if multiple people in your family use Uber, just tell Alexa to switch the Amazon Household profile (for example, from "Aja" to "Jordan") to get a pick-up for the right person.
Lyft: Order a Lyft
If you're a Lyft user instead, try this Alexa Skill. Set your home and work addresses in your Lyft app, then say, "Alexa, tell Lyft to call a line to work." You can also ask Alexa where your ride is, rate your driver, and get an estimate for how long it'll take to get to work.
One thing to note: Lyft for Alexa always sends a car to your Lyft "Home" address, so if you're on the go, use your phone instead.
Flight Tracker: Arrive at the airport on time
Frequent travelers know the secret to staying productive while regularly jetting off to different cities, states, countries, or even continents: Spend as little time at the airport as possible. Whether you're an outside rep or simply someone who loves to travel, you know the pain of arriving at the airport only to learn your flight's been delayed.
With Flight Tracker, you can get the latest flight status for a specific flight. Just look up the airline and flight number (for example, "Alexa, ask Flight Tracker for flight status for Delta 15") and you'll learn whether it's currently on time or running late.
Pro tip: This is also a useful skill when you're picking up someone at the airport and need to know when to leave.
Driving to the office, a coffee shop, a coworking space, or another work destination? Learn whether you'll make it on time for your first call or meeting. Tell Alexa, "I'm driving," then specify your destination ("the office," "work," "WeWork," and so on.)
You'll get estimated travel time as well as route recommendations based on current traffic.
Health Alexa Skills
Fitbit: Check your health
With Fitbit's skill, staying on-track with your health goals is easier than ever before. Say, "Alexa, ask Fitbit how I'm doing today" to get a general overview of your daily metrics, such as steps logged, calories burned, calories remaining, hours slept, active minutes, and more.
You can also ask if you hit your sleep goal -- a handy way to gauge whether you should stay in bed, wink wink -- or how you did yesterday.
Meditation is an important routine if you're plagued by stress, depression, insomnia, a lack of focus, and more. With Stop, Breathe, & Think's guided daily meditations, you'll always have a quick but impactful way to collect yourself, get some perspective, and become more mindful.
This Alexa Skill will come in handy whether you're already a regular meditator or need some help making it a habit.
News and Inspiration Alexa Skills
Few subjects are more reliable rapport-builders than sports. However, keeping up-to-date on the latest sports news isn't always easy when you're juggling a billion tasks -- especially if you're not that into sports in the first place (we know you're out there!)
ESPN Flash Briefing is here to save the day. Say "Alexa, what's my flash briefing?" and you'll hear the latest stories in sports.
StatMuse: Learn sports stats
Sports nerds, rejoice. StatMuse's Alexa Skill lets you explore statistics, schedules, and scores, so you can instantly discover everything from who had the most touchdowns last season to the date of the Falcon's next game.
This a fun way to stay briefed on sports so you can network more effectively. Plus, it features the real voices of Peyton Manning, Drew Brees, Terrell Owens, and more players.
The Hustle: Get startup updates
If you work with young companies and/or in the tech industry, knowing the latest news in startup world is important.
Use this Alexa Skill to hear the daily headlines from The Hustle, an entertaining, well-curated email digest covering business and technology. Once you've gotten a snapshot of the news, head to your email inbox to read the full stories.
Trying to stay briefed on personal finance? This Alexa Skill from the Wall Street Journal will clue you into valuable insights on student loan debt, home prices, insurance, retirement, and more each and every day.
HBR's email newsletter is known for its practical tips. Whether you're a sales manager or an individual contributor, this audio version of its digest will help you start your workday on the right foot, give you conversation starters, and remain mindful.
When you need inspiration, quick, ask Famous Quotes for a quote. Alexa will randomly choose a saying from a famous person -- it might be funny, serious, or thought-provoking.
GaryVee 365: Learn how to hustle harder
Along similar lines, everyone's favorite entrepreneur Gary Vaynerchuk has an Alexa Skill that'll provide you with daily motivational quotes. He covers everything from empathy and gratitude to self-esteem, and, of course, hustling.
This is original content created solely for Alexa, so you'll hear snippets from Gary Vee no one else is getting access to.
TED Talks: Listen to TED Talks
For on-demand inspiration, use the TED Talks Alexa Skill. It will play you the most recent TED talk or find you a random one, based on your command. You can also search for talks by topic, speaker name, or theme, i.e. "funny," "inspiring," "courageous," and so on.
With new TED talks every single weekday, you'll always have access to motivation when you need it.
If you're tired of building rapport with questions like, "How's your day going?" or "Is it feeling like fall yet in [prospect's town]?", This Day in History is a good Alexa Skill to set up.
Ask Alexa to launch This Day in History to learn the historical events that happened on this day. Once you jump on a call, tell the buyer, "I actually just learned Yosemite National Park was founded on this day in 1890. Have you ever been?" or "The Model T was unveiled on this day in 1908. Would you rather drive around a vintage Model T or a Tesla?"
It takes a certain level of quirkiness to pull this off -- and the right audience -- but do it right, and you'll be the salesperson who's also a history buff (versus the ninth person that week to ask about the weather).
Food Alexa Skills
On those days when you're working like crazy and need a low-effort, delicious meal to help you power through, you'll love this Alexa Skill from Domino's.
You can start a new brand-new order, request your most recent order, or ask for your default order. Once the order is out, Alexa will tell you which stage it's in -- from the time it's placed to when it's ready for delivery or pickup.
Maybe you're not a pizza lover. You can still enjoy the convenience of hands-free delivery. Link your Grubhub account to Alexa, then reorder your favorite dishes and/or entire orders.
Amazon Restaurants: Request anything from your Amazon Restaurants order history
Prime users in Atlanta, Austin, Baltimore, Brooklyn, Chicago, Columbus, Dallas, Houston, Los Angeles, Phoenix, Portland, Manhattan, Miami, Minneapolis, Northern Virginia, Orlando, Oakland, San Diego, San Francisco, San Jose, Seattle and the Eastside, Tampa, and Las Vegas can order from Amazon Restaurants.
Say, "Alexa, order Thai food from Amazon Restaurants," or "Alexa, order pizza from Amazon Restaurants." Confirm the order, and it'll be on its way.
Waiting in line at Starbucks can eat up valuable minutes of your morning. But few salespeople can operate without their A.M. caffeine boost (and let's be honest, their afternoon one as well).
Make your coffee run as seamless as possible with the Starbucks Reorder skill. It lets you reorder your "usual" from one of the last 10 stores you've ordered from or pick an order from your last five.
OpenTable: Make reservations
You've just confirmed a meeting with a prospect or customer. Now you need a reservation. Rather than browsing OpenTable on your phone or computer, just say, "Alexa, launch OpenTable."
Then, search for the restaurant you're thinking of, request a time, and viola -- you're booked.
Alexa Skills FAQ
What are Alexa Skills?
An Alexa Skill is a capability you can take advantage of if you own an Amazon Echo, Echo Dot, Echo Show, Tap, Fire TV, and Fire Tablet. There are currently over 25,000 Alexa Skills.
Are Alexa Skills free?
All Alexa Skills are free. Of course, you have to pay for an Alexa-powered device.
How do you get an Alexa Skill?
You can enable Alexa Skills on your phone via the Alexa app. Alternatively, you can turn them on in the Alexa Skills store on the Amazon site.
Lastly, if you know the exact title of the skill, say, "Enable [skill name] skill."
Once you've enabled a skill, use it by saying, "Alexa, open [skill name]."