Sales content — brand or product-specific content your company produces to compel prospects to buy.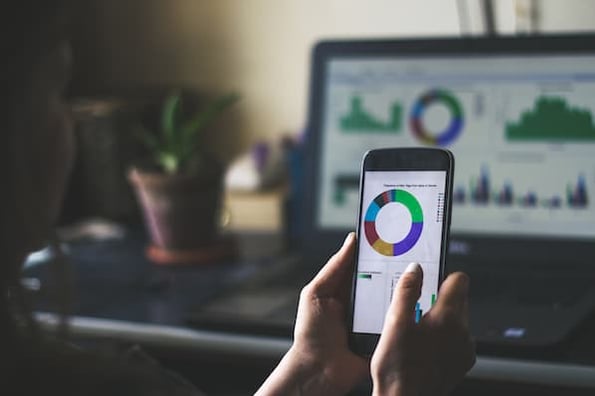 The quality of your sales content can be a critical factor in a potential customer's decision to trust your business. If you can produce compelling content — specific to your business and how it will impact their lives or company operations — you can make them legitimately consider purchasing your product or service. But how can that happen?
How can you go the extra mile to ensure that your sales content is as engaging as possible? Well, one way is to look for some assistance from your marketing department. They might be able to offer some insight, expertise, and a creative edge to the sales content you produce.

Here is some advice from HubSpot sales reps on how to work with a marketing department to create better sales content.
Research
Isaac Caroll, a Channel Account Manager at HubSpot, says the information behind the content he helps produce takes "[a] lot of research, reading industry whitepapers, and talking to thought leaders in the space the content is relevant to."
The quality of sales content rests, in large part, on the insight sales teams can offer their marketing departments. The expertise that informs that insight comes from the kind of research Caroll mentions.
That being said, conventional research isn't the only way to gather the information necessary to produce compelling sales content. There's a more human element to the process as well.
Given their immediate exposure to the subject matter behind the sales content they help produce, salespeople are generally expected to provide a firsthand understanding of what real customers are looking for to their marketers.
As HubSpot Senior Growth Specialist, Martijn Verschoor, puts it, "One of the advantages of being in contact with marketing about this is that we manage to give direct feedback 'from the front lines' where we engage with real people and real problems on a daily basis."
The point Verschoor makes about "direct feedback" brings another crucial component of this tandem content creation process to light — communication.
Communication
As Verschoor alludes to, marketing departments often rely on information gathered by salespeople when producing content for sales enablement. So it might go without saying, but maintaining open lines of communication is central to marketing and sales departments coming together to produce thoughtful, effective sales content. But how can that be facilitated?
Well, dedicated Slack channels are one option worth exploring. If your organization maintains siloed Slack channels dedicated to marketing and sales, your sales and marketing teams can readily and directly contact one another.
Through these avenues, they can provide insight into and feedback on your sales content efforts together. You could even designate a channel to sales content production where your sales and marketing teams can freely collaborate.
If you choose this method, be sure to clarify that these channels are strictly for information and discussion relevant to the entire department. If your teams are finding themselves inundated with petty, insignificant notifications, they might not be quite as responsive to sales content-related discussions.
In-person brainstorm sessions with representatives from both departments can also be valuable forums for sales content creation. Having salespeople and marketers bounce ideas off of and trade insight with one another can help facilitate the discourse and collaboration necessary to produce high-quality, engaging, accessible sales content.
Connection
Another important aspect of producing high-quality sales content is customer connection. Several forms of sales content — particularly and most obviously testimonials — rely on customer involvement. Salespeople generally interface directly with customers more than marketers do.
So naturally, marketers will often rely on salespeople to put them in touch with real people to produce content that revolves around their experiences with a product or service. Carroll says "connecting marketing with long-standing clients to get them excited about providing a testimonial" is often a part of the sales content production process.
That relay of individual customer information between departments is one of the more prominent and significant ways marketers and salespeople can work together on producing sales content. If a marketing department is looking to incorporate individual customers' stories into any sales content it has a hand in, it might not have the access or resources to find that information on its own.
Marketers being able to touch base with salespeople to connect with customers can be huge for any collaborative effort on sales content.
Most Effective Forms of Sales Content
The term "sales content" is a relatively broad term. It encompasses content of several different shapes, sizes, and natures. When we asked our reps what its most effective form was, there wasn't a definitive consensus.
Some of the reps we spoke with gave more concrete answers. Isaac Carroll says testimonials are the way to go.
According to him, "People can't help but think you're biased when you talk about your own company.Having an honest review from an existing customer — the good and the bad — makes for a more genuine experience. We know no person or company is perfect, so let's respect our clients and not pretend."
Martijn Verschoor said that more actionable content was the most effective. He suggested that "[not] all content is created equal! The content that usually gets the most traction revolves around optimizing the activities of your teams. This applies to information about increasing productivity but also about increasing conversion rates in the sales process. Recommendations on how to create the best team with the best tech stack are always a great source of information and people love to consume it."
HubSpot Channel Account Manager Rachel Robinson said, "the most effective form of sales content is content that specifically speaks to different prospects barriers or fears surrounding moving forward with the purchase or decision. Furthermore, content that shares a real-life example of a customer that felt the same way your current prospect does, but what helped them overcome that fear or why they decided to move forward despite that fear."
Considering the conflicting information we got from the reps we contacted, the most fitting answer might have come from HubSpot Sales Director Dan Tyre who said, "[the most effective form of sales content] depends on the audience level, persona, and type of event."
Ultimately, it will be on you to gauge what kind of sales content is appropriate for the prospects you're trying to sell to and the context in which those sales take place. And as a salesperson, you very well might be able to produce that content on your own.
Still, you should always consider the possibility of collaborating with your marketing department and bear the different strategies you can leverage to do so in mind.