Before HubSpot was named "HubSpot," it was LegalSpot.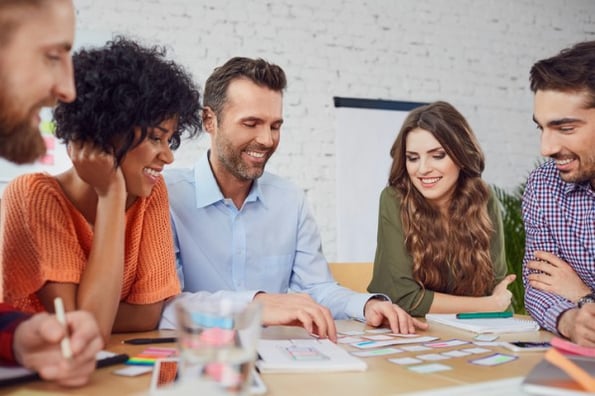 According to Brian Halligan, LegalSpot was going to be "a suite of applications that helped you manage your law firm." He and Dharmesh Shah then "tinkered" with their business model until they transformed it into the universal Marketing, Sales, and Customer Service Hub it is today.
The moral of the story? Brian and Dharmesh had a business plan from the start. They created a development process that fostered growth and strategized for long-term success. That's what propelled a lunch table idea into the first software for Inbound Marketing.
If you want your business to grow, you need a business development process that's organized and consistent. If you're not sure where to start, let's begin with discussing what a business development process is and how to create a strategy to improve it. Then, we'll wrap up with a free template you can use to implement a plan at your company.
Business Development Process
The business development process refers to the steps your business takes to improve the organization as a whole. This includes everything you do to attract, engage, and delight your customers. Outlining this process helps your team understand current business conditions and set goals for the future.
It's important that your sales team understands your business development process because they can use that knowledge to set annual sales targets.
For example, let's say your business development team finds that your U.S. sales are growing and are projected to hit five million dollars in five years. With this information at hand, sales management can set hiring goals and review sales strategies to ensure they meet their projected growth.
Once you hash out your business development process, you'll need a plan that improves it over time. To help you get started, let's go over what a business development strategy is and how you can implement one at your company.
Business Development Strategy
A business development strategy is a detailed plan outlining how an organization will grow and succeed over time. Companies use business development strategy to address specific business needs that influence the organization's growth. By creating a long-term development plan, marketing, sales, and customer service departments have a better understanding of how their work contributes to the business's success.
If your company doesn't have a development strategy, or you're unsure about how to make one, let's go over the steps to creating a plan in the next section.
Free Sales Plan Template
Tell us a little about yourself below to access the resource:
Business Development Strategy Plan
1. Mission Statement and Background
Your business development strategy should begin with outlining your company's purpose as well as any relevant background information. This includes your mission statement, vision statement, and company history. Having this information front and center makes your organization's intentions clear to the reader and present throughout the document.
2. Team
Before you start describing your goals and strategies, it's important to highlight the employees that will make this plan possible. You should outline who your sales leadership consists of, the team's overall structure, and any new hires that join the organization. This not only develops a chain of command, but it also helps you identify hiring needs and fill vacant positions.
3. Target Market
Once we have the background information out of the way, the next step is to describe your target audience. You'll need to identify who your product or service is designed for and how you'll segment this audience for your sales team. You should also discuss audiences that shouldn't be pursued to ensure your team is engaging with qualified leads.
The best place to start is by describing the location of your target audience. Are they nation-wide or region-based? If region-based, how will you reach them?
Then, include your buyer personas. Buyer personas are representations of your ideal customers based on market research and existing customer data. This will highlight to your sales team the exact type of customer they should be pursuing.
4. Tools, Software, and Resources
The next section should describe the tools, software, and resources that will help you achieve your goals. This includes your CRM, marketing automation, social media, and customer service tools. These assets streamline functions and store valuable information about your customers. Your sales team should be aware of each of these tools as they may be useful for closing a deal.
While your sales team may work with a variety of tools, there are some core ones that should always be listed in this section. For example, email and calling software are essential tools for sales teams. Without them, your salespeople wouldn't be able to effectively communicate with your customer base.
5. Positioning
The positioning section should describe how your product or service is viewed in your industry. Start by outlining the market conditions, then explain how your business brings value to the industry. This information is important for new hires who need to understand how your company is different from competitors.
You can take it one step further by including a competitor analysis as well. A competitor analysis highlights your company's strengths and weaknesses and provides counterpoints to address your organization's flaws. This will help your sales team maintain consistency when communicating with customers.
6. Marketing Strategy
This section should include an overview of your entire marketing strategy. This includes any email, blog, event, video, social media, or direct mail campaigns. It's important for marketing and sales teams to work together, so your team will need to know which campaigns are being executed and when.
7. Prospecting Strategy
Your prospecting strategy should describe the steps your sales team will take to qualify leads. If this process is inconsistent, your team will have trouble closing deals. Be sure to list each step in your prospecting strategy so your team knows exactly how to engage customers.
You should first list your criteria for reaching out to a prospect. Explain what a prospect has to do in order to be viewed as a good fit for a sales pitch. Then, describe your inbound and outbound prospecting strategy. These are the steps your team takes to convert a prospect into a customer.
8. Goals
Now, it's time to set goals. Determine what your sales targets are and list them in this section for your team to see. This should include metrics like revenue, deals closed, and units sold. Make these goals clear to your team and keep them relevant to your work over time. If there are any lulls or declines, remind your team about your goals and what they can do to achieve them.
9. Action Plan
Once your goals are set, you'll need a plan to achieve them. This section is reserved for the steps your sales team will take to hit your goals. This includes the number of calls they'll make, locations they'll visit, and high-profile clients they'll work with. Making these quotas clear provides your team with a realistic strategy for meeting your goals.
10. Budget
You should conclude your business development strategy by outlining your sales budget. Explain how much you're willing to spend on your sales initiatives and forecast what you predict the actual amount will be. Be sure to consider factors like payroll, commission, travel, food, and anything else that keeps your sales team operating.
Business Development Strategy Plan Template
Now that you're familiar with every aspect of a business development strategy, it's time to create one for your sales team. To help, we put together the free template below that you can download here.
For more ways to improve business strategy, read about these business development skills.