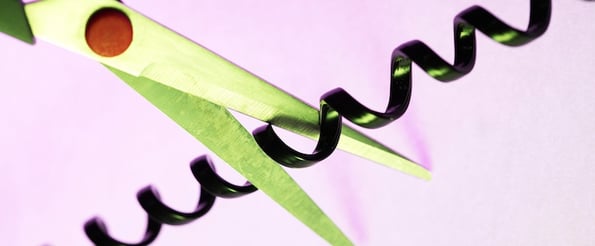 The best salespeople don't just listen to what prospects say -- they figure out what prospects actually mean. Because as you probably know first-hand, prospects aren't always 100% transparent with sales reps.
"People don't like being direct and telling salespeople 'no,'" explains Muse account executive Jeffry Harrison.
Is that the prospect's fault? According to Kelly Green, EVP of Education Sales for Kindermusik, it's up to the rep to "immediately connect on value and fit" and uncover the buyer's true motivations.
To do just that, let's take a look at some of the common things prospects say versus what they actually mean.
1) "Ping me in a couple weeks."
While a rep might take this as "I'm interested, but I'm currently slammed," Harrison says it's more likely, "I don't want to say 'no' to you on the phone right now, so I'll tell you over email in a couple weeks."
Because, let's face it: If the prospect thinks what you're offering can save her company resources or make it more competitive, she'll want those benefits ASAP, not in the somewhat distant future.
How to respond: "Okay, I can do that. And so that I can give you the most relevant info, can you tell me ... [qualifying question]?"
Not only will this get you more information about the prospect, but you might be able to lead him or her into a full conversation.
Alternatively, try, "I'm sure you're busy. Would you be open to a five-minute phone call before then? I want to make sure it even makes sense for us to keep talking before I use up any more of your time."
2) "I don't have time."
According to Suzanne Herron, sales director of Listen Current, this brush-off translates to: "I don't know why your product is important to me." After all, even the busiest people will find time for a product they think will help them.
How to respond: "Not a problem. I'd be happy to follow up in [a couple days, a week, a month, next quarter] -- but if you have just two minutes right now, I can tell you how the product will help you with [very specific prospect problem]."
"The key is telling the prospect exactly how you can solve their specific needs," Herron explains. And once they understand how your offering is relevant to them, they'll conclude that you're worth their time.
3) "I'm too new in my position to buy this."
Prospects tell you they're "too new" to make a purchasing decision when they're actually thinking, "I'm afraid to break the status quo and put my name on the line for a new product," Harrison says.
How to respond: If your research shows there's someone higher up on the ladder that would have more purchasing authority than this particular contact, say, "I completely understand. Should I be talking to your [CMO, CTO, CIO, CXO]? Also, I'd love to send you a document showing how our product will specifically help your company with X problem. That way you'll be on the same page as [name of decision maker]."
However, if you think the prospect does have the authority, reduce their perception of risk by saying, "I completely understand. This is just an informational conversation. I'd be happy to send you some case studies on how [other companies in their space] have used our product. I'd also be happy to set up a [demo, trial, sample] so you can learn more before you make any decisions."
4) "We don't have the budget."
According to both Herron and Harrison, "budget constraints" are typically code for "We don't think your product will work."
"I've seen prospects that really want the product get creative in finding the money," Herron says. "If you position the product as one they just can't live without, they'll find the money for it."
How to respond: Your approach will change depending on which stage of the buying process the prospect is in. If you're talking to the prospect for the first time, say: "That's okay. We don't expect you to buy anything right now. We'd just like the opportunity to share what we are doing and see if it's valuable to your company."
But if the buyer is later in their process, go back to the ROI of your product, and show how not buying will cost them money.
5) "This seems like a good fit for our organization."
When a prospect says your product is a "good fit" or "seems like it could really help," it's easy to mentally put another notch by your name on the sales leaderboard. But Mark Gibson, director of sales enablement at Centrify, warns against counting your deals before they're won.
Unless the prospect is simultaneously writing a check, Gibson points out that this phrase usually means, "Your product sounds like a good fit, but I'm also considering two or three competing products, and they look promising as well."
How to respond: Gibson recommends answering with: "How would you know if this is the best fit for you? How will you decide?"
If you've already identified your prospect's major objections (for example, price and scalability), now is the perfect time to address them. In this scenario, swap out the second sentence for: "I know you had some concerns about X and Y. Are those holding you back from buying?"
6) "The product looks great ... but we need it to do X."
Sometimes, this excuse isn't an excuse at all -- your product is simply missing a feature your prospect considers to be crucial. However, close.io CEO Steli Efti says it often means, "You haven't shown me how your product solves our needs."
How to respond: "Okay, thanks for letting me know. Why is that feature a priority for your company?"
Once you've figured out why the feature is so important, follow up with, "I definitely understand why you want [X feature]. While our product doesn't have [feature], you can accomplish the exact same outcome by doing [Y]. We actually decided not to build [feature] because … "
This reply demonstrates that you understand the prospect's needs beyond the surface level -- which 69% of people say improves their sales experience, according to HubSpot Research. In addition, you showcase your commitment to helping above all else by suggesting an alternative solution -- even if it can't be accomplished with your product.
7) "When would the service begin?"
Asking for the start or delivery date is a good sign. According to Gibson, this question means there's a good chance the prospect is interested and thinking, "How soon can I have this?"
How to respond: "What would be the optimal date for you? I'll do my best to make it happen."
Even if you can't meet the exact day and time the prospect names, this response shows you're eager to help.
However, if you suspect the prospect isn't ready to buy, Gibson recommends asking, "What's causing the need for the product now?" This question should help you surface any needs the prospect hasn't yet shared.
Do you disagree with any of our translations? Have your own buyerspeakisms to add to the list? Let us know in the comments.