Creative Sales Ideas
Create a Website for Referrals
Form Strategic Alliances
Attend Your Customers' Events
Send Them a Book
Offer Complimentary Consulting Sessions
Serve as a Matchmaker
Start or Join a Niche Group
Try a Direct Mail Campaign
Sales success largely depends on routines. There are only so many hours in a day to sell -- the more practiced salespeople are at completing everyday tasks, the more time they can allocate to high-value activities like meeting with prospects or learning new skills.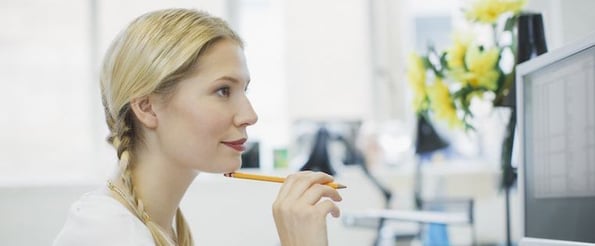 But sticking to the same process isn't always a good thing. If you rely on the same prospecting methods and never try anything new, you'll miss out on valuable opportunities. After all, many buyers will never get on your radar via traditional channels.
Maybe they haven't changed vendors for 20 years and would only switch if a trusted business partner referred them to another supplier. Or maybe they're unaware of their problem in the first place, so they're unlikely to download your content or seek out a salesperson.
To find these high-value prospects, you'll need to try add some creative prospecting techniques to your arsenal. Use these six ideas as inspiration.
1. Create a website for referrals
Bill Cates, a sales referral expert, suggests creating a simple website customers and contacts can use to forward you referrals.
The headline should read something along the lines of, "You're here because someone who's invested in your success thought you'd benefit from [main value of salesperson's product]."
If you have the resources, Cate also recommends filming a short video. Introduce yourself, why you believe in your product, and share two or three fun facts. Not only will this video humanize you and make prospects more open to working with you, but it'll also highlight your passion.
Having trouble identifying your personal motivation? Cate advises asking yourself these questions:
Why am I in this business?
Why do I believe in the work I do?
Why am I with the company I'm with now?
Why am I excited about the company I'm with?
Why am I more excited about this work than I've ever been before in my career?
The last section of the site should motivate prospects to take action. Give them a valuable piece of content in exchange for their name and email address, or ask them to schedule a time on your calendar to talk using a tool like Meetings.
2. Form strategic alliances
Take a page from your marketing team's playbook and partner with other companies with similar audiences. You'll each receive qualified leads -- not to mention, valuable insights about your buyers. From buying trends to suggestions for selling to specific prospects, you'll give each other a wealth of information. This technique is like co-marketing but for your sales department.
If you're not sure which companies to target, identify the other purchases your customers make, then figure out the top providers of those products.
For example, suppose you sell accounting services to startups. Asking your customers about the other purchases they make in the same price range reveals the majority outsource their legal needs. With that knowledge, you might reach out to legal service providers and agree to send each other a certain number of referrals each quarter.
Your prospects benefit from this arrangement too. Before, it could have taken them two months to research and review different options for their legal needs; with your recommendation, it might take two weeks.
If you're not sure which non-competing companies your customers buy from, ask:
"What other purchases are you considering right now?"
"What's the last product you bought?"
"Where do you plan to invest in next?"
"What other challenges are you experiencing?"
"What other needs do you plan on addressing?"
3. Attend your customers' events
Guess who your buyers hang out with? Other potential buyers. That's why events hosted by your customers are gold mines for prospects.
It pays to keep in touch with people after they've signed the contract. Once a quarter, reach out to existing customers and ask how they're doing. You might also consider sending along a relevant article or tip, congratulating them on recent company news, or offering to connect them with a specific person in your network they'd benefit from knowing.
Strong connections tend to invite you to professional events of their own accord. However, you should also monitor their websites and/or subscribe to their newsletters so you'll know if there's an event coming up. Ask your customer, "Would it be possible for me to attend [event] on [date]?" Because you've been consistently providing value, they'll probably be happy to oblige.
4. Send them a book
There's a few reasons sending your prospect a book usually pays off. First, nearly everyone -- from CEOs to junior employees -- loves receiving packages. Second, your recipient typically feels obligated to reciprocate by responding to your email or getting on the phone with you. Third, you have the opportunity to demonstrate your expertise by choosing a book that corresponds to the buyer's challenges and needs.
To use this technique with an individual prospect, identify one to three topics she'd likely be interested in. Maybe she is the director of HR at a mid-size software company. Previous experience with similar prospects suggests she's focused on shrinking average time-to-hire, improving two-year retention, and creating more professional development opportunities. Use these priorities to find a book with relevant advice or case studies. (If you're struggling, ask similar prospects for their favorite work-related reads or search "[pain point] best books]" and "[prospect's industry] best books.]")
Mail the book, along with a note explaining why you think it may be valuable, to the buyer's company. (Make sure the package is addressed to your prospect.)
Here's a sample template:
Dear [prospect name],
Are you [struggling with X, looking to capitalize on Y, concerned with Z trend]? You might find this book helpful. I found [specific tip/section/explanation] in chapter X particularly helpful.
Best,
[Your name]
Most mail carriers let you request a signature upon delivery for an extra fee. Take advantage of this option; as soon as you get a notification the package has been signed for, call or email your prospect.
Say something along the lines of, "Hi [prospect name], I see you just got my package. Would you like to schedule a quick call on [date and time] to discuss the concepts in the book?"
Whether or not they say yes, you'll have made a favorable impression -- meaning you still have a good chance of getting some time on their calendar at some point.
5. Offer complimentary consulting sessions
Time is a salesperson's most precious resource -- so the idea of giving it away and asking for nothing in return probably seems dubious. But this can be a highly effective way to find good-fit prospects.
First, define your ideal customers: Their industry, market, company size, job title, location, and so forth. Then, hone in on a challenge most of these customers are facing.
A salesperson who works with biomedical companies, for instance, might focus on the difficulty his prospects have raising funding.
Once you have a challenge in mind, offer buyers complimentary 20- to 60-minute consultations focused on solving it. The meeting length you choose should depend on the size and complexity of the issue and your average deal size. If you have a limited number of high-value customers, your consultations should be longer. If you serve a large amount of lower-value customers, shorten the consultations.
These consultations will position you as an expert in the space. When prospects are looking around for solutions to their problems, you'll naturally be one of their first choices.
You can also use this technique to connect with referrals. Tell your current customers you're providing free consultations on a specific challenge, then ask if they know anyone dealing with that challenge.
6. Serve as a matchmaker
People are usually more willing to connect you with potential buyers if you've made some valuable introductions for them first. With that in mind, make a habit of asking prospects, "Are you currently searching for [a new, additional] suppliers, employees, partners, or customers?"
Follow up with, "Can you describe your ideal [supplier, employee, partner, customer]?"
Use your prospect's criteria to find potential matches within your network. They'll be grateful for your help -- and eager to return the favor by introducing you to contacts who fit your ideal customer profile.
If your prospecting strategy has started to feel stale -- and your results aren't meeting your expectations -- use some or all of these six ideas to find fresh potential customers.
7. Start or join a niche group
From Facebook and LinkedIn to in-person meetups, groups are an excellent way to prospect. If you specialize in selling building supplies to local contractors, research groups for local real-estate investors, realtors, contractors, and architects.
If in-person meetups are where the leads are, show up to gatherings regularly, get to know attendees, and even pitch to speak at one of these events. You'll make inroads with qualifies prospects, and they'll be more likely to remember you when it's time to order supplies or make a recommendation to a business partner.
Online groups are also a successful way to prospect. When appropriate, request to join groups where your ideal customer hangs out. Before jumping in immediately with a pitch, get to know the people in the group. Join conversations in a non-salesy way, adding value by answering questions and sharing helpful resources.
If someone asks you a specific question you know your product/service could remedy, tell them you'll send a direct message with more details. By keeping your pitch private, you'll avoid spamming prospects who might not be ready for a pitch.
When in doubt, reply in kind. If your prospect liked an article you shared in the "Contractors of Toledo" LinkedIn Group, don't send them a message saying, "I saw you liked my article on new Ohio building permits. Let me tell you how I can help Ohio contractors like you reduce spending on supplies." Your prospect might have simply found the article interesting or clicked "Like" by mistake. Immediately messaging them sends the wrong ... well ... message.
Instead, leave them a comment thanking them. From there, the ball's in their court.
8. Try direct mail
Give this tired outreach tactic a fresh look by picking one primary message ("The best building supply customer service in Ohio"), one CTA ("Call today for a free estimate"), and leading with strong visuals.
Don't forget to add impressive company stats ("We respond to each support ticket or customer call in one hour or less"), a glowing customer testimonial ("Buckeye Building Supply was able to update my order in under an hour when a client had a last-minute change-of-mind on cabinetry materials!"), and a special offer to encourage your audience to reach out ("Call today for 10% off your first order.").
While inboxes have never been more inundated with salespeople and their requests, it's given the actual mailbox a rest. Seize the day and create a direct mail campaign that will have your phone ringing off the hook.
Prospecting doesn't have to be a chore. Try some of these creative sales ideas out this week, and see how your numbers improve.