Let's be real: Most salespeople are annoying. They view their prospects as numbers in their sales funnel, not as people. They believe earning your business is a chess match and a signed contract means they "won the game."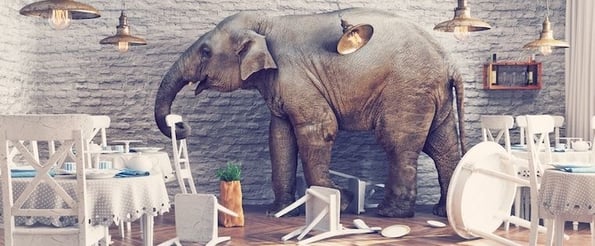 However, the average prospect doesn't know how to purchase anything that falls outside their area of expertise. Think about it. Do you really know how to buy a TV? Do you know what precise technical questions to ask? You'd probably like some help, right?
But when the salesperson at the electronic store asks if she can help, what do you typically respond with? "No, I'm just browsing."

The cat-and-mouse game buyers and salespeople play has created an unproductive, competitive environment that doesn't benefit either party.
One of the most common culprits? The questions you're asking your prospects. Luckily, once you know where you're going wrong, you can course-correct. Stop asking these 15 common questions -- or at the least, rephrase them.
15 Dumb Sales Questions to Avoid
1) "What is your budget?" or "What would you like to spend?"
Buyers often rationalize lying to salespeople about their budget because they feel it is the necessary first step in a negotiation. And why do you need to know about budget up front anyway? If the buyer has purchased what you are selling in the past, they will have money to spend. If they have not -- how will they know what price is right?

Instead of demanding a budget right off the bat, strive to understand the prospect's process for buying and their spend tolerance. Simply asking about their buying process for your type of product or service will get you a lot better information than asking specifically about budget.
2) "What's more important to you, price or quality?"
Shame on you for asking this question. If you beat the competition solely on price, just come out and say it. However if you are not the low-cost provider, you need to build value. Your prospects will naturally associate a given amount of value with "what the product is supposed to cost" so a good salesperson will try to understand that perspective and discuss price from there.
3) "Are you the decision maker?"
This is a bad question because it's unclear. Are you asking if they're the decision maker for which vendors move on to the next step in the buying process? Or are you asking if they can they sign off on the proposal? This puts the prospect in an ego predicament. No one wants to feel as if they are just the informer.
Instead, ask the question,"Who is involved in this process?" Even the CEO gets input from others (or at least he or she should). This should reveal all relevant influencers, stakeholders, and the ultimate decision maker.
Salespeople need to identify the decision makers so they can work with these stakeholders throughout the buying process. Too often we leave it to others to sell our products and services to executives because we failed to appropriately engage them.
4) "What's your biggest pain point?"
You won't get the answer simply by asking. Most salespeople stop probing for pain once they hear an indicator such as, "If this doesn't go well, I will get fired." However, pain is rooted in emotion. In this example, the pain isn't the potential of getting fired -- it's the emotion associated with getting fired.
Everything we buy is bought emotionally, so unless you know the pain, how can you truly help? Seek to understand the prospect's underlying emotional need for change.
5) "How good are your products and services?"
This is a legitimate sales question to ask if your product or service promises to improve the prospect's business results. However, if you pose it in this way, prepare yourself for a biased answer.
How can you get an honest response? Ask questions around how the business is doing from a third-party perspective, or versus the competition. For instance:
When you lose, why do you lose?
What do your customers say about your products and services?
What percentage of your business is referrals?
6) "How strategic are you?"
Ego will not allow your prospect to say "not at all" (even if that's the truth). On the other hand, if they do show vulnerability, they will likely blame the company or others for it (which shows they are not truly strategic).
Instead of asking this question at all, simply listen to your prospects' answers to other queries. I guarantee you will discover if they are strategic or not.
7) "Would you like a proposal or quote?"
When you ask this question, you will likely get blown off one of two ways. You will be either be told "I am happy with my current vendor" or "I don't want to waste your time."
Another possibility is that the prospect will gladly take your proposal ... and use it to price check their current vendor. Your proposal then functions as intel for your competition. Finally, the prospect could request your proposal simply to get you out of their hair.
A proposal should simply be a summary of expectations both parties have already agreed upon. It should only be sent once you have agreed on scope, pricing, timing, etc., and serves as documentation for the work being completed. It does not sell anything in and of itself.
8) "Can I show you our capabilities?" or "Would you like a presentation?"
Show and tell is for your nine-year-old. If you are presenting, you are not selling. You are bragging. Don't brag.
9) "Is this a good time to chat?"
Do you think your prospects sit in their offices hoping a salesperson calls? There is never time, but people can make time if they want to. This question gives your prospect an easy out. A better way to ask this question is, "Did I catch you at a bad time?"
10) "What level of service are you willing to pay for?"
This question implies that your relationship is only about money, and that's just not true. Sales is about balancing what the prospect needs with what they want. Your questions should inform you about the prospect's business so you can discuss appropriate solutions.

Build value, not budgets. If your business offers multiple service levels, ask the relevant questions in order to make a recommendation.
11) "Who is your competition?"
You should do research before you talk to prospects to identify their biggest rivals. Asking this question makes you look like you're uninformed on their industry and company. Have some ideas about who their competition is, but don't want to jump to conclusions? Try asking your prospect, "I did some research, and it looks like your biggest competitors are X, Y, and Z. Does that sound right to you?"
This question allows you to verify your findings without losing face or seeming ill-prepared.
12) "What can I do?" or "What will it take to earn your business?"
This sets you up for failure because you are now just an order taker. The prospect tells you in this moment what it will take to get a signed contract ... and they will continue to tell you what you have to do for the rest of the relationship. This isn't exactly the partnership you touted when trying to earn the business. This question also implies that you will take on anyone and are willing to be insincere to close a deal.

Get to know the prospect's business, their pains, and how you can help. If it makes sense to work together, it will happen. If not, move on.
13) "Who was the best salesperson who ever called on you?"
Who cares? Are you going to be inauthentic and act like someone else to try to earn the business? Would you ask your spouse who was the best person they ever dated? Forgo this question in lieu of more valuable and revealing queries.
14) "What do you dislike about your current vendor?"
The objective here is totally transparent: You're trying to identify weaknesses in your prospect's current supplier relationship so you can position yourself as a better alternative. If the buyer says, "Their shipments are frequently late," you'll predictably say something along the lines of, "We're always on time; ask our customers," or "We move mountains to deliver our goods on the right date."
It's actually less persuasive to present your company's strengths reactively. The prospect will wonder if you're only touting that specific detail because you're trying to amp up their dissatisfaction. Instead, delve into their priorities and needs and position your offering accordingly. Your pitch will feel more genuine.
15) "Can you tell me about your business?"
Unlike questions that dig into your prospect's needs, objectives, and strategic initiatives, asking them to tell you about their business is solely for your benefit. In addition, posing such a high-level, broad question tells the buyer you haven't even bothered to browse their company website before the call.
A good sales professional has virtually no cap on earning potential, but it takes more than practice to attain mastery. Top salespeople continuously develop and refine sales skills through learning -- with the help of a coach, trainer, manager, or on their own. Don't you think asking great questions is one of those critical skills?
This post was originally published in August 2015 and has been updated for comprehensiveness and accuracy.