The best salespeople make sales personal. They put thought and careful consideration into the deals they make, and they work — first and foremost — for their customers' best interests. And troubling times make that kind of compassion and effort even more essential.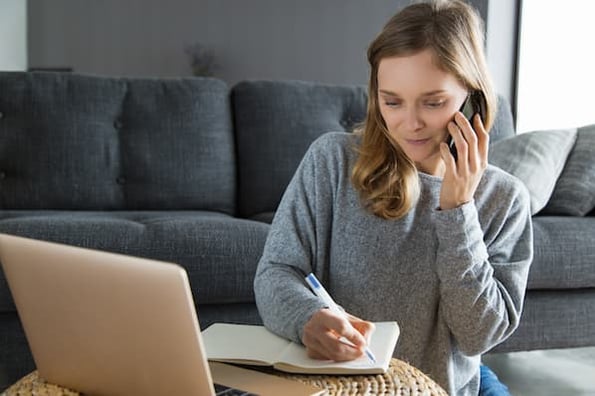 Salespeople need to know how to be empathic and thoughtful while still making sales. Sometimes, that process can be easier said than done. It can be difficult to know what to focus on and how to best approach and understand prospects and customers.
In order to offer some perspective on empathy in sales and how to incorporate it into your interactions with prospects, we've asked some HubSpot sales reps for their advice and ideas. Let's see what they have to say and get a feel for how you can be empathic in sales
How to Be Empathic and Thoughtful While Still Making Sales
Always be empathetic.
Empathy and thoughtfulness already need to be ingrained in your sales efforts. As Alex Riffle, Partner Specialist at HubSpot, puts it, "I always try to lead with empathy and think about how our tools could solve a challenge prospects or customers are likely facing."
He suggests that even in these troubling times, "the approach doesn't change — but the challenges we're solving for do. We just have to lead with empathy, understand our prospects and customers, and solve their challenges."
Carl Ferreira, HubSpot Account Executive, expressed a similar sentiment. "Sales reps in these tough times really should not be doing anything new — they should have been empathetic all along."
He advises reps to "lead with the prospect in mind. Who are they? How are they doing? What challenges are they facing? Leading with genuine curiosity, concern, and a real interest in helping your prospect to do their work better will help sales reps stand out in the 'sea of same.' Empathy is not an emotion to fake while having an agenda to cram a solution down their throat."
Helping and understanding the customer has to be your first priority. There are some actionable ways you can approach this strategy. Jordan Benjamin, Principal Partner Strategist at HubSpot, offered this advice, "My go-to question is 'How are you doing?' I try to use a tone that shows I really care and am curious to hear. It may take up one minute of the conversation — it might take up 15. But that's where I want to start. I want to hear where my prospects are coming from to see if they want to open up or just get down to business."
Ultimately, the key here is to remain genuinely empathetic — no matter the circumstances surrounding the sale. It always helps to know where your prospects are coming from, and sincerely wanting to understand them is central to that process.
Focus on relationship-building
Empathy in sales is not just a means to an end. Don't reserve it exclusively for deals you're trying to close immediately. Selling empathically is about building relationships, caring about the customers and prospects you serve, and doing what you can to put them first.
Daniel Wolter, Sales Team Lead at HubSpot, had this to say. "Sales is all about empathy and understanding individual business cases, but it's also about giving some good advice and alternatives — like changing payment terms, working with trials, or setting the contract start date a month ahead or two."
He says, "We talk with a lot of businesses day in and day out. That allows us to spread information that could be beneficial for individual prospects. These relationships that we build during the sales process are the key to winning the deal. If not now or next month, prospects will remember this and will get back to us as soon as they can."
Brandon Kirsch, HubSpot Senior Account Executive, expresses a similar sentiment, "I think we all could use a dose of humanity in these difficult times, so instead of being laser-focused on my quota, I'm trying to enjoy the conversation and focus on their reality. I've found that being present and understanding their current situation has led to more focused conversations that might not translate into MRR right away — but have absolutely saved me time and allowed me to make the right play call to keep things moving one way or another."
HubSpot Channel Account Manager, Sharen Murnaghan adds, "Great salespeople really give a damn about their prospects, customers, company, and reputation. And they're keen not to damage any. For this reason, structured techniques like LAER can be helpful. Following the steps of 'listening, acknowledging, exploring, and responding,' allows salespeople to stay in control of the process, keep their prospect or customer engaged, and build relationships based on understanding and trust. The sale may or may not happen — that's beyond the sales reps' control — but the reputation of empathy will stay strong in the long term "
Being selectively empathetic to only suit customers whose business you're certain you can land immediately is cheap and transparent. You're much better off working to consistently foster meaningful relationships. That could mean making concessions and accommodations or waiting a while before your efforts pay off.
Understand how to pace your sales efforts.
A key component of leading with empathy in sales is knowing when to hit the gas and knowing when to pump the brakes. Understanding when to stop contacting a prospect or customer for a certain amount of time is one of the more concrete ways to demonstrate your empathy as a salesperson.
As HubSpot Account Executive, Kevin Ngyuen, puts it, "The reality is, your product could solve all of a prospect's immediate problems and deliver a 300% ROI, but if they're feeling overwhelmed and confused by the situation, you've got a problem. This is where sales is both a science and an art. You're dealing with humans. And I hate to say it but humans have emotions. If it 'doesn't feel right' then they'll never buy so you've got to appeal both logically and emotionally."
The question becomes, "How can you make your interactions with a prospect 'feel right'?" Well, being mindful of how you pace your sales efforts is central to that process. Ngyuen suggests sales reps "slow down the deal at the beginning to accelerate the deal at the end" — a strategy he says is even more relevant in difficult times.
That being said, there's no definitive timeline for when to back off from a prospect. HubSpot Senior Account Executive, Brandon Kirsch, says, "Every prospect is different. If you, as the salesperson, are not seeing engagement, action, or getting any feedback from the prospect after a confident amount of touchpoints then you need to move on. This is a place I think everyone needs to define their own prospecting moral code."
Ultimately, though there's no golden rule to knowing exactly when to give a prospect some space, being genuinely empathetic and mindful of their interests and sensitivities can help you feel it out. Remain patient and work by how they feel. If you can keep careful tabs on how they're responding to your efforts, you'll be in a good position to know when and how to back off and preserve the relationship.
Building solid relationships with prospects and customers lays the foundation for productive sales efforts. Consistently showing genuine empathy can facilitate that process. Salespeople need to listen to potential customers — consider their perspectives. In doing so, they can get a feel for how to best approach them with compassion and better understand when they should give them some space.