Social media is a versatile growth strategy for businesses across an array of industries — it can be used to share content, improve brand awareness, boost conversions, offer service and support, run campaigns, share valuable information, promote customer loyalty, and more.
Within the world of social media, there are a number of tools available to help you achieve the list of outcomes just mentioned (plus some). In this guide, we'll talk about 15 social media tracking tools you can incorporate on your team.
But first, a quick note prior to diving into the tools — when considering different social media tracking tools available, you'll notice there are many options that come with social listening capabilities. In case you're not completely aware of what social listening is, here's an overview.
What is social listening?
Social listening is a great way to keep tabs on what customers and prospects have to say about your business, product/ service, content, support, and more.
It entails monitoring your brand's social media platforms for customer feedback, direct mentions of your brand, and any discussions that include relevant keywords, topics, competitors, or industries. This is followed by an analysis of the data for deeper insights so you can determine the best ways to act on your findings and improve your social media presence, content, and engagement.
Now, let's get into those tracking tool options.
15 of the Best Social Media Tracking Tools
HubSpot Social Media Management Software
Sprout Social
Falcon.io
Hootsuite
Buffer
TweetReach
BuzzSumo
Keyhole
SumAll
Mention
Awario
Snaplytics
Oktopost
Iconosquare
Tailwind
With HubSpot, you have the power to easily monitor interactions, conversations, and audiences on social media. You also have the necessary tools to manage day-to-day interactions and engagement on social, and target specific audiences using context from the contacts database in your free CRM to better understand what these people mean to your business.
What does that mean for you — the user? You can manage your entire social strategy — from planning to sharing to analyzing — from one, central location.
You can handle all of your social accounts from the tool as well as easily turn your content offers into social posts. With HubSpot, you don't need to worry about logging into your social profiles to post content — rather, you can schedule posts weeks in advance on all of your profiles from within the tool to free up valuable time.
You can also post to social from anywhere — whether you're in HubSpot, on a specific social platform, or on another social tool that you connected to HubSpot. And how you post won't ever affect your ability to report on the success of those posts.
HubSpot's social software helps you stay up to date on what's current and trending by monitoring specific keywords you deem as important to your brand — this way, you never miss a beat when it comes to the things that matter most to your business and audience.
Don't worry about having to open specific platforms to converse with your audience either — instead, reply to anyone who commented on posts you published through HubSpot.
HubSpot Features and Compatibility
Prioritize social engagement.
Integrate your social tool — which comes with Marketing Hub Professional — with your Contacts Database and CRM.
Schedule social posts in advance, cross platform.
Report on your video strategy with YouTube reporting if you're an Enterprise user.
Manage social profiles on Facebook, Instagram, Twitter, and LinkedIn accounts from one tool.
Sprout Social is a comprehensive social media management platform that provides powerful solutions for social listening and analytics, customer care, and employee advocacy.
Sprout Social Features and Compatibility
Monitor and manage engagement across social networks in the unified Smart Inbox.
Map out content strategy and schedule posts with the Publishing tool.
Uncover trends in social conversations, learn about your audience, and gain actionable insights to inform your marketing strategy with the integrated social listening tool.
Integrate Sprout Social with your HubSpot software to collect accurate social reports all in one place.
Falcon.io is an all-in-one social media management and customer experience (CX) platform for medium-to-enterprise-size companies.
The software has capabilities related to scheduling, engaging, social listening, publishing, advertising, and analyzing all aspects of your social media strategy. The platform makes it easy to segment and target your customers for customized social campaigns.
Falcon.io Features and Compatibility
Use a single dashboard for all of your social media management needs (e.g. social listening, publishing, engagement, reporting, audience data management).
Manage private messaging channels with the Engage inbox feature (which is compatible with WhatsApp).
Enhance community management and support by creating custom response templates for your FAQs.
Route specific messages from audience members to internal team members so they can collaborate on solutions — and keep those messages in one, customizable, and filterable inbox.
Use Falcon.io to manage your Facebook, Twitter, LinkedIn, and Instagram accounts.
Integrate Falcon.io with your HubSpot CRM to sync all customer data for social campaigns, create custom or lookalike audiences, and offer personalized and engaging customer service.
Hootsuite allows you to view and respond to all your messages, comments, and brand mentions across several social channels in a single, concise dashboard.
You can also track influencers and leads in lists that can be imported and shared with others in your company.
Hootsuite Features and Compatibility
Manage and monitor all social media activity with native tools and features.
Customize paid social media campaigns with the Boost option which balances organic reach and paid advertisements to help optimize your content's engagement.
Measure success across a number of social platforms that are compatible with Hootsuite including Facebook, Instagram, Twitter, Youtube, LinkedIn, and Pinterest.
Add one of the many social network integrations that are compatible with the software and view them from your Hootsuite interface.
Buffer creates an omni-channel experience for your social media and community teams.
The tool makes it easy to find the conversations that matter most, join conversations right away, and delight your audience — that's because you can post content and engage directly in the replies from one centralized dashboard through a team-shared inbox.
Buffer Features and Compatibility
Plan effective social campaigns using the scheduling and publishing features.
Monitor your team's performance by measuring engagement and audience behavior with the reports and analytics tools.
Use the story monitoring feature to record and analyze your stories on channels like Facebook and Instagram.
Integrate social platforms that Buffer supports including Facebook, Twitter, Instagram, LinkedIn, and Pinterest (note: Pinterest is only offered in Pro and Business plans).
TweetReach is a great tool if you're specifically looking to analyze Twitter reach. It analyzes reach with a selected keyword, person/ Twitter handle, or hashtag.
The tool also analyzes impressions, mentions, and the times in which the most-relevant Tweets to your business are shared. Additionally, TweetReach helps you discover who your most impressionable followers are so you can target them with your content.
Source
TweetReach Features and Compatibility
Analyze a Tweet's potential reach, impressions, and conversation size.
Discover who's talking about a specific topic on Twitter and who has the biggest impact in spreading the word about that topic.
Generate reports on Twitter activity for any keyword, hashtag, URL or account name.
Use TweetReach with compatible platforms including Twitter, Facebook, and Instagram.
BuzzSumo shows the number of impressions and shares certain posts have and makes it easy to analyze your success on Facebook.
The tool offers insight into your Facebook content to help you identify which types of posts garner the best results on the platform among your audience. It even tells you which days and times of the week you should post and what the ideal post length is.
BuzzSumo Features and Compatibility
Use the Content Discovery feature to identify your most popular posts across different social media channels.
Organize shared content in order of significance with the Curation tool so you can quickly access important information without having to dig through irrelevant posts.
Connect to Facebook, Twitter, Instagram, Pinterest, and Reddit.
Keyhole focuses on Twitter and Instagram brand analyses. The tool allows you to track hashtags, mentions, usernames and more across both of these social media platforms.
Additionally, the tool offers impressive heat maps that show how mentions and engagement with your brand differ across the globe. This allows for you to better understand your target audience and how to effectively interact with them.
Keyhole Features and Compatibility
Get unique insights into your company's tracked hashtags with the Hashtag Analytics feature.
Ensure posts and mentions that include your hashtags are recorded in real-time so you always have the most up-to-date information on your accounts.
Predict how well your hashtag will perform with the AI feature.
Use the timing and topic of your hashtag to predict engagement, reach, and impressions.
Pair Keyhole with Twitter, Instagram, YouTube, and Facebook.
SumAll is ideal for small to medium-sized businesses. Schedule automated posts to save time and review metrics related to engagement on each platform you connect to the tool.
You can also elect to receive brief, daily email updates that compare previous weeks to the current one to better understand and track your growth on social media.
SumAll Features and Compatibility
Get set up with SumAll quickly — work through onboarding in just a few quick clicks.
Schedule social campaigns efficiently and clearly with the array of automation tools available.
Pair SumAll with Facebook, Twitter, Instagram, YouTube, Google Adwords, and LinkedIn.
Sync with mobile payment services like PayPal, Venmo, Shopify, Stripe, and Square.
Mention has the capacity to track millions of content sources across 42 languages to monitor brand mentions all over the world. You can select what content you'd like to tune out so you're only paying attention to trends that matter.
There's a competitive analysis tool that lets you compare your brand against two or more competitors — this way, you can ensure your content is always relevant, timely, and unique to your brand when compared to other industry leaders.
Mention Features and Compatibility
Use the Team feature so employees can collaborate on social media management efforts and alert each other when they need help.
Track progress while working through your crisis communication plan.
Effectively manage any social media uproar or crisis situation that comes your way with the Crisis Management feature.
Use the software to track your social media success with any compatible platform including Facebook, Instagram, Twitter, and Buffer.
Awario is a social listening tool focused on building brand awareness. It works by tracking keywords in a number of languages. This solution is great for companies that are trying to grow their international customer base through social media engagement.
The platform provides everything you need to not only monitor and respond to comments, but to also build meaningful relationships with your target audience on social.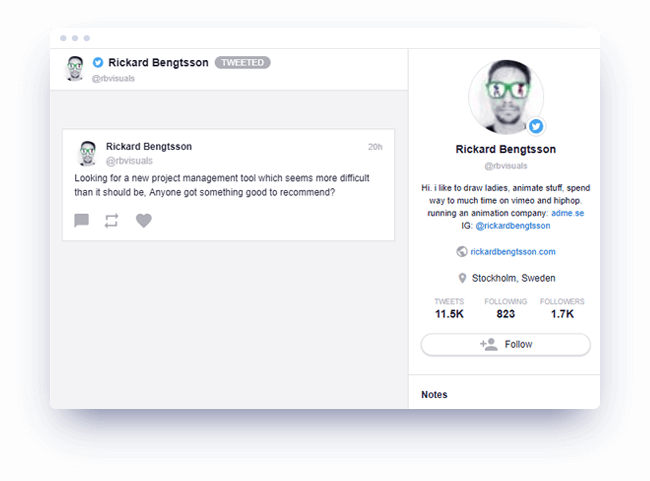 Awario Features and Compatibility
Use the Social Selling feature to identify posts that ask for a product recommendation similar to yours or posts where users talk about issues they're having with products sold by your competitors.
Use the Social Selling tool to keep an updated list of new leads your sales team can pursue.
Connect Awario with Facebook, Twitter, Instagram, Reddit, and YouTube profiles.
Pair the software with your blogs, forums, and external websites using API.
Snaplytics is a tool to create and manage stories for Snapchat and Instagram. With the platform, create and distribute content as well as measure the impact of your stories.
The tool has a messaging center through which you can communicate with and respond to audience members who send you messages.
Source
Snaplytics Features and Compatibility
Create unique and engaging stories for Snapchat and Instagram quickly.
Schedule your Snapchat and Instagram content in advance.
Identify and repost user-generated content.
Measure your story engagement with Snaplytics on Snapchat and Instagram.
Oktopost is a social media management platform meant for monitoring and measuring all social media activities for B2B marketers. The tool has features that help you manage and understand social media campaigns, editorial calendars, content curation, growth, and social listening.
Including social media management, Oktopost has three overarching functions — the other two are social employee advocacy and social media promotions.
Oktopost Features and Compatibility
Use advanced reporting to determine your social media ROI.
Tie Oktopost to your B2B social media marketing goals.
Publish content to LinkedIn, Facebook, Twitter, Instagram, YouTube, even WeChat.
Integrate Oktopost with your HubSpot CRM to engage and converse with prospects, score leads based on engagement, enhance nurturing programs, update contact records, and inform Sales of any negative sentiment coming from prospects on social.
Iconosquare has solutions for publishing, monitoring, and analyzing social media content and profiles. Advanced analytics and graphs — plus an option for automated reports — measure success on Twitter, Facebook, and Instagram in terms of posts, stories, tags, hashtags, mentions, and more.
Schedule content ahead, store content for future use, and preview your feed prior to posting/ scheduling content. Lastly, monitor your brand and get real-time engagement information with social listening capabilities.
Source
Iconosquare Features and Compatibility
Display performance for metrics of your choice such as follower evolution, average engagement per post, reach, or impressions.
Identify the ways your brand and social profiles are talked about on Instagram with metrics related to mentions.
Use the Conversations feature to listen and engage with audience members on the platform.
Cross-post social content to different profiles at the same time.
Monitor, manage, publish, and analyze social content on Facebook, Instagram, and Twitter.
Tailwind is an Instagram and Pinterest scheduling and analytics tool. When it comes to Instagram, schedule content to auto post, use the Smart Scheduler to identify ideal times to share content, and use hashtag suggestions. When it comes to Pinterest, schedule a week's worth of pins in under 20 minutes, use analytics for both pins and boards, and create up to 10 pins in just one click.
Tailwind Features and Compatibility
Determine the best times to post on Instagram and Pinterest and which hashtags to use to boost engagement.
Plan social content and automate your posting cadence.
Track your success on Instagram and Pinterest with in-depth analytics, monitoring, and tracking tools.
Use Tailwind to manage all aspects of your Instagram and Pinterest social media content from planning to reporting.
Grow Better With Social Media Tracking Tools
We always recommend reviewing product and pricing pages in depth for any tool you're looking to incorporate on your team. Additionally, don't be afraid to experiment with more than one social media tracking tool to determine which will effectively meet your needs and help you achieve your goals.
Editor's note: This post was originally published in January, 2019 and has been updated for comprehensiveness.
Originally published Oct 13, 2020 2:13:00 PM, updated October 13 2020
Don't forget to share this post!