Many salespeople don't plan on going into sales. But they do plan on building something, being their own boss, or leading a company someday. They're entrepreneurs, and sales is a great way to learn the ins and outs of business.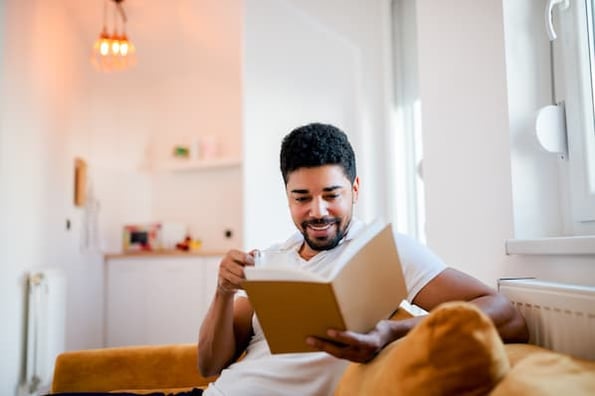 Chances are you have similar aspirations.
To help you prepare for your eventual takeover of the business world, we've compiled a list of the 31 best books on entrepreneurs. They're inspiring, irreverent, and exactly what you need to get motivated.
The 31 Best Entrepreneur Books
What's the difference between startups that fail and those that thrive? Ries claims it's his "Lean Startup" methodology to building a business. In this book, he outlines a step-by-step approach to creating and managing successful startups, along with helpful anecdotes and stories from companies you respect.
Review: "Eric Ries proposes a model for managing something that traditionally has been somewhat unmanageable: An entrepreneurial startup business. It's a good read, even if you're not in a startup business but want to use the same ideas for managing a new project, product launch, or service."
The title might seem too good to be true, but this book took the business world by storm. In it, Ferriss explains how he went from earning $40,000 a year working 80 hours per week to bringing in $40,000 a month working just four hours per week. Are you actually going to Ferriss' four-hour workweek? Probably not. But you will gain helpful strategies for getting more from every hour of every day.
Review: "This book changed my perspective about business and philosophy in general. The book is not about really working four hours per week but the freedom to choose how to spend your time most effectively. I've reread it dozens of times, and every time I find useful tips for my business and lifestyle. If I had to choose only one business book and stick to it to the rest of my life — this is it!"
In this book, Hamilton shares her journey from sleeping on the floor of the San Francisco airport to becoming a successful investor, backing businesses founded by underrepresented entrepreneurs. Hamilton's personal anecdotes and wisdom will leave you feeling inspired and capable of overcoming any obstacle.
Review: "I sat down to read this book to soak in some of Arlan's learning from her journey and see how I could apply it to what I'm working on. But I got so much more. I don't know how she did It but it felt like Arlan and I were having a conversation. This book validated all the work I was doing when I was thinking about throwing in the towel. She helped me feel like I deserved to be where I am and that I shouldn't apologize for it. And she reminded me to pay it forward."
In this bestseller, Covey shares his principle-centered approach to solving personal and professional problems. You'll learn how to adapt to change, take advantage of the opportunities change creates, and do it all with integrity.
Review: "This is, hands down, one of the best and most powerful books I've ever read in my life … If you're here looking for a book that will help you harness that little spark inside of you that's saying, 'You can be better,' this book is it."
In this book, late Zappos CEO Tony Hsieh unveils his vision for a different kind of corporate culture. From paying new employees $2,000 to quit to making customer service an objective for the entire company, Hsieh shares his secrets to grossing $1 billion annually — and doing it his way.
Review: "This is an entertaining 'fly on the wall account of the author's journey from his first failed and successful businesses to the sale of Zappos to Amazon.com. As an entrepreneur, I had previously been inspired by many aspects of Zappos' culture, and this book gives more of the background into that. I think the biggest takeaway is to learn just how close (and how often) Zappos was to failure as it grew to finally turn a profit."
Business and career advice shouldn't be given from a one-size-fits-all point of view. In "The Memo," author Minda Harts speaks directly to the experiences of women of color in the workplace, and offers tangible advice for working through the unique challenges women of color face at work. Not only can women of color walk away with tangible advice for navigating work and business, readers who are not women of color can learn how to better support colleagues of all backgrounds.
Review: "I started over mid career after a lay off and had to build new relationships, invest in professional development and learn how to play office politics. The tips Minda shares to grow in those areas are exactly what you need to do all along and not when it is critical after a career change or being laid off.
As a woman of color now seated at a table of influence I am aware that is important to empower someone else to get there. Minda shares her story to let you know you are not alone and make you aware that the challenges for all women in the workforce are not created equal."
7. "#Girlboss" by Sophia Amoruso
Called "the 'Lean In' for misfits," this New York Times bestseller tells the story of Sophia Amoruso, who went from dumpster diving to founding Nasty Gal — one of the fastest-growing retailers in the world. Amoruso recounts dropping out of school, taking jobs just for the insurance, and selling vintage clothes on eBay. If you love underdog success stories fueled by pure hustle, this book has a lot to give.
Review: "The book is so captivating, and it was easy to relate to my small business. I recommend this book if you need a boost of confidence in the business path that you're headed. Sophia Amoruso is edgy and so unconventional that you don't want to put the book down. She gives 'real' advice on how to let go of the things you're not good at and thrive on the things you rock at!"
You can't have a list of entrepreneurial books without this classic from Gary Vee, right? In this book, Vaynerchuk outlines how to connect with customers and beat your competition on social media. Social media is a crucial component of building a successful business, and Vaynerchuk's practical advice shows you how to transform traffic into sales for impressive results.
Review: "I hadn't understood why it wasn't an audio book — until I received it. Gary Vaynerchuk picks apart social media posts in a way that I understand visually. Seeing the ads/posts and reading the key takeaways on what worked or didn't work was super helpful."
What does it mean to "have it all?" Does having it all, requiring doing it all? In this read, author Tiffany Dufu shares how to redefine expectations, and take on less to create more space for success. Drop the Ball is an engaging read for anyone who is struggling with overwhelm, and needs a little extra help focusing on the right goals.
Review: "This is the book for any woman wondering, "How can I do it all?" Beautifully written and well-researched, Tiffany Dufu offers women a path away from the culture of 'having it all' and 'doing it all.' She shows us how to expect less of ourselves and more of others, trading resentment for fulfillment while producing more intimate relationships and shared responsibilities."
In today's world, time is your most valuable asset. Aytekin goes into how to make the most of it. In this book entrepreneur, founder, and CEO of Jotform Aytekin Tank shows how to move from busy work to less work by utilizing no-code automation tools. This book will transform your ability to focus on what matters most both in your business and your life by developing an automation-first mindset. It is a must-read for anyone who "just doesn't have enough hours in the day".

Review: "The book provides a detailed process and numerous examples of how small business owners can move from checklists to automated workflows. Using these ideas I was able to discover time-saving features of software I already use."
There are many trendy business books, but nothing's better than hearing from one of the most consistently successful entrepreneurs of our time. In his book, Branson compiles the experiences and insights that helped him to build the Virgin empire. Branson's big takeaway? He's glad he never went to business school, because it allowed him to shed conventional best practices and think outside the box.
Review: "Is a must-read for any person who wants to start an entrepreneurial journey. Richard, as always, did an excellent job giving the right advice and lessons you may need to take that next step in your life and take the risk — but with a big smile on your face — as Richard always remarks."
Wasserman's book takes a deep dive into the early decisions that can make or break your business. From choosing a co-founder to splitting equity with the founding team, you'll learn how to avoid missteps that strip you of the financial payoff your hard work deserves.
Review: "Being an entrepreneur and having worked for a startup ... I highly recommend this book not only for entrepreneurs but for executives in companies who wish to develop a new product/service and want to understand many of the issues they will encounter (people, product, etc.)"
This book was an answer to the worldwide attention received by Sandberg's 2010 TED Talk in which she reinvigorated the conversation about women in the workplace. Packed with personal anecdotes, data, and practical advice on how to build a satisfying career, this is an important read for all entrepreneurs, male or female.
Review: "This book changed my life. I had been working in the same position at the same company for the last 12 years wondering why I wasn't being promoted or approached by competitors. Along with gaining experience over the years and building my own self-confidence, I needed this book to push me to take the next steps."
The authors launched their profitable virtual assistant business in just one day. In this book, Meisel and Sonnenberg outline the three-step process they followed: Optimize, Automate, and Outsource. They recount their first year of business and tales of leveraging zero cash and free online tools to build a successful company, fast.
Review: "This book is a quick read but holds an enormous amount of functional, real-world examples. It is not impossible to start a business. It takes careful planning, and this book is not only about the journey but the actual thought process that was used to create the framework to Optimize, Automate, Outsource."
Angela Duckworth is a psychologist who believes success has less to do with genius and more to do with the unique combination of passion and perseverance she calls grit. In this book, you'll follow Duckworth as she studies cadets at West Point, teachers in some of the nation's toughest schools, and finalists in the National Spelling Bee to determine why some succeed and others do not.
Review: "This is some fantastic self-help material that goes far beyond self-help and into self-betterment and self-optimization. Duckworth's qualitative and quantitative research never runs dry due to her amazing prose and writing ability. It is a ridiculously quotable book and extremely deep."
AOL co-founder Steve Case describes his roadmap of the future in this page-turner. Learn about the "Third Wave" of the internet and the opportunity it creates for entrepreneurs. Case believes businesses can and will transform real-world sectors by rethinking their relationships with customers, competitors, and governments.
Review: "This is a must-read book for those committed to understanding the past, present, and future of the tech economy. I am the director of an innovation alliance and have participated in several conferences in the past two months where speakers referenced Steve's cogent analysis of the emerging third internet wave and its all-encompassing impact on everything."
Does work-life balance really exist? Is it possible to make money doing work you actually love? Author Emma Gannon addresses these burning questions and more in The Multi-Hyphen Life. This read shows you how to apply entrepreneurial thinking to your career to help you design your life and create your own definition of success.
Review: "The keyword for this book is flexibility. What does success mean to you, and how can you make your life (both personal and professional) reflect that, especially at a time where business structures have not been able to react quickly to this important value shift for younger (and some older) workers.
It's a great time to re-evaluate what you want and need both in terms of your job or career and personally."
The author of "Eat, Pray, Love" shares the attitudes, approaches, and habits necessary to face fear and tackle what you love. If you're worried this book is all fluff and no business, think again. It's a pragmatic look at addressing challenges in your work and making those long-deferred goals a reality.
Review: "'Big Magic' is one of the most honest discussions about the creative process that I've ever read. Gilbert strikes a playful and conversational tone, but make no mistake, this is all straight talk. Her no-BS attitude helps do away with the unrealistic expectations and unnecessary melodrama attached to the concept of creative living."
Christensen's book is based on the idea that great companies fail because they do everything right. You'll benefit from his analysis of changes in technology and the importance those changes have for a company's future. Christensen also explains why it's so hard to sustain success and how keep bad business from sneaking up on you.
Review: "Attention all future game-changers: If you're looking to change the world, you can't follow the world's rules. This book gives you a blueprint for action."
Why are some of us great at making decisions while others struggle with choosing the right breakfast cereal in the morning? Why do some of trust our instincts and others don't? "Blink" argues great decision makers don't spend a lot of time deliberating. Instead, they're great at filtering the factors that matter.
Review: "'Blink' is a work of intelligent teaching that, if you are willing, can teach you to trust your own instincts. There is a balance between subjective and objective decision making, and Malcolm Gladwell finds the common sense approach to finding that balance."
A list of leadership books isn't complete without Brené Brown. In "Dare to Lead," Brown shares how a willingness to have tough conversations and lean into vulnerability can make all the difference in how we work and lead.

Review: "I work on several large committees in my community and this book has helped me work through my frustrations with trying to take a group of people in a specific direction. Managing people will always be an imperfect science but this book will help get you in a better place, emotionally, to take on the challenge. Throw out what you think leadership is or what you believe it 'requires' — this book turns it all on its head and will be a validating experience for 'thinkers' to read."
In this book, PayPal co-founder and early Facebook investor Peter Thiel breaks down his passion for doing something new. His big takeaway? The next Bill Gates won't build operating systems, and the next Larry Page won't make search engines. When you create something new, Thiel argues, you don't have to worry about the competition.
Review: "'Zero to One' is a refreshing intellectual deep dive into the motives behind entrepreneurship. It's full of unique, practical insights and discusses success in terms of human nature and culture. Along with business strategy, Thiel outlines how successful innovation shapes society."
Kawasaki is an entrepreneur and venture capitalist who thinks business today is too centered around shallow trends, invalid theories, and "outright foolishness." This book is his guide to starting and operating an organization that's built to last.
Review: "Before I do the next software deal, I'll refresh on the points in 'Reality Check.' Having been in most roles during negotiations at different times, a refresher on what others at the table are thinking is a good idea. When Kawasaki covers the multiple lies flying during talks, I got a good smile."
Why is it so difficult to make business changes that last? Chip and Dan explain that conflict is built into our brains. We have a rational mind and an emotional mind, and the key to lasting success is getting them to work together.
Review: "'Switch' is a hopeful look at how to make changes that actually move an organization. They have broken change into components that can guide a team to make change in an organization. Great stories show how to put theories into practice — and why change sometimes gets derailed."
Simon Sinek wants you to be more inspired at work and, in turn, inspire others. He explains that the most influential leaders in the world all think, act, and communicate similarly. Throughout this book, you'll master Sinek's "Golden Circle" framework for building organizations and leading people in a way that sets your business apart.
Review: "'Start with Why' completely changed the way I think about communication, but it's more than that. It's a beautiful philosophy encouraging an exploration of deeper meaning and purpose, and it's an insightful exploration of why some people and organizations are successful, while others fail."
Phil Knight borrowed $50 from his father and launched a shoe company (giving fathers everywhere hope the money they "loan" their kids will turn into Nike). In this memoir, Knight tells how the desire to create something all his own and his pivotal relationship with Bill Bowerman coalesced to form an empire. Knight is proof that with bold vision and passion for something bigger than yourself, you can build one thing that changes everything.
Review: "This is a great read for anybody, but if you're thinking about starting a business, especially a business that you expect to grow, this book belongs on your must-read list. You'll learn things that you won't learn anywhere else."
The FUBU founder and Shark Tank star believes starting a business with little to no money forces you to think more creatively. In his book, John shares his own story of selling home-sewn shirts in Queens, and tells the stories of others who have transformed non-existent budgets into incredible success.
Review: "This book should be required reading in business schools, as the first 43 pages alone blow away most business books out there. This book is rich in content and great stories you can apply to just about any industry or idea. If you are an entrepreneur or salesperson you need this book."
From his turbulent upbringing in South Africa to selling PayPal for $1.5 billion, this biography tells the fascinating story of one of the most captivating entrepreneurs of the 21st century. Uncover Musk's vision for a nation of creators in the age of increasingly powerful global competition and why he invests so heavily in the future.
Review: "I loved the insight into Musk and how he operates, and you get a very broad and complete picture of Musk as a driven visionary who is absolutely set on delivering some of the most aspirational goals of any human in history. You also get some great insight into the overall ecosystem around Musk — his companies (SpaceX and Tesla primarily), relationships with other companies, and government entities, as well as the important people around him."
The bestselling author of "To Sell is Human" shares his views on motivation — and it's not the carrot-and-stick approach you're used to. Pink posits that what motivates us is the need to direct our own lives, learn new things, and do better. You'll get the research that backs Pink's assertions, and he'll explain the three elements of true motivation: Autonomy, mastery, and purpose.
Review: "Sensing a lack of motivation? Possible that your current job doesn't offer the autonomy, mastery, and alignment to your bigger purpose. A highly recommended read for those who don't settle for short-term fixes and are committed to find the deeper and more sustainable solution."
Based on the popular NPR podcast of the same name, "How I Built This" chronicles valuable lessons from successful entrepreneurs who have built their companies from the ground up. Salespeople can find inspiration from the various examples of creativity, problem-solving, and tenacity shared in the book.

Review: "After the first page, you can't put it down. There is so much in this book that you can learn from other entrepreneurs who have gone through hard times and resiliently made it to the other side (even when they didn't think they could). After recently surviving a big downturn in my own business I find so many common threads with each inspirational short story.
The challenges of starting and owning a business are great, but these challenges (past, current or future challenges) have been experienced by other people and Guy seems to find the best of the best and shares their stories in this book."
When was the last time you took a good look at your habits? If you're overdue for reflection in this area, you'll want to give Atomic Habits a read. This book offers tactical advice for forming more productive habits and letting go of habits that aren't serving you.
Review: "I've read a lot of books on changing behavior and building habits and James Clear's Atomic Habits is my new favorite. This book is different from others in the way it covers an enormous amount of ground in the larger area of self-improvement while seamlessly tying all these ideas back into the central theme of habits.
One of the core concepts in 'Atomic Habits' is to focus on the small improvement. The impact a 1% improvement per day can make may appear negligible at first, but Clear makes a compelling argument that in the case of habits, thinking small produces the biggest results over time."