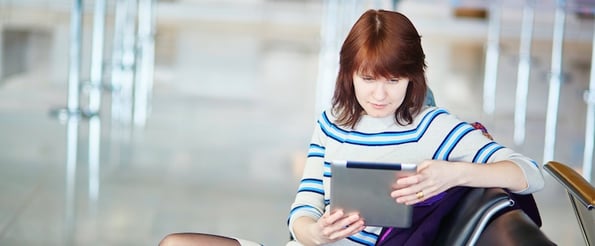 This post originally appeared on HubSpot's Marketing blog. For more content like this, subscribe to Marketing.
Whether you're driving across town, stuck on a layover, or settling down for an overnight train ride, you're going to have some time to kill the next time you travel. If you're anything like me, spending hours window shopping at the airport or scrolling aimlessly through your Facebook News Feed feels like a total waste of time.
But there are much better ways to pass the time while traveling -- which is why we've curated a list of our absolute favorite movies, TV shows, podcasts, books, and apps that our readers might also enjoy.
Whether you have thirty minutes, two hours, or five hours to kill, we've included plenty of options.
Pro Tip: If you're into the podcasts on this list, the free app Stitcher lets you make playlists of all your favorite podcasts.
Under 1 Hour
NextDraft is hands down my favorite newsletter, which you can either get in your inbox every day or check on your own time via their free app. What is it? It's ten quick summaries of the most fascinating news stories of the day, shared in a way that's expertly written, witty, and always relevant.
If this sounds interesting to you, download it now in preparation for your trip so you have plenty to catch up on.
Image Credit: NextDraft
2) Pocket (Free App)
The great thing about reading articles while you travel is that you finally have time to read the whole thing (instead of just skimming the first few paragraphs), and then actually reflect on what you've just read. Pocket is a place for you to save all those articles you stumble on when you don't have time to read them.
It lets you save articles, videos, and images either from your browser or from over 1,500 apps like Twitter, Flipboard, Pulse, and Zite. While you're traveling, you can open Pocket -- no internet connection needed -- and finally spend time reading through, digesting, and pondering all the cool stuff you've saved.
Headspace calls itself "a gym membership for your mind." It's an app that helps you learn how to meditate -- which you can totally do inconspicuously on the train, bus, or airplane. All it takes to learn meditation and mindfulness is ten minutes on the app.
Ever wanted to learn a new language, or just brush up on those French skills from high school? Duolingo is an awesome app that makes learning languages fun -- and you can make progress in only a few minutes, if that's all you have. Each lesson is short, painless, and legitimately enjoyable. Slate called it "the most productive means of procrastination I've ever discovered."
The languages available are Spanish, French, German, Italian, Portuguese, Dutch, Irish, Danish, Swedish, Russian, Polish, Esperanto, Turkish, Norwegian, and Ukrainian.
You'll need headphones to listen to pronunciation. And while speaking isn't required, be warned that you may want to repeat words out loud to practice your pronunciation.
Image Credit: Google Play
This is my colleague Ginny Soskey's favorite podcast of all time -- and it happens to be one of the best in the business. It's hosted by Anna Sale and covers the big questions and hard voices that are often left out of polite conversation.
Nicholas Quah of The Vulture wrote: "Anna Sale is the absolute best at exploring difficult, intimate, and harrowing topics — loss, loneliness, survival, being left behind, pain, secrets, sex (or lack thereof) -- while maintaining a deep, deep sense of dignity for the people she interviews."
Ever hear of Orson Welles' radio drama "The War of the Worlds" from 1938 about an alien invasion of Earth? Here's a fictional podcast that's also about aliens, albeit with a much more modern take: It's a fake pop-science series about cryptographers investigating mysterious transmissions. It was produced by General Electric, making it a great example of native advertising and branded content in podcasts.
If you liked the Serial podcast and enjoy science-fiction, this one could be a great choice for your next trip. David Sims wrote for The Atlantic, "The Message is clearly inspired by the success of Serial, but it plays with the format in a creative way." My colleague loved it so much, she started and finished the entire series during her drive home for Thanksgiving. If you want to break it into smaller chunks, each episode is between 10–20 minutes long.
How do you win a Nobel Prize? Should kids pay back their parents for raising them? What are the tactics of competitive eating? The Freakonomics podcast will challenge your perspective on some common (and some not-so-common) issues, from gossip to violence to exercise -- and all from an economic perspective.
It's the type of content that really makes you think, and delivers a good framework for how you should approach analyzing everyday things in your work and personal life.
Getting news from podcasts can be a lot more efficient than getting them from articles -- especially if you're prone to getting sucked into the black hole of "recommended reading" sections. BBC's Global News podcast is especially great because it curates some of the best stories they've covered from a global perspective. Each episode is about thirty minutes long.
1–2 Hours
If you like keeping up with current events but get bored with the normal format, NPR's weekly podcast could be a perfect match. It's a quiz-style news show that catches you up on current events in a fun and totally unique format, where you'll have to test your knowledge against guest stars and figure out what's real news and what they totally made up.
Here's another personal favorite of mine. In this podcast, host Pete Holmes interviews comedians (for the most part) and covers comedy, relationships, and God. The best part about this podcast is that it's unstructured, so it's just like listening in on a great conversation. Holmes is very open and does a good job of creating an environment where guests want to open up.
Each episode lasts anywhere from 90 minutes to 2+ hours, so if you download a few before you leave, you'll get through your flights with some top-notch entertainment.
One of the underlying principles of inbound marketing is that you can bring some sense of order to chaos using a methodical, data-driven approach. The movie illustrates how sports learned the same lesson. Starring Brad Pitt and Jonah Hill, it's based on a true story of the general manager of the Oakland Athletics baseball team who was faced with a tight budget and had to reinvent his team by outsmarting the richer baseball teams.
It may sound like it's all baseball all the time, but you don't need to be a big sports fan to enjoy this movie: It earned a 94% critic rating on Rotten Tomatoes.
If you're at all captivated by science, the universe, and the unknown, then you're gonna love this option. In the documentary, scientists recreate conditions from the big bang theory to investigate the origin of matter and unravel the mysteries of the universe.
Not a science nerd? Don't be intimidated by the subject matter. The producers did an amazing job presenting it in such a way that anyone can understand and enjoy. Plus, it earned a 96% critic rating on Rotten Tomatoes.
Here's a super interesting movie on sales and marketing positioning -- from the days when it wasn't so noble. It's about a big tobacco lobbyist struggling to balance his duties defending tobacco with those of being a good role model for his young son. It earned an 86% critic rating and 87% audience rating on Rotten Tomatoes.
Looking for another great movie on sales and marketing position from the olden days? Here's an oldie but goodie that any marketing or sales professional would appreciate. It's a movie based on the Pulitzer Prize-winning play by the same name. The movie is about a team of New York City real estate salesmen who are told that everyone except the top two reps will be fired by the end of the week. Talk about "survival of the fittest." It earned a 94% on Rotten Tomatoes.
Here's a famous scene from the movie featuring a monologue from actor Alec Baldwin on how to "always be closing."
(Warning: NSFW language.)
Here's a documentary that'll have you holding your breath -- even though you know how it ends. It's about a young French man named Phillippe Petit who, in 1974, decided he wanted to (illegally) string a wire between the New York World Trade Center's twin towers. After dancing for nearly an hour on the wire, he was arrested, taken for psychological evaluation, and brought to jail before being released.
The documentary incorporates Petit's personal footage with modern film and interviews -- and it's absolutely mesmerizing. It earned a whopping 100% rating on Rotten Tomatoes, making it a guaranteed worthwhile way to spend an hour and a half of travel time.
Over 2 Hours
Here's one of the best and most controversial documentaries from 2015. If you haven't seen it yet ... well it's gripping, not to mention a phenomenal example of great storytelling.
It's about a man named Robert Durst, son of a New York real estate mogul and suspect of three notorious murder cases over three decades. He was arrested on first-degree murder charges the day before the finale aired. (Just wait until you see the finale.) The HBO miniseries is broken up into six episodes, each of which run under an hour.
It won two 2015 Emmy Awards, including best documentary or nonfiction series, and earned a 94% critic review and 98% audience review on Rotten Tomatoes.
This multi-season television series is a big commitment ... but let's be honest, this is to marketing what "Boiler Room" and "Glengarry Glen Ross" is to sales. It's about a Madison Avenue advertising firm in the 1960s -- and alpha male Don Draper's struggles to stay on top of the heap in a high-pressure world. For marketers like us, it's a fascinating look at how things in marketing used to be, which gives us context to help drive changes in our own companies.
Starting with Season 1? Great choice: It got an 87% critic review and a 95% audience review on Rotten Tomatoes.
If you're trying to get some serious reading done while you travel, here's a great choice. Smarter Than You Think is a brilliantly written book by science and technology writer Clive Thompson about how the introduction of new technology advances our society and extend the way we think. Moreover, it's nice counterargument to similar books which decry that the internet is making us lazy, dumb, and isolated.
This book by Austin Kleon is an interesting, quick read on how to come up with creative ideas. It's based on the premise that that no idea is original -- and it walks you through ways to collect ideas, remix existing ones, and get in touch with your inner creative.
Listen to the book's author talk about some of the ideas in the book at a TEDx conference to see if it's up your alley:
Here's another great book for marketers, written by Jonah Berger, Wharton professor and best-selling author. In Berger's book, he talks about why some ideas catch on -- and others don't -- by highlighting his research on social influence and word-of-mouth.
Now, then: Go forth and travel without getting bored!
What other movies, shows, podcasts, books, and apps would you add to this list? Share with us in the comments.