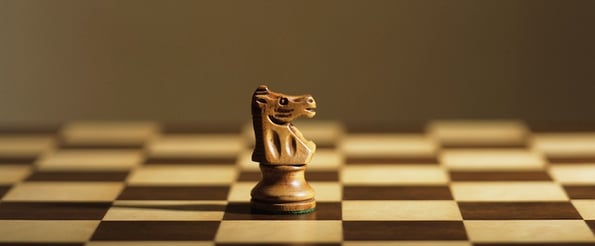 Imagine you are an 18 year-old college basketball player and, despite limited playing time during the regular season, you are pulled off the bench and put into the national championship game, with 13 minutes left on the clock and your team down by nine points.
If you're Duke University's Grayson Allen during the final game of the 2015 NCAA Men's Basketball Championship, you steal the ball from your opponent (who happens to be the national player of the year), sink a three point shot, and get fouled, hitting both of your free throws. All in the space of 70 seconds. And in the process, you change the game's momentum and turn a sure loss into a national championship.
In B2B selling, subject matter experts (SMEs) come off the bench to play an increasingly important role in high-stakes sales meetings. Because, however, selling is probably not SMEs' strong suit, the salesperson faces a similar question Duke's coach confronted as he eyed Grayson Allen: Will my SME be ready when I need him?
Let's address how to leverage a subject matter expert (SME) for maximum impact in an effective sales meeting.
SMEs span a wide range of roles in various sectors. Examples include: in technology, a systems engineer, solutions architect, or applications specialist; in professional services, a practice leader or specialist; in wealth management, a tax, estates, or fiduciary specialist; in investment management, a quantitative portfolio manager, operations, or compliance officer. Just as Duke Coach Mike Krzyzewski's call was calculated and informed, so should yours in calling on even the most receptive and articulate SME. Their presence and contributions -- no different from any other member of your selling team -- could prove to be an asset or liability.
Here are common mistakes salespeople make when including an SME in a sales pitch or client meeting:
Believing that the SME's mere presence can magically transform a poorly qualified opportunity or an unprepared team
Treating the SME as untouchable, beyond coaching or preparation
Banking on the fact that they know "what to do"
Assuming that your deal carries the same importance to them as it does to you
Not preparing them properly for pivotal meetings
Not bringing your own A-game
Without guidance, experts are likely to do what they do -- demonstrate their subject matter expertise. They may take control of the discussion, go deep on an issue that takes you away from an otherwise winning game plan, and hurt your credibility with the client.
An SME playing a minor role can be equally hurtful. What does that convey about your SME? Your organization? The profit margin in your proposal? You?
Subject matter experts, coached skillfully, can be a game-changer in your efforts to create a winning sales meeting. Here are five tips for leveraging an SME in an effective sales call, pitch, or client meeting.
1) Choose carefully.
Technical expertise is a given. How will your SME's delivery style mesh with those of your client stakeholders? What will they be like as a collaborator in your preparation and presentation? Prepare for the ask so that it results in an enthusiastic "yes" from the person most likely to help you win. Decide and convey to the SME why participating in this effort aligns with her goals, how it will help the client, and what is the expected impact on the sales effort.
2) Define and communicate your expectations.
This should include:
Her role in the meeting
Who is the team's leader
Your expectations for her participation in preparing for and de-briefing the meeting with you
3) Prepare together.
Include your SME in prep sessions, being sure to:
Transfer essential knowledge (client organization, stakeholder roles, current situation, opportunity, status, etc.) given her role in the sales meeting
Run through the opening, including her introduction
Preview whatever additional topics she will be expected to address in the meeting
Clearly define team roles, from open to close
Preparing together reduces the chance of a negative surprise.
4) Set intra-meeting ground rules.
Make sure your SME takes a seat that appropriately conveys her role in your organization, and aligns with her likely counterpart representing the client organization. Once the meeting gets started, she should take her cues from you, keeping improvisation to a minimum. It can be tough for a SME (especially those with no direct sales experience) to pivot from internal meetings where she is the expert and center of attention to external meetings where the authority, pace, and scope is set by others.
5) De-brief together.
She can also play an important role in reviewing the team's high and low points during the meeting. Receiving feedback from you can strengthen future meetings and pitches. Be sure to acknowledge her time in preparing for and taking the meeting, her contributions, and ask how she would like to stay apprised of future developments.
Including an subject matter expert in a sales meeting can be at the same time an exciting and intimidating move in your broader sales or client retention strategy. Their presence alone is rarely the "magic bullet" expected and needed. Given the right opportunity, setting, and timing, however, they can play a significant role in winning a new client or retaining an existing one.
Keep the five tips above in mind for your upcoming sales meetings. Your SME, properly positioned, can be a game-changer in your sales efforts, and can jump off the bench to give you the extra boost needed to convert your opportunity into a win.