The purchase order is central to both vendors' and buyers' operations. These legally binding documents serve as an official confirmation of a customer's purchasing intent — along with a record of their order's specifics.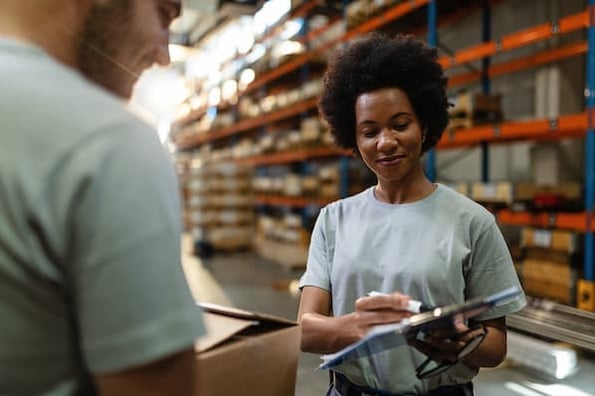 It's vital that everyone involved with the generation and exchange of these documents keep careful tabs on them. But how do you do that? How can you track, effectively store, and reliably organize your purchase orders?
Your ability to do any of that starts with something known as a purchase order number. Here, we'll learn more about the nature of those figures, how to create a purchase order number system, and the resources available to help you consistently generate them.
What is a purchase order number?
A purchase order number is a unique number assigned to a purchase order — an official confirmation of a buyer's intent to purchase from a vendor, covering the details of the transaction. A purchase order number helps both vendors and buyers track and reference the orders they've sent or received.
Buyers send purchase orders to suppliers or vendors to affirm their intent to purchase products or services. The document specifies the aspects of their order like prices and requested quantities. Once a vendor receives and accepts the terms of a purchase order, it essentially becomes a legally binding contract.
It's important that businesses stay on top of their purchase orders. As I mentioned, those documents bear considerable legal significance. Beyond that, they help companies maintain detailed records for accounting and can be central to keeping a company's operations organized and efficient — particularly when it comes to smaller organizations.
That's where purchase orders numbers come in. They allow the companies on both sides of a transaction to maintain and easily reference their purchase orders — helping both vendors and buyers hold each other accountable for order details and giving auditors and accountants easy access to the documents for tax purposes.
How to Create a Purchase Order Number System
There are a few avenues you can take when creating a purchase order number system. Some smaller businesses might have the flexibility to create their own purchase order templates and manually assign purchase order numbers to purchase orders and invoices with every new transaction.
Larger businesses, however, might be dealing with a much higher volume of transactions — to the point that manual purchase order number entry is unnecessarily time-consuming and impractical.
That's why many cloud-based accounting solutions can automatically generate relevant purchase order information — including assigning individual purchase orders unique P.O. numbers.
Top P.O. Number Generators
The term "purchase order number generator" doesn't encompass many resources — particularly ones available for purchase. Purchase order number generation is built into many cloud-based accounting solutions and ERPs, so if you leverage one of those systems to create your purchase orders and invoices, you shouldn't have much trouble generating these kinds of identifiers.
If you create your purchase orders manually or through an application like Excel — and you don't care about your purchase order numbers being sequential or of a specific length — you can use a random number generator or a random number generation algorithm to create your purchase order numbers.
That said, it's probably in your best interest to leverage a dedicated accounting or ERP software for generating your purchase orders and, in turn, your purchase order numbers. Unless you have a radically low volume of sales, it's probably worth it to invest in one of those systems to save you considerable time and effort.
Where to Put the P.O. Number on an Invoice
For the sake of convenience and readily accessible identification, purchase order numbers are typically placed at the top of invoices — but the specific location will depend on the P.O. template you use. Here's an example of an invoice from Chargebee:
If there's anything to take away from this article, it's this: Keep track of your purchase orders. These documents are central to maintaining accurate records, being prepared for audits and other accounting processes, and holding both vendors and buyers accountable for any inconsistencies in how purchases are fulfilled.
Purchase order numbers are central to any business's ability to keep tabs on those documents, so it's important you have some understanding of what they are, how they're generated, and where you can find them.