It's safe to say generating quality leads is a priority for most realtors. Real estate websites are a fantastic way for leads to find homes you've listed -- but there are other ways to get your home in front of buyers and your name in front of prospects.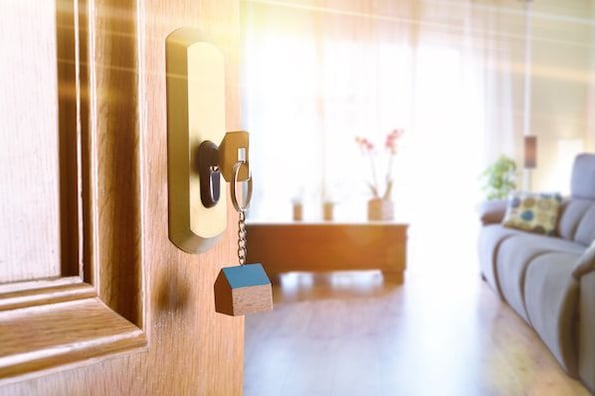 The answer is the open house. Technology has changed the real estate industry, but open houses remain an effective tool for stoking interest in your property and generating new leads. So, how do you host a successful open house in today's market? I've got 10 tips for you below.
Real Estate Open House Ideas
Feature the open house on your favorite real estate websites
Plan the open house to fit buyers' schedules
Partner with local shops to source open house goodies
Hold a contest or raffle
Promote the open house on social media
Invite the neighbors
Stage the home
1. Feature the open house on your favorite real estate websites
If you've listed the home on a real estate website like Zillow, realtor.com, and Trulia, you can add open house details to your listing.
According to a 2017 survey by the National Association of Realtors® -- 51% of buyers found their homes online. Leveraging these sites is a fantastic way to boost awareness of the open house and get motivated buyers -- and leads -- into the home.
2. Plan the open house to fit buyers' schedules
Schedule weekend open houses in the morning or evening. This frees up attendees' afternoons giving them more time to enjoy their day off.
During the week, schedule open houses after the traditional workday (i.e., after 5:00 PM). A "happy hour" session lets them learn about the house and relax.
3. Partner with local shops to source open house goodies
Who doesn't love free food and drinks? Partnering with local cafes or bakeries provides open house attendees with free refreshments. It also allows vendors to advertise at the open house and in your promotional materials.
Another new twist on the classic open house? Host a pop-up shop. Invite a local home decor showroom, clothing store, or lifestyle boutique to display their latest lines at the event.
This unique shopping experience encourages potential buyers to attend your open house -- and stay a while. Work with each shop to determine discounts for guests and the percentage of sales to be used to offset event costs.
4. Hold a contest or raffle
Promoting a contest or raffle at your open house is another way to increase engagement and excitement. Share the contest details through your paid ads or organic promotion on social media.
Offer items such as a cookbook, gift cards, or kitchenware to pique potential home buyers' interests in attending the open house.
This is a convenient way to encourage visitors to leave their name and contact information as well. Let them know you'll choose the winner once the open house has closed, and explain you'll follow up by phone or email if they're the lucky recipients of the prize.
5. Promote the open house on social media
Publish posts with open house details on your company or personally branded real estate Facebook and Instagram profiles. Once the posts are published, promote them with a Facebook ad or Instagram promotion targeted at your ideal audience.
The ad should be informative and exciting. Make sure the viewer walks away knowing at least two pieces of information:
The time and date of the open house
An enticing event detail to justify why people should attend such as, "Special pop-up shop from Chloe's Boutique."
Post a Facebook or Instagram Story to showcase the house. You can even use Facebook Live for a video walk-through of the home. Implementing a social media strategy will provide you with additional ways to engage leads.
6. Invite the neighbors
Make sure the neighbors know you're hosting an open house. They can answer questions attendees might have about the neighborhood, schools, and nearby attractions. Neighbors can also be a source of referrals. Ask if they have anyone in their network who's looking for a new home and if they could provide an introduction.
Don't be afraid of going door to door and extending an invite personally. If no one's home, leave a door hanger with the open house details. These can be distributed a few days before the event.
7. Stage the home
Stage the home so it's presentable and welcoming. This could include painting a scuffed area of a wall or replacing a lightbulb. Ask the seller to put away personal items such as family photos or keepsakes. And always ensure valuables are stored safely and securely out of sight.
The less cluttered the space, the more inviting it will be for open house guests. And it will be easier for them to visualize what their lifestyle would look like in the space. In some cases, it might be wise to bring in a professional staging expert to reorganize the space. Talk with the seller about what they can afford and how fast they want to sell their home.
8. Use an open house sign-in app
Ditch the traditional paper sign-in sheet for something a little more digital. Using an app to collect attendee information means you won't have to decipher guest handwriting or manually enter contact information into your database or CRM.
Apps like Open Home Pro® and Open House Toolkit make sign-in easy and follow-up outreach even easier. Open Home Pro® can be used on Apple iOS and Android and can be downloaded for free. Its key features include the digital sign-in sheet with customizable questions, visitor notes, and lead exporting.
Open House Toolkit allows you to set up listings and create custom questions for the digital sign-in. It works with Android tablets and allows you to export lead information and upload to your CRM.
9. Include an informational packet
Don't forget to give visitors informational packets including detailed information about the home. Greet visitors as they enter the open house and give them the information packet as they leave, so their hands are free to open doors and admire home amenities as they tour.
Here's some important information to include in your packet:
Information about the home and property (i.e., number of rooms, bathrooms, square footage, etc.)
Neighborhood statistics (i.e., walkability score, school district, nearby amenities, etc.)
Floorplan
Guide to mortgage and home-buying terms
Your contact information, of course
10. Be prepared to answer questions
Attendees will likely have many questions about the home, neighborhood, and buying process. Memorize at least three unique features about the home, so you can provide them with a few fun facts or selling points. Common questions might include:
"Can you tell me more about the home?"
"Why is the seller selling?"
"How long has the home been on the market?"
"Have there been any recent improvements or renovations?"
"What is the neighborhood like?"
"How much are utilities?"
"Have any offers been made?"
"When are the sellers planning to close?"
Open houses have evolved into an efficient and effective way to engage with leads. Which of these tactics will you try?
Stay on top of the real estate industry and gather some fun follow-up information for your prospective buyers. Check out these real estate blogs and motivational quotes every realtor should read.