No one is immune to burnout. But salespeople may be uniquely vulnerable: Sales is typically considered one of the most high-stress, demanding professions.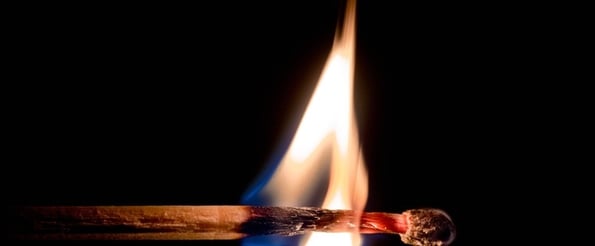 Unfortunately, selling performance is highly correlated to mindset.
When you feel exhausted, anxious, or unmotivated, it's difficult to pick up the phone or meet with prospects -- let alone prove to them why your product is the best fit for their situation and needs.
There are a number of tried-and-true techniques for recovering from burnout, like getting enough sleep, exercising, and taking a break from work. If you've tried these strategies and still haven't bounced back, use the six following sales-specific ideas.
How Salespeople Can Recover From Burnout
1) Take Inspiration From Other Reps
When you're experiencing burnout, your current library of emails, call and voicemail outlines, and helpful resources may seem stale or overused.
Just one new email template can be enough to jumpstart your selling efforts and give you a motivational boost -- it's exciting to see a flood of responses in your inbox from a fresh prospecting email you're trying out.
Wondering where to get this content? The other salespeople on your team are excellent sources. Ask if they'll share (or even trade) their top-performing email sequences, outlines, and/or scripts.
Tweak their content to make it feel like your own. For instance, if your teammate sends you a clever breakup email, you might keep the concept but change the specific language. This step ensures your messaging is authentic and unique.
2) Switch Leads With Another Salesperson
To shake up your regular routine -- and take off some of the pressure to perform -- Jeff Hoffman recommends exchanging leads with another salesperson on your team.
For example, you give her 25 of your prospects to call, and she gives you 25 of hers. If she successfully connects with any of your prospects, she'll transfer those contacts back to you, and vice versa.
Because you're dialing leads that aren't your own, you're not as emotionally connected to the results. You may even enjoy making these calls. Do this once or twice, and you'll likely regain your enthusiasm.
3) Listen to Your Best Calls
Replaying your best calls gives you an instant burst of energy. Not only will you remember how it feels to be at the top of your game, you'll be reminded of your most effective questions, responses, and strategies.
4) Talk to Your Manager
Your sales manager would rather learn about your decreased motivation from you than see your performance suddenly drop off with no explanation. Give them the heads up during your next check-in, or schedule a separate meeting to discuss the issue.
If your manager was promoted from an individual contributor role, they've probably experienced the same type of burnout. They'll be able to relate to your situation and share valuable recovery strategies.
Being aware of the situation also enables your manager to temporarily adjust your workload. Maybe they were planning to give you a new, more ambitious activity goal; now they know you're feeling burnt out, they might hold off for a month.
5) Attend a Sales Event
Meetups, conferences, talks, webinars, and training courses help you beat burnout for two reasons. First, they give you a break from your day-to-day routine. A change of pace (not to mention some time away from your desk) usually helps alleviate stress and lethargy. Second, you'll acquire new tips, techniques, and ideas. You'll hopefully be inspired to get back into the office and try them out.
6) Get Advice from the Pros
Even the best salespeople go through tough times. In this episode of "Stories from the Sales Floor," selling experts like Matt Heinz and Pete Kazanjy discuss hitting rock bottom. It's comforting to know you're not alone -- and this condition isn't permanent. In addition, you may pick up some valuable suggestions for burnout recovery.
Have you experienced burnout in your sales job? How did you recover? Let us know in the comments!