One of my favorite quotes about business comes from Herminia Ibarra — a professor of organizational behavior at London Business School.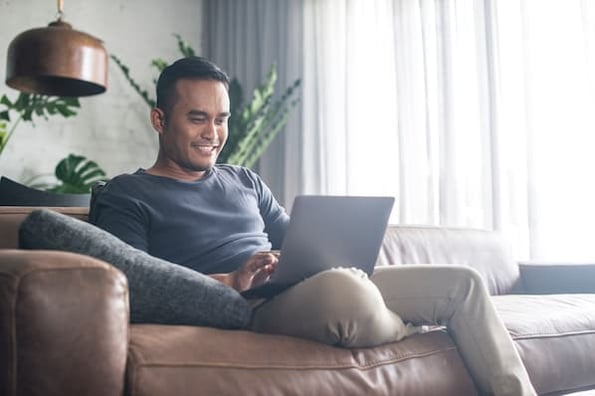 She says, "Networking is a lot like nutrition and fitness: we know what to do, the hard part is making it a top priority."
It's a brutally honest analogy. And much like keeping up with proper nutrition and fitness, networking can be a lot harder when working remotely.
Sales is people-oriented. It's a personal process — particularly when it comes to networking. That's why remote work can often throw salespeople off their networking game.
Still, though the process might be tougher to navigate, networking remotely shouldn't be all that imposing. There are some strategies salespeople can employ to make the practice as smooth and simple as possible.
Let's take a look at some of the tricks and techniques salespeople can use to see more success when networking remotely.
How to Network Remotely for Sales
Create and share compelling, helpful content.
Stay active on industry-relevant forums and social media hubs.
Don't seem robotic when networking on LinkedIn.
See if you can get some media exposure.
1. Create and share compelling, helpful content.
The most critical aspect of successfully networking remotely is offering value. If you're not meeting in person, you don't have the same flexibility to put people at ease with natural conversation. It's harder to be disarming via cold outreach, so you have to compensate with utility when networking remotely.
There's an old expression that goes, "If you can't be handsome, you'd better be handy." A similar principle can be applied to networking remotely — something like, "If you can't be charming in person, you'd better be helpful online."
Creating useful content with valuable insight and actionable advice is an excellent place to start. Actively maintain a blog with content relevant to your industry as a whole. Express your expertise. Establish yourself as a thought leader in your space. Be able to answer questions that your prospects and peers are bound to ask, and let them come to you.
Having a bank of impressive, credible content can provide a foundation for your remote networking efforts. It provides a jumping-off point and can support almost all other remote networking tactics you can employ.
And don't be afraid to promote content that you didn't create. If you see a particularly thoughtful piece of content online, share it on your social media profiles. The crux of this specific point is showing potential connections you know what you're talking about.
The best way to accomplish this is to establish that you can both create meaningful content on your own and recognize when other people produce it.
2. Stay active on industry-relevant forums and social media hubs.
Like the one that came before it, this step also boils down to offering value. Find online forums specific to your industry or area of expertise and maintain an active presence on them. When people have problems or questions you understand, make a point of addressing them thoroughly and thoughtfully.
If you have pieces of content that can address users' concerns, don't be reluctant to share those, too. In doing so, you can establish yourself as an authority on certain topics. People who use those forums will look to you for insight and want to connect with you as a result.
Facebook groups are an excellent place to start. You'll be able to find several like-minded, curious sales and industry professionals interested in your perspective. LinkedIn also has groups that offer something similar. You'll find both fellow professionals and curious prospects on these forums — both of which can be valuable connections in their own right.
Staying active on Twitter is another way to go about this. People often tweet about issues and concerns that you might be qualified to handle. If you're on the platform don't hesitate to offer advice where you can.
Also, having a fully fleshed-out, mature-looking profile on each of these platforms is a key part of the process. It might be hard for some people to take professional advice about medical device sales on Twitter from someone without a profile picture and the handle @partyboyy2003.
And these kinds of forums aren't limited to social media. Odds are there are several forums across the web relevant to your space. They're generally not hard to find and well-worth keeping up on.
3. Don't seem robotic when networking on LinkedIn.
If you want to start a meaningful conversation with a potential new LinkedIn connection, you have to add a personal touch to your request. If you connect with the typical request template or some cookie-cutter, one-size-fits-all message, you're selling yourself short.
Write personalized messages when you send out requests. Let your connection know who you are and how they know you. Keep things open-ended from there. Ask for feedback on some content or advice on specific issues you might be facing. Discuss why and how the two of you should collaborate. Start a friendly discussion about their business or individual career.
Don't be imposing or impersonal. Networking is, at its core, about starting a constructive two-way discourse. Be approachable and start on reasonable, friendly terms. Learn about them, and in all likelihood, they'll want to learn about you.
4. See if you can get some media exposure.
Getting your name out through the press is an excellent way to land new connections. Like most of the other tips on this list, this one rests on the value of demonstrating expertise. If the media trusts you, you're giving yourself a whole new layer of credibility.
Sign up for resources like Help a Reporter Out (HARO) as an expert source in your space. Consider this an important resource, just like a calendar scheduling tool or your CRM.
If you take this route, you can't lose sight of the other points on this list. You have to remain active on online forums and social media.
Keep creating and sharing content — whether it be yours or other industry authorities'. Never stop offering professional insight and advice to people seeking it online.
Be the kind of source reporters will trust, and once they do, the scope of your network can expand astronomically. If the media trusts you consistently, prospective connections will be eager to touch base with you.
Every salesperson wants to connect with authorities known for their thoughtful perspectives on industry matters — for both their insightful takes and potential business.
Shifting to remote selling can be a tough adjustment for a lot of salespeople. It's difficult to adapt to the different pressures and trappings of working from home, and learning how to network in a new context contributes to that. But ultimately, though it takes some getting used to and consistent effort, networking remotely is fairly straightforward. And knowing how to do it well can be a massive asset to your business.
Editor's note: This post was originally published in April, 2020 and has been updated for comprehensiveness.