You have a product to sell, a single chance to sell it, a prospect with some degree of interest, and a fixed amount of space and text you can use to make a pitch. You need to lead your buyer to believe you have an answer to their problem worth exploring — at the very least.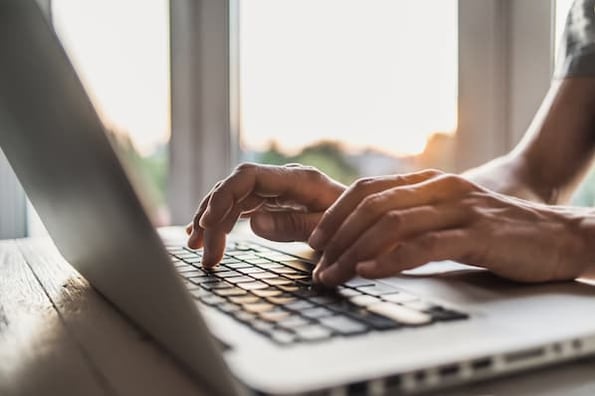 That hypothetical situation isn't really hypothetical at all. It's essentially the background to a process known as writing sales copy.
In this article, I'll tell you what sales copy is, offer some tips on how to do it well, and provide some examples of companies doing it right.
What is sales copy?
Sales copy is text written to sway consumers into taking specific actions. It can be used to persuade readers to buy a product, sign up for a mailing list, download content, or take any further action that will help your business achieve its sales goals. Sales copy is typically featured in informative media like emails, brochures, and web pages.
The quality of your sales copy can make or break your messaging efforts in some cases. You can have an incredible product that perfectly suits a consumers' needs, but if you can't convince them of that, they may pass on you in favor of one of your competitors.
Consumers are both busy and constantly inundated with different options to accommodate their interests and solve their problems. They probably don't have time to research every option they have in front of them. That means you might only have one chance to get them on board, and that "one chance" is often your sales copy.
But how do you write it? How do you ensure that your written pitch is convincing enough to make prospects want to learn more about your business and what it has to offer? Well, there are some strategies you can use to put yourself in the best position to generate sales from your copy.
How to Write Sales Copy
Hone in on a single focal point.
Know who you're trying to reach.
Use engaging language and storytelling.
Keep it accessible, conversational, and concise.
Prioritize discussing the benefits of your product — not its features.
End with a clear, compelling call to action.
1. Hone in on a single focal point.
Sales copy isn't supposed to be a blanket statement on everything your business does. It's meant to drive specific action — not garner general interest. Identify a single focus or pain point and stick with it.
Let's say you're a copywriter for a business that sells home appliances. You've been tasked with writing sales copy about a new kind of waffle iron the company is rolling out. The copy you write has to address a single issue the new appliance helps with — not a scattered smorgasbord of all its features or a vague plug for the company in general
Pick what you believe to be your product's or service's most compelling, marketable benefit or pain point is and lean on that. In the waffle iron example, you'd have a variety to choose from. You could discuss how it's a good appliance for families, how quickly it makes waffles, its new setting that evenly cooks a waffle automatically, or how easy it is to clean.
Any of those benefits could provide compelling material, but you'd only want to choose one. Otherwise, your sales copy could wind up being long-winded or unfocused.
2. Know who you're trying to reach.
All your messaging should be targeted, and your sales copy is no exception. Identify who your product appeals to, why it might appeal to them, and which of its specific benefits will be most attractive to them.
A reliable way to get to establish a target audience for your sales copy is to create buyer personas for your potential customers. As per HubSpot's own definition, a buyer persona is "a semi-fictional representation of your ideal customer based on market research and real data about your existing customers."
In the waffle iron case, you might find that parents interested in making waffles for their children and young professionals looking for appliances to fill out their kitchens in their first apartments are both interested in the product. You could create two separate buyer personas to fit those molds.
Though both are viable customer bases for your product, each would gravitate towards a different kind of messaging. So, if you were to write sales copy about the new appliances, you would want to pick one persona to focus on.
For more perspective on buyer personas, check out this article.
3. Use engaging language and storytelling.
Sales copy revolves around action. You're trying to compel a consumer to do something specific — generally to buy a product. But, corny as this may sound, you can't compel anyone to do anything without actually being compelling. That starts with the language you use.
For the sake of example, let's assume that you've chosen to tailor your sales copy to the "parents making waffles for their kids" persona. You wouldn't want to write your copy like this:
"Are you tired of your old waffle iron? Does it not work like it used to? It might be time to upgrade. Check out the new Waffletron 4000 today!"
That kind of copy is too brittle, vague, and bland to excite or engage a potential customer. There's a good chance that a buyer would see that copy only to gloss over it and find an option that actually motivates them to buy. Some better sales copy would read:
"Kids: the Sunday morning alarm clock you don't get to set. Come 6 AM, you're awake and on parent duty — whether you like it or not. You have mouths to feed, tantrums to settle, and quality time to spend. Waffles can help with all three. Check out the Waffletron 4000: the quickest, best waffle iron for hitting snooze on Sunday."
That copy engages the reader and gets them invested in the text. There's a relatable narrative behind it and it's specific to pain points relevant to the buyer persona's life experience.
4. Make sure it's accessible, conversational, and concise.
Your sales copy shouldn't be necessarily complicated or wordy. You're not writing a novel or your dissertation, you're writing a quick soundbite to make someone buy a product. Keep it simple and write with an approachable tone. Don't use long run-on sentences or words you'd find on the SAT. As a copywriter, it's also important to use the right AI copywriting software as this will help you write high-quality and original copy. Some inaccessible copy might read like this:
"The Waffletron 4000 is, without question, the most revolutionary, forward-thinking waffle iron on the market. As a parent, you have a multitude of different, trying responsibilities. The Waffletron 4000 will undoubtedly resolve any and all of them."
That copy sounds too jumbled and pretentious to appeal to most consumers. Don't overthink it. You want your copy to be compelling, but compelling doesn't necessarily mean dramatic. Think of your copy as a pitch. Generally speaking, pitches don't contain words like "plethora" or "hence." In this case, simple is more effective.
5. Prioritize the benefits of your product — not its features.
If you're selling a product with all kinds of bells and whistles, it may be tempting to talk about all of its awesome features in your copy. But, you're going to want to hold off on that. Given how short and sweet sales copy is meant to be, you're better off getting directly to the benefits they'll get to see. Tell them about the results all of those features are going to lead to.
Sales copy is a hook; it's not a product page. Its main purpose is to garner interest and drive action. From there, consumers can learn about all the awesome features your product offers. Here's an example of sales copy that rests too much on its products' specs.
"Check out the Waffletron 4000. It has an adaptive waffle timer, automatic golden-brownness monitoring, topping holders, and outer shell temperature control."
That copy is a bit too technical and rehashes information the consumer should find once they've been hooked in by the sales copy. Some better copy would read:
"Waffles can be a bigger hassle than they need to be. It can be hard to hit that golden-brown middle-ground between batter and burnt. With the Waffletron 4000, your waffles will always be just right, quickly and effortlessly."
This copy gets right to what your buyer can expect from the product. It makes them want to learn more. Once they decide to explore the product because of the sales copy, they'll find the specific features on their own.
6. End with a clear, compelling call to action.
Sales copy always has a purpose. It could be written in order to get a customer to buy a product, sign up for corporate communications, download a content offer, or do anything else that will ultimately make them gravitate towards your business.
None of that can happen without an effective call to action. A call to action should be easy to identify and give some perspective on what is going to happen when a potential buyer clicks on it. Effective calls to action could read:
"Download our [content offer] now"
"Schedule a free consultation"
"Learn more about [X product]"
Ultimately, your goal here is to give your prospect a clear course of action. If your sales copy is effective enough for them to want to further explore your business, you have to give them a path to follow. Calls to action are where that path starts.
Sales Copy Examples
Source: HubSpot
A great example of effective sales copy comes from HubSpot. This copy sticks to specific pain points and speaks directly to sales professionals without being long-winded, boring, or patronizing.
Source: BrandMentions
This copy from BrandMentions is engaging, fun, and revolves around specific issues businesses might be having with their online presence. It manages to hit those pain points using interesting without getting hung up on its technical features.
Source: Dropbox
DropBox keeps things short, sweet, and effective with this copy. The text is quick, to the point, and informational enough without boring prospects with technical details. It also has very clearly defined calls to action.
Source: Heights Platform
This copy from Heights Platform has a cohesive narrative that its target customers can identify with. It also speaks to the platform's benefits instead of potentially losing prospects to overly detailed specs about its features.
Well-constructed sales copy isn't easy to write. Striking that balance between engaging and informative can be difficult. The most important thing to bear in mind is the customers' interests. Write something that they can relate to, take interest in, and be engaged by. If you can do all that without being imposingly wordy or technical, you should be in a good spot.