Regular readers of the HubSpot Sales Blog know they should "Always Be Helping." When a prospect has a challenge or goal you can help with, you know what to do -- you take them through your sales process. That's the best way to help them.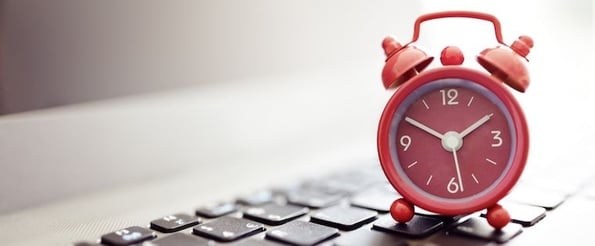 But what if they are busy with another priority, yours is not the most obvious service to help them, or they just won't admit they are a good fit yet? How do you help them in a way that makes them likely to come back to you if and when they do need or want your help?

What should you do in these scenarios? How do you nurture these prospects so that they'll come back to you?

It might sound counterintuitive, but the best way to get them to come back to you is to send them away.
Here are three ways you can help your not-quite-ready-to-buy prospects by sending them away. I've even included a few email templates that you can easily modify and apply to your own situations -- which should make it even quicker.

While it makes sense to prioritize your hottest, best-fit prospects, it's also important to develop your pipeline for the future. These three approaches will help you nurture your relationships and make it easy to stay in touch, while ensuring prospects who aren't ready to buy today will eventually come back to you for help.
1) Send Helpful Content
One of the easiest ways to help prospects who aren't ready to buy is to send content.

While any prospect can search and browse online, the volume of content can be overwhelming. Figuring out what's accurate and trustworthy is hard too.
You, on the other hand, talk to people in their situation all day, every day. You're uniquely equipped to point them to the right content for their situation. When you connect with a prospect who is looking for help, but not a good fit customer for you right now, offer to send articles that address their unique needs and circumstances.

Try this template:
Hey [Prospect],

Per our conversation, here is the link to the article I suggested you read. Based on the current challenge you're dealing with around X, I believe this will be helpful.
[Link]
While I think it may make sense for you to look at our service eventually, this article should allow you to fix this current challenge quickly and on your own.

Regards,
[Your name]

At HubSpot, we maintain a simple list of content and corresponding links so that our team can quickly send out content. Here's an example of what it looks like:
The best part about being immediately helpful is that you leave the door open for future calls. Assuming you listened effectively to their current challenge and your content is helpful given their specific situation, they'll remember that you were the one who pointed them in the right direction. They'll be much less likely to ignore your future attempts at connecting.

Another benefit of sending content by email is that you can track when they open the message and when they click the link(s). If you really think they will be a good prospect for you eventually -- just not right now -- make sure you're using a tool like HubSpot Sales to track their actions.
2) Refer Someone Else
Another way to help a prospect is to refer them to someone else who can help them with their immediate issue. Not only do you help your prospect by doing this, but the person you recommend will most likely be grateful for the referral too.

This tactic works particularly well if you have trusting relationships with people who sell to the same buyer, type of company, or industry as you. For example, at HubSpot, I've sold to marketers, agencies, and sales leaders. Over the years, I've referred a bunch of business to complementary providers. The companies I have referred help our mutual prospects and make us both look good -- and they refer me in turn.

Here's a template for this scenario:
[Prospect], meet [Referral]
[Referral], meet [Prospect]

I was speaking with [Prospect] this morning and they mentioned they were struggling with X.

I immediately thought of you because of how you helped Y Company with the same challenge.

Will let you two take it from here.

Regards,
[Your name]
Like the content list above, I keep a running list of people I trust with a description of what they do. Here's an excerpt so you can see:
| | |
| --- | --- |
| Challenge | Referral |
| Individual salespeople who need coaching | |
| Sales leaders struggling to hire effectively | Dave Kurlan |
| Sales leaders struggling to find inside sales talent in Boston/New York | Gina Oliveri |
3) Suggest an Alternative Service
Sometimes, your product or service just isn't a fit for a customer. For instance, they might need something that's more or less sophisticated than your service.

Here's a template you can use to suggest an alternative to your product or service.
Hey [Prospect],

Per our conversation, I do not think you are a fit for our services at this time. We are more focused on customers who are looking to achieve X goals and ready to invest more aggressively.

However, I would strongly recommend you invest in implementing a Y plan. Here is a link to the service I recommend: [link].

Let me know if you invest in that service and whether it helps you, or if you do something else. The feedback helps me make the best recommendations in the future.

Also, let me know if I can ever help in the future. If you do know any Z organizations that might be a better fit for our service, please don't hesitate to refer them. I'll do my best to help them too.

Regards,
[Your name]
You might worry that you're sending a prospect to a competitor, but I'd challenge you to make a list of companies that offer similar services to yours but don't really compete with you for the same type of customer.

For example, at HubSpot, our marketing attracts a ton of small nonprofit organizations that aren't staffed to do inbound marketing effectively. For these organizations, I usually recommend they get a newsletter started with a tool like Constant Contact.

On the other end of the spectrum, I talk to agencies who have built sophisticated websites with thousands of pages of content, plus custom applications they need to update and maintain. In these cases, I often recommend Pantheon, a Drupal and WordPress development and hosting platform. (Disclaimer: I'm on Pantheon's advisory board.)

Even though there is a small amount of overlap in our product functionality, neither Constant Contact nor Pantheon are actual competitors, since our ideal customers are significantly different.

Just like the other scenarios above, I also maintain a table of alternative services:
| | |
| --- | --- |
| Challenge | Service |
| Small nonprofits with little to no resources for marketing | Constant Contact |
| Agencies struggling to manage devops for large websites with custom applications | Pantheon |
| Companies that sell complex, long sale cycle deals, but struggle to stay top of mind | SnapApp Interactive Content |
By referring other services besides your own, your prospect will remember you as a helpful person who had their best interest in mind. This improves the chances of them coming back to you if and when they might become a better fit for your services.
Bonus Email Template for Following Up
Now that you've sent your prospects to get help somewhere else, how can you stay in touch with them (if they don't immediately come back to you)? Simply check in to see if your recommendation helped them solve their immediate challenge.
Hey [Prospect],

A few weeks ago, we spoke about a challenge you were having with X.

I recommended you connect with [Referral] to talk to them about their Y service.

My past experiences working with [Referral] made me think that would help you.

How did it turn out? Did you connect? Did you end up moving forward?

I appreciate any feedback so that I can know whether to continue referring people to this service.

Regards,
[Your name]
Buying Processes Are Rarely Straight Lines
In the very beginning of a sales pursuit, you should be generous with your time. It takes time to build rapport and credibility and get prospects to share what's going on in their world. Once you figure out that someone is qualified, you'll spend more time with them. But once you figure out they are disqualified for your service (or just not ready), use one of these three approaches to quickly help them with their immediate needs.

In other words, even when a buyer isn't a fit for me to help directly, I try to help them. I refer them to content or other service providers -- both complementary and somewhat competitive. I've probably helped as many people this way as I have by directly by selling my services. But, nothing has helped me nurture prospects and get referrals more than these three networking approaches.

It took me a few years to realize how beneficial it is to develop trusting relationships. It's a fairly regular occurrence for me to have old prospects come back, and I get referrals whenever I ask for them. Once I zeroed in on these benefits, I made it a goal to never leave a dead end for someone who needs help, to never lose a chance to build or strengthen a relationship.

To leverage these three approaches effectively, you must do a few things, however. First, you must be great at active listening -- not just listening for clues that you can help them directly. Second, you need to get organized around this process. Make a list of content that addresses different challenges and a list of providers that address challenges outside of your scope. Lastly, practice offering helpful advice even when prospects aren't ready to buy.

These things might not be the next step you want to take in your sales pursuit, but they will help you establish a more open line of communication with your prospect. You may get them to drop their guard so you can eventually figure out how you can help directly, or simply keep yourself top of mind when their priorities shift in your direction. When you get good at this, you'll also earn referrals when your prospects and referral partners run into someone who is a great fit for your service.

And even if a prospect doesn't proactively come back to you or refer you business, you'll have increased your chances of keeping the lines of communication open. They'll be much more likely to be receptive to a conversation or a request if you call on them again.

In short, do your best to help everyone you connect with, regardless of whether the prospect is ready to buy now, later, or never. Make every interaction count by being immediately helpful.
Sales isn't always a straight line. Be prepared and willing to help buyers navigate their complicated, busy, and overwhelming worlds -- even if you're not the right or immediate solution to their struggles. If you do, I bet business will boomerang right back to you.