Each year brings a new opportunity to reset and focus on your sales organization's new goals. What better way to get everyone on the same page and amped to hit their targets than hosting a sales kickoff?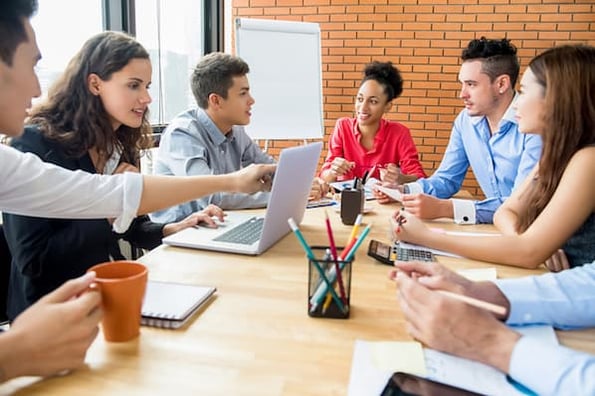 If you're looking for help getting started, we've got you covered with our tips, sales kickoff themes, and sample agenda. First, let's cover the basics.
What's a sales kickoff?
A sales kickoff is an annual meeting (usually in January) for your entire sales team. The main objectives are motivating your reps, managers, and leaders; laying out your strategy; and celebrating wins. You're setting the tone for the next 12 months and getting the entire organization — from the top to the bottom — fired up to hit their goals.
Sales kickoffs help boost morale, build team trust and rapport, and ensure that the entire organization understands the priorities and roadmap for the year ahead. Below are our specific tips for planning kickoff — so keep reading.
Virtual Sales Kickoff
The pandemic has changed the way companies do business and virtual events are becoming the norm. But just because you're taking your SKO event online doesn't mean that it has to be a bore. It just means you'll need to get creative and be strategic about how you allocate time. Check out some of our virtual sales kickoff ideas below.
1. Build in breaks.
Zoom fatigue and slide overload are very real. Give your attendees time to reflect, and take small breaks in between sessions. This will keep folks from zoning out, which is easy to do when sitting through multiple hours of presentations.
2. Make it interactive.
Online events often lack the crowd participation of in-person events. It can be rough having someone talk at you for hours on end. That's why it's important to get the audience involved. While it is impossible to recreate the same nuance and environment of in-person gatherings, you can give people the opportunity to socialize in other ways.
Image Source
Divide attendees into teams for a game. Incentivize them to participate with small prizes. Mock Shark Tank or other pitching and improvisational challenges would be a good fit. Virtual escape room games are also a popular choice for team building.
Create breakout sessions for meet and greets or topic discussions. This will allow attendees to meet and interact with each other.
Encourage people to ask questions. Build in time to answer questions in the chat or in real-time with the hand-raised emoji.
3. Use engaging keynote speakers.
Having a great speaker is important at any event, but it's absolutely a must for virtual ones. Work with your stakeholders during your SKO planning sessions to narrow down who in your organization (or outside if you have the ability to hire) would deliver the best keynote message, or who has an interesting story to share that your audience would find valuable.
4. Make your presentation count.
For virtual events, having an engaging presentation can help you hold everyone's attention. Try not to have tons of text on your slides and incorporate more video and other visuals whenever possible.
5. Send a swag bag.
This doesn't have to be excessive if you're concerned about cost. Even a branded notebook that your team can use for the day with some pens can go a long way to making the event feel more cohesive and inclusive.
6. Create awards and recognize high performers.
Just because you're not meeting in real life doesn't mean you can't recognize team members that are doing well. Set aside time in your presentation to celebrate wins and the people who helped the company achieve them.
Ready to get down to the nitty-gritty details of planning your event? Let's discuss how you can make your event both engaging and informative.
Sales Kickoff Tips
Choose an engaging sales kickoff theme.
Create a sales kickoff agenda.
Integrate presentations, trainings, and team-building.
1. Choose an engaging sales kickoff theme.
Why choose a theme for your sales kickoff? First, your content will be more engaging and memorable if it all goes back to a central idea. Second, it heightens the entertainment value. A theme lets you add in jokes, slideshows, skits, mini contests, and so on. Third, a theme keeps you on track. Kickoffs fail when they're all over the place — reps end up forgetting what they've heard, and there's no lasting value. To make your kickoff successful, give it an overarching theme.
But don't choose one at random. According to the "Heavy Hitter" series author Steve Martin, the right theme depends on your org's morale.
"All sales forces go through periods of high and low morale," he explains. "When morale is high, you can be more creative and take bigger risks with the theme you choose."
Martin says one of the best sales kickoffs he ever attended had a "Night at the Oscars" theme.
"Each of the sales regions created their own video about the average day in the life of a salesperson. The videos were exceptionally well-done, full of side-splitting humor, and their ingenuity was inspirational. Everyone loved watching them and a judging panel of company executives awarded Oscars to the best."
But "such an over-the-top" theme would be a bad idea during a low period. In that situation, Martin recommends a more pragmatic one, like "Better, Stronger, Faster." Planning a merger? Go with a theme that emphasizes collaboration, such as "Winning together."
Here are some ideas to get you started:
The Avengers/The Justice League
Give each of your top salespeople from last year a superhero persona. Then have them dress in costume and shoot a video or give a speech explaining what they did to be successful. You can also have your presenters dress as superheroes and stage battles.
Star Wars
This is another cinema-inspired theme that'll make your sales kickoff a good time. Give every host or sales leader a character (if you want laughs, I recommend asking the manager with the "toughest" reputation to be Darth Vader).
"Beat [Competitor]"
Do you have a clear rival in the market? Now's your chance to use that to your advantage. Nothing rallies a sales team like a common enemy, so use a theme that focuses on overcoming your competitor.
Back to the Future
Image Source
Hop in the DeLorean for this fun theme. Marty can represent your loyal, smart, enterprising salespeople; Doc Brown is their brave manager; Biff is the rival company, and getting back to their own time zone equals their sales targets.
March Madness
Assign an NCAA team to each sales team or region, then have them compete throughout the kickoff to advance through the bracket. Keep the basketball theme going throughout — have your presenters dress like coaches, use "referees" to quiet the crowd, and give basketball tickets as prizes.
Home Run
A baseball theme is another strong choice, especially when you focus on "home runs:" The ones you hit last year and the ones you'll hit next year.
Inspector Gadget/The Pink Panther/James Bond
Go with a spy theme to make things a little mysterious and fun. Your team's "gadgets" include their phones, laptops, CRM, etc. Their mission: Hit or exceed their annual quota.
[Your Company Slogan]
If you have a company tagline or slogan, consider making it your kickoff theme.
Survivor
Divide salespeople into teams. Over the course of the kickoff, hold several "challenges" to test their product knowledge, selling skills, engagement during sessions, etc. The kickoff's emcee can play Survivor host Jeff Probst. At the end of the kickoff, give the team with the most points a prize.
2. Create a sales kickoff agenda.
Salespeople want to learn what the top people at the company did so they can achieve the same success. These stories are both inspiring and insightful. With that in mind, schedule one to three panels where your highest-performing sellers discuss their biggest deals — how they started the sales conversation, how the process went, which obstacles they encountered, and how they got past them, etc.
You should also include at least one tactical sales training session. Successful salespeople never stop learning, so give them plenty of insights and new techniques to try in the new year.
Networking is another important ingredient of a great kickoff. This is the one time everyone on your sales team is in one place, so let your reps take advantage of it. They can forge valuable connections that'll lead to mentorships, informal peer training, friendships, and deal collaborations.
Of course, you also need to include the high-level content — how the sales org and company did last year and what your strategy and goals are for this year. These sessions get everyone on the same page so you're as effective as possible.
Day 1:
Welcome/breakfast: The host introduces themselves, goes over the schedule, and gets everyone excited. Free food never hurts — and if your attendees eat a good breakfast, it'll be easier for them to focus.
Year in review: Discussion of last year's numbers, the highlights and lowlights, major company industry, and product developments.
Training/breakout session: Reps get into small groups for skills-based sales training. Consider sending pre-work so training sessions are building on familiar information and concepts.
Lunch: This is a great opportunity for salespeople to network. Encourage mingling.
Marketing update: The CMO or VP of Marketing covers the initiatives their department is planning for the upcoming year (and more importantly, how these will help Sales make more money).
Live call (optional): Have a top performer run through an actual call with a prospect. Not only is listening to a live, unscripted conversation far more interesting than a planned presentation or call recording, it's also a great way to make the kickoff memorable and engaging.
Fun networking opportunity: Capitalize on the energy your last session generated. Host a Jeopardy-style quiz, ask reps to pick out the real customers from the fake ones for a prize, etc.
Competitive review: Have the Sales Enablement team discuss the major competitive players — where they're a true threat and where they fall short. To make this session more interactive, each person can play a persona of a different competitor.
Group dinner: This is another ideal time for your reps to get to know new faces and greet old ones while kicking back a little.
Day 2:
Short welcome/breakfast: This intro session should quickly go over the plan for the day.
Product training: In and of themselves, product updates aren't useful to reps. What is useful? Tactical content on how to position the new features, add-ons, and offerings.
Breakout session: To reinforce the last session, have reps get into small groups (each led by a sales manager or facilitator) and complete a training module and role-play exercise.
Lunch: The same idea as yesterday's lunch — try to encourage cross-team mingling if possible. You can also use this time to present awards to the top reps and managers of last year.
Training session: Prepare another skills-based lesson and exercise for this part of the kickoff.
The main purpose of this presentation? Get your reps fired up. You can choose someone from your company to talk — like a high-performing rep — or hire a guest speaker. Just make sure they're highly motivating and can speak to your sales org's specific culture.
Closing remarks: Have someone from your company (maybe the CEO or VP of Sales) give a short speech summarizing the kickoff's highlights and reminding everyone what they'll accomplish that year
Many companies host three-, four-, or even five-day kickoffs. This isn't a good idea: At that point, it's unlikely every session is helpful or relevant to the majority of attendees; plus, people want to get back to their regular responsibilities (not to mention lives). If this agenda doesn't fully fit your needs, swap sessions in and out.
For example, you might choose to have a session devoted to your CRM — how to navigate it, which features are most useful, expert tips, etc. Perhaps you'd like to cover an industry trend. HubSpot reps, to give you an idea, could learn how to talk to their EU prospects about General Data Protection Regulation (GDPR) compliance.
3. Integrate presentations, training, and team-building.
Once you've finished getting through the content and training that you need to cover, make sure you build in time for fun, social, team-building activities so your team can get to know one another and spend time together outside of the office. Below are a couple of ideas:
Happy hour/fun activity: Hold a happy hour with alcohol-free options for those that don't drink. Another option is to host an activity. Give your salespeople the choice between paintball, laser tag, a cooking class, a scavenger hunt, a baseball game, or Escape the Room, to get folks mingling and collaborating.
Dinner: This is optional — you can let attendees go home after the previous activity if you'd like. But it can be nice to bring everyone together for one last dinner, especially if many attendees live too far away to travel back that night.
Host an SKO sales reps will enjoy and remember.
Each sales team is unique and you'll want to tailor your event to your team's culture and sales goals. However, if you follow these guidelines, reps won't just absorb a lot from your sales kickoff — they'll enjoy it, too.
This article was originally published in December 2018 and has been updated for comprehensiveness.