The online learning industry is booming. According to a study by Research & Markets, the online education sector is set to grow from $187.877 billion in 2019 to $319.167 billion by 2025. While that's a positive thing for the industry and course creators, it will inevitably make the space more competitive.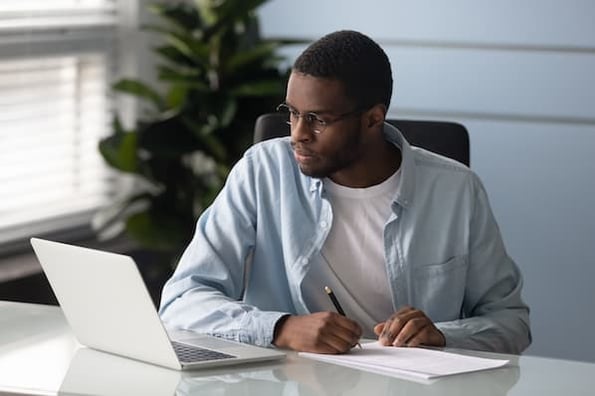 If you're a course creator already established in your space, that means the coming years will bring more competition. On the other hand, if you want to enter this space and acquire customers, you're in for an uphill battle to get established because of all the competition you face. Either way you'll want to focus on improving your conversion rate to maximize sales.
In this guide, I'm going to show you how to utilize one of the most effective sales channels and webinars to create and sell online courses. To set the scene, let's clear up why you should use webinars in the first place.
Why Webinars Are The Best Channel for Selling Your Online Course
There's a lot to like about the webinar. Ask the marketers themselves, with 73% of them saying it's one of the best channels to generate leads. It makes sense. Webinars are just online seminars (it's where the name comes from).
Webinars capture audience interest.
Through a webinar, you can connect with your audience directly as you speak. That's a lot more effective than an online email sequence that a person can easily ignore. This ability to connect with your audience enables you to sell your product or service more effectively. GetResponse is a nice case in point. Webinars are one of their most effective lead generation channels as Michal Leszczynski, Content Marketing Manager at GetResponse, makes clear.
"Webinars are certainly among our best lead-gen tools. They're very cost-effective, and once you figure out a reliable process, you can scale your webinar marketing efforts with ease.
Every month, we run one big webinar that attracts over 2,000 registrants and several smaller ones. Due to the topics we cover in our webinars, we manage to attract both existing customers who want to educate themselves, and new leads who want to learn more about what we do.
We carefully track every webinar we host and can certainly see which topics drive engagement and make our attendees more-likely to convert."
The data show webinars are effective.
Webinars are one of the most effective lead generation channels in the eLearning space. A quick review of any established marketer selling expensive online courses reveals that webinars play an integral part in their sales funnel.
Russell Brunson, Neil Patel, Frank Kern, and Sam Ovens, are just a couple of examples of experts using webinars to sell $1,000-$5,000 online courses through webinars.
All of these marketers are using webinars to sell online courses; they also use a very similar sales formula that can be easily replicated for salespeople and entrepreneurs. The remainder of this guide will discuss how to use webinars to sell online courses. If you're in the eLearning niche or plan to enter the niche, pay close attention.
How to Sell An Online Course With Webinars
Webinars offer a great way to sell online courses and connect with your target audience — if you take the right approach. Here are five steps to help you capture customer interest and convince them to engage with your online course content.
Step 1: Research Your Audience
Any successful campaign relies on an understanding of your audience. Consequently, it's a good idea to create a customer persona before you do anything else.
A customer persona is a representation of your ideal customer if you've never heard of one before. It's your chance to get into the head of your ideal customer, discover the pain points they are facing, and learn about their goals.
Your customer persona is something you should reference as you build out your marketing campaign. It's important also to consider why people don't buy from you.
Generally, there are three reasons that people won't buy the product or service you offer. They are:
They don't believe that the course is the right solution for them
They believe what you are offering is the best solution, but they don't think they will have success
There is some external factor that is holding them back from making the purchase
We'll cover how to deal with each of these objections in the following sections of this guide to using webinars to sell your online course.
Step 2: Sideline the Competition
Regardless of the course you're offering, you're almost certainly going to be operating in a competitive market. This means there will be other people offering similar courses to you.
Assuming you are an expert in the field that you are selling a course in, which I hope you should be, it should be easy to conduct your competitor analysis. You will know who are the important movers and shakers in your niche, how much their product costs, and what they are offering.
Pay attention to each of these factors as it will play a role in how you position your course. Crucial to the success of your positioning is the ability to illustrate why it is unique. That is unless you plan to position your course as being the cheapest option on the market, which is an approach you should avoid.
A great resource about positioning is Blue Ocean Strategy by Renée Mauborgne and W. Chan Kim.
Spend some time on getting your positioning right. A high percentage of your prospective students will have tried and failed to achieve the goals you want to help them achieve. This is an obstacle you need to deal with if you want them to become your students.
For example, here is how I'm positioning my SEO certification course:
SEO is easy, and anyone can do it with a system vs. There is a lot of information you need to understand (much of it technical)
70% of building the links to get traffic to a site is networking vs. You need a bunch of technical tools to get traffic to a site
Positioning the course in this way removes 90% of the competition.
Framed in this way, SEO is not a skill set that requires advanced technical knowledge. The basics of SEO are pretty simple. What makes most SEO experts successful is their professional network and a proven system for getting results. This is something I genuinely believe after gaining a lot of experience in this field.
If you can position your solution as unique, your potential students won't associate your course with their previous failures. You're offering a new approach to achieving their goals.
A great example of someone who achieved success by carefully positioning his product is Clickfunnels founder Russel Brunson. He marketed Clickfunnels as a funnel builder, not a page builder. Yet, fundamentally Clickfunnels is like any other page builder on the market. By positioning the tool as a funnel creator, he managed to distinguish his solution from the competition.
Step 3: Create an Effective Marketing Funnel
As I mentioned, there are a lot of successful entrepreneurs who rely on webinars to sell their online courses. Most of these experts use a pretty standard webinar funnel that most often starts with PPC ads, and ends on a sales page.
Here's what that looks like in practice.
There's a great case study on Connectio that takes apart the webinar funnel used by Sam Ovens to sell his consulting course. The post covers the entry point to his webinar funnel; specifically, the copy used on the Facebook ads, the Opt-in page, and the Thank You page.
If you want to use PPC ads to promote an online course, I recommend you set aside 10 minutes to read the case study.
So, that leads us to the central point of the funnel, the webinar. In the next section, I'll cover how to create an effective presentation that draws in leads and generates sales.
Step 4: Turn Warm Leads into Hot Prospects
At the beginning of this guide, I gave a couple of examples of marketing experts who use webinars to sell and create their online courses. Each presenter has a unique approach to selling, but they generally follow a similar framework.
Many of these experts share their frameworks through expensive online courses. A notable exception is Russell Brunson. In his book, Expert Secrets, Russell shares his turnkey formula for running a successful webinar. If you're serious about using a webinar to sell your online course, then I thoroughly recommend you make the $5 or so investment.
Here's a snapshot of the webinar formula he uses:
Start with your origin story. Your origin story covers who you are and a bit about your background. Through your story, you should establish your expertise, and make yourself relatable. This generally follows some kind of rags to riches story or novice to expert.
Your vehicle framework. In this section, you talk about how you discovered the secrets you'll share through your course. This provides the context to the value your course had, and the pain you had to go through to learn these lessons. Think Karate Kid waxing cars until he learned the Crane Kick.
Testimonials of success. Inspire your audience with case studies of people who have graduated the course and achieved success. It's about showing how they can achieve their goals with your course.
Discuss their external beliefs. Attack the external doubts that might hold your audience back from making a purchase. External limitations are things related to the student's end goal. For example, if you were selling a blogging course, you might believe you are a great writer, but you don't think you'd ever be able to master SEO.
Make your convincing close. The final section of the webinar is where you sell the value of your course. If you're following Russell's formula, then this is the part where you share all of the time-sensitive bonuses that they would get if they purchase.
That's the formula in a nutshell.
You'll notice that you don't really count attendees at any point. Rather, this sales strategy involves convincing attendees that the program you are selling will help them achieve their goals. This is done by first creating a connection with the attendees, establishing why your solution is different, and then knocking away the things holding a person back from purchasing the course.
How to Present Like a Pro
Presenting a webinar is a nerve-wracking experience, especially if you're not a naturally outgoing person (I definitely fall into this camp). Like most things in life, though, if you jump in and try, it's rarely as bad as you think.
Even if it is a disaster, and I've run a few terrible webinars in my time, it's not the end of the world. Dust yourself off and get back in the ring.
If this is going to be your first webinar, here are a few presentation tips you should follow:
Try to relax. Aim to do something that will help relax you 30 minutes before your webinar, such as some deep breathing or meditation.
Incorporate humor so you can make your audience feel you're approachable. This helps them better connect to you and your story.
Use pattern interrupts throughout your webinar to get people to pay attention. These can be silly looking slides or goofy unexpected phrases.
Engage your audience by asking them questions. You can get them to actively respond by typing the number one into the group chat if they agree with a statement.
Give your attendees an incentive to stay until the end. Usually, you offer some freebies to those who participate through the end of the presentation.
You might naturally be a great presenter if that's the case, then great stuff. However, even if you're terrible the first time, practice makes perfect. By the fifth time you've presented the same webinar, you'll feel confident making your pitch. You'll also have the chance to learn from your mistakes and improve the webinar based on attendee feedback.
Step 5: Create an Effective Sales Page
The end goal of your webinar is to send piping hot leads to your sales page, where they can buy your course. Since this is the last page in your webinar funnel, you can think of this page as the one that gives the final nudge. Simply put, if it's effective, you get that conversion.
Your sales page needs to create some FOMO and provide an overview of what your students will receive if they purchase your course now.
Your sales page should follow a copywriting formula. Remember, the more expensive the course, the more bonuses you should provide, and the more testimonials you should add. I suggest you check out this guide if you're not familiar with how to write a long-form sales copy.
The final step is to set up a retargeting campaign for people who attended the webinar but didn't make a purchase. Whether you should do this depends on how many people attend the webinar.
Ready to start selling online courses? Here are seven platforms that can help:
Platforms to Sell Online Courses
Thinkific
LearnWorlds
Freshlearn
Udemy
Skillshare
Teachable
Podia
Kajabi
Thinkific makes it easy to create your course using pre-built templates. Simply select one you like, use drag-and-drop editing to manage course content, then preview and publish the finished product. This platform offers support for live lessons, randomized quizzes, certificates, and "drip schedule" programming that keep students coming back for more.
Why we like Thinkific:
Thinkific offers a one-month free trial that lets you create as many courses as you want. This gives you the space to see how the platform works and discover which courses generate the most interest.
Pricing: One-month free trial, basic plan starts at $39/month.
LearnWorlds lets you create your own learning website that includes everything from a course catalog to teacher biographies, headshots, and descriptions of courses. Administrators can create and approve as many courses as they want, while teachers can submit courses for review by admins before they're published.
If you want to make the move to mobile, LearnWorlds offers a branded school app for an additional cost.
Why we like LearnWorlds:
LearnWorlds comes with a host of course building tools that let you upload videos, add text, images, logos, and interactive buttons, along with SoundCLoud and YouTube content.
Pricing: $24/month for Starter, $249 for the complete Learning Center package.
FreshLearn is an all-in-one platform for creators to create, market, and sell digital products directly to their fans from their own website. You can create your landing pages, launch a blog, create and sell courses, live workshops, digital downloads, and more. FreshLearn also offers detailed score-based assessments, customized certificates, and testimonials that help keep your users engaged, build trust, and increase conversions.

Why we like Freshlearn:
FreshLearn offers an accessible free plan that lets you create and sell courses and other digital products without having to commit to premium features or paid plans. FreshLearn is always adding features geared towards increasing sales and improving the students' experience.

Pricing: FreshLearn has an Always Free plan, the Pro plan is $29/month, and its No Brainer plan is $59/month. Both plans come with a 14-day free trial.
Udemy was one of the first online learning platforms and has carved out a niche as one of the best. With more than 65,000 instructors and 40 million students worldwide, Udemy offers plenty of opportunities to create and sell great courses. The caveat? Selling courses requires you to apply to become a "Premium Instructor", after which courses are free to list and sell — Udemy takes a portion of any revenue generated on the sale of a course.
Why we like Udemy:
Not sure if your courses will resonate with your audience? You can submit them for review to get feedback on both the content of the course itself and suggestions to make better use of Udemy's course creator. Udemy's marketing programs, meanwhile, can help get your course noticed.
Pricing: If you have an instructor coupon, Udemy charges a 3% revenue share, otherwise, it's a 63% revenue share.
Skillshare classes primarily focus on creative skills such as writing, photography, blogging, and design. There is no cost to create or post a course, but to make money selling your courses, they must be part of Skillshare's Premium Catalog. All courses include community discussions, projects, and at least 20 minutes of video.
Why we like Skillshare:
With more than 35,000 registered students, Skillshare offers a great opportunity to share your creative expertise with the world — and get paid while doing it.
Pricing: Free to create and publish a course. Premium Catalog courses generate payments for course creators based on the number of students that watch the course each month.
Available on both the Web and iOS, Teachable is all about helping you build courses and websites that help students find your content. From website customization to sales pages and free course templates, Teachable makes it easy to get started — and with support for files from popular sites such as DropBox, OneDrive, and Google Drive, you can use whatever format works best for your course.
You can also sell your courses however you prefer: As a one-time payment, on payment plans, or using subscriptions.
Why we like Teachable:
Along with a host of great templates and website builder options, Teachable's Power Edit feature lets you add your own code if you're tech-savvy and looking to customize your site even further.
Pricing: The free basic plan lets you post courses but you pay between 1% and 10% per transaction. The $99/month Pro plan comes with no transaction fees and instant payouts.
Podia is all about helping you build an online store for your digital courses. Design and sell online courses, digital downloads such as eBooks, or offer membership plans to students all from a single website store.
This platform uses a similar template for all its store offerings to help streamline the process of course creation and selling, and also lets you publish your course immediately or send out pre-sale emails to generate user interest.
Why we like Podia:
Podia's membership plans let you offer additional features and content for members and keep them in the loop about new courses or special offers.
Pricing: The Mover plan is $33/month and comes with custom websites and unlimited courses. The Shaker plan is $75/month and adds unlimited coaching products.
Kajabi focuses on helping you more effectively market your courses to the right audience. Using its marketing frameworks — which Kajabi calls "pipelines" — you can create landing pages that provide downloadable content in exchange for users' email addresses, then enable automated processes to send news and reminder emails.
Why we like Kajabi:
Along with basic email collection, Kajabi also lets you leverage "if-then" scenarios for automation. For example, if a student completes an assignment you can send them an email or offer them new content options.
Pricing: Kajabi's Basic plan is $149/month and its Growth plan is $199/month. Both come with a 14-day free trial.
Webinars that Sell
What I tried to provide through this guide is a framework for selling an online course through a webinar that I'd want to bookmark. This framework covers everything from coming up with your customer persona, positioning your course, through to creating your webinar funnel, and the perfect webinar script.
There's no way that I could cover everything you'd want to know in a 2,000+ word article. Rather than pretending I can, I provided resources you can refer to when creating your webinar funnel. This includes books like Blue Ocean Strategy, and Expert Secrets, alongside useful blog posts.
Using webinars to sell an online course won't be for everyone. However, if you put in the work and research the theory, I promise that the strategy I outlined in the post will deliver results. Best of luck.
Editor's note: This post was originally published in June 2020 and has been updated for comprehensiveness.