I get so many asshole emails. You know the kind -- they start with, "I was hoping to get you on the phone," or "We've never met, but I'd like to tell you about what X company can do for you," or "I wanted to touch base before the weekend." These emails have one thing in common: They're centered around the rep's needs, not their prospect's.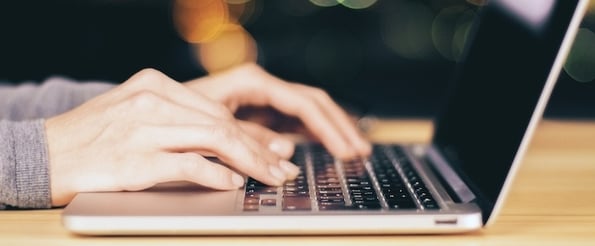 Salespeople live and die by their inbox. We don't like getting self-centered emails, so why would we subject our prospects to them? It's tough to send an email full of valuable blog articles when you really want to send a contract. But there's an art to keeping your emails prospect-focused, and I'm sharing five of my go-to tips below.
1) Lead intelligence
Always refer to your CRM. Every time a prospect shows interest in HubSpot, we record those actions in our CRM. And those details are how I begin my lead intelligence -- research about a prospect's position, outside interests, and business needs.
If you're not using lead intelligence in 2017, you're screwed. It gives you more insight into your prospect's situation and priorities, and it's the first step in building strong rapport. If lead intelligence shows my prospect downloaded an ebook around 11:30 on Saturday night, I might say, "I see you downloaded that ebook at 11:37 p.m. Saturday. That must be some important ebook!"
We'll both laugh a little. Then we can immediately begin discussing why that content is so important to their business -- and why they don't have better weekend plans. From the moment we connect, the conversation is about them and how I can help.
2) Link to meetings tool
Instead of asking for a meeting, link to your calendar so your prospect can find a mutually compatible meeting time. You'll take the pressure off your prospect and keep the conversation focused on their needs instead of your nagging wish to get on their calendar next week.
Include a link to your meeting tool (like the one included in HubSpot Sales) and let your prospect decide when they want to meet with you.
Pro tip: Don't overload your email with links. When your prospect opens an email to see 13 hyperlinked articles, they're overwhelmed. This also dilutes the importance of the content that's most valuable to them. As a rule, I limit links to three per email. Any more and it looks like I didn't care enough to curate the information I sent.
This might mean you wait to share content that will concretely move your deal forward. But if holding off leads to a better experience for your prospect, do it.
3) Write unique subject lines
I used to be known for my long subject lines. And I mean long. They were so long that when I introduced myself to the CEO of a well-known computer software company, he said, "I know you. You're the guy who sends the entire email in the subject line!"
Maybe don't follow my lead there. But email subject lines are your most valuable real estate, so make them memorable. These days, I keep subject lines customer-focused by using my prospect's name. For example, if I'm following up with a recent connection, my subject line might read: "[Customer name] + HubSpot Executive Follow Up."
Customizing and contextualizing the subject line helps my prospect spot my message, making it likelier they'll respond.
4) Reference the buyer journey
In the body of the email, I always reference actions my prospect has taken on the buyer journey. If a prospect watched several HubSpot Academy videos on blogging, I know they're in the consideration stage. They've identified blogging as a valuable area of growth for their company and are interested in learning more.
In this case, I would send an email packed with resources to help achieve their business goals. This email might look like:
Christy, I see you've got blogging on the brain
Hi Christy,
I noticed you watched several HubSpot Academy videos on better blogging. I pulled a few other blog resources you might find helpful: [Link 1], [Link 2].
If you'd like to learn more about how to supercharge your blog, you can click the calendar link below to schedule a few minutes with me.
I also noticed you just moved to San Francisco. How are you liking it so far?
Dan
I've acknowledged Christy's interest and actions, provided her with curated content, left a subtle call-to-action, and closed with a personalized question -- all in five short sentences. Boom! You're suddenly sending interesting emails.
5) Track opens
Keep track of when prospects open your emails. Most sales tools, including HubSpot Sales Hub, provide integrated notifications that appear in your browser. When someone opens your email or views three consecutive blog posts on your website, wait 30 seconds and give them a call.
You might address the big brother in the room by saying, "Hey, this is creepy, isn't it?" Then get down to business by asking, "Are there any questions I can answer about what you're currently viewing?" or "I've got another article that piggybacks on the one you're reading. I'll send it to you now."
As with every touchpoint, follow your prospect's lead. If they need more time to think through the email you just sent, know when to end the call early. But if they just opened an email with important pricing information inside, consider picking up the phone and talking them through the details while they're fresh.
Today's salespeople have to go beyond relationship selling. We need to be helpers, and that revolutionary approach to sales relies heavily on prospect-centered emails. Incorporate these best practices into your workflow, and delight prospects with less you and more them.