Sales isn't always intuitive, so from time to time, you're bound to need a little guidance to set you straight — expert advice, everyday hacks, and different strategies to help you step up your game a bit. But where does that come from?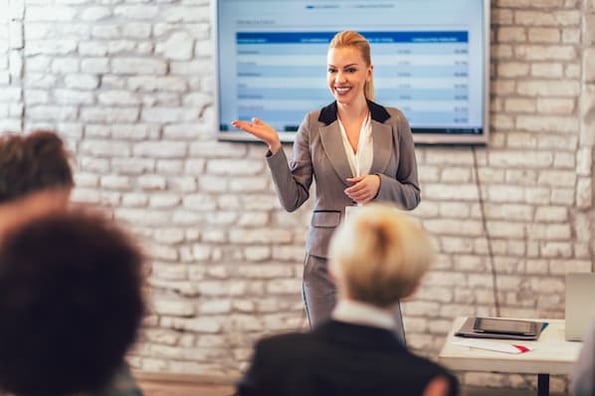 In many — if not most — cases, you won't have a mentor you can talk to at every turn when trying to become a better salesperson, and to the best of my knowledge, "guardian sales angels" aren't a thing.
Sometimes, you need to rely on experts beyond your immediate circle — prominent sales figures that can provide reference points and insight to help you add some skills to your repertoire and refine your sales efforts.
Those people are most commonly referred to as sales influencers, and we've compiled a list of five that every sales rep should know about.
Sales Influencers to Follow
Janice Mars
Morgan J. Ingram
Jeff Davis
Cynthia Barnes
Jill Konrath
Janice Mars is the founder Principal of SalesLatitude — a consulting firm, dedicated to helping businesses focus their sales efforts on winnable deals and aligning core strengths with the right prospects.
She's also emerged as one of the foremost advocates for the advancement and empowerment of female sales professionals, serving on the board of Women Sales Pros — a network of B2B saleswomen, looking to disrupt a traditionally male-dominated field.
With over 30 years of experience under her belt and a solid following behind her, Janice has emerged as a leading voice in the broader sales landscape. She maintains active LinkedIn and Twitter presences and publishes a stream of high-quality, longer-form content through the SalesLatitude blog.
If you're looking for a glass-ceiling-shattering sales influencer with tremendous experience and high-quality insight, consider giving her a follow.
Morgan J Ingram is one of the foremost thought leaders in sales development. He hosts The SDR Chronicles — a podcast and YouTube channel with over 100 episodes aimed at providing guidance, insight, and motivation to emerging sales reps.
Ingram also serves as Director of Execution and Evolution at JB Sales — a prominent educational resource for sales professionals. He takes a dynamic, empathetic approach to sales leadership, dedicating himself to helping reps jumpstart their careers and sustain success throughout their professional development.
In addition to his work with The SDR Chronicles, Ingram maintains an active presence on LinkedIn and Twitter, posting daily content on sales, sales development, and prospecting best practices.
Jeff Davis isn't your traditional sales influencer. He's what he describes as a "marketer with the soul of a sales guy" — an expert in helping B2B leaders more effectively align their sales and marketing teams with over 15 years of experience in both fields.
A self-proclaimed data-driven storyteller whose career has included stints at a wide variety of businesses — from early-stage startups to Fortune 100 corporations — Davis has a wealth of insight that virtually any sales or marketing professional stands to gain a lot from.
Davis conducts speaking tours and personally consults for businesses in need of guidance on sales and marketing alignment. He also produces and hosts TheAlignmentPodcast.com and publishes blog content through his website
If you're a sales professional at any stage of your career — especially if you're interested in understanding how to more effectively collaborate with your marketing department — consider following Jeff Davis.
Cynthia Barnes is a force in the sales landscape. Channeling her extensive experience as an entrepreneur, business success expert, and bestselling author, she has become a leading voice within a crowded base of sales influencers.
Beyond her numerous professional accomplishments, Barnes has become one of the most significant figures in promoting equal opportunity in her field. In 2016, Barnes founded the National Association of Women Sales Professionals — a community with over 15,000 members, dedicated to empowering women in sales and vying for equal footing in the male-dominated landscape.
Among her qualifications and achievements listed above, Barnes also tours as a keynote speaker, maintains active Twitter and LinkedIn presences, and is a prominent member of various organizations, including the National Speakers Association.
If you're interested in exceptional thought leadership from a sales expert who vies for a fairer, more progressive sales landscape, check out Cynthia Barnes.
Image Source: LinkedIn
Jill Konrath — a bestselling author, seasoned sales expert, and touring speaker — is a giant among sales influencers. She's been officially recognized as the number one B2B sales leader to follow on LinkedIn and one of the top 7 Most Influential Sales Thought Leaders of the 21st Century by Salesforce.
For over two decades, Konrath's thought leadership and direct advice have helped countless sales organizations with virtually every facet of their operations.
Whether it be in guiding businesses looking to ramp up new product sales, helping salespeople land more high-quality meetings with key decision-makers, or offering almost any other necessary guidance a sales org might need to expand and excel, Jill's insight holds tremendous weight and delivers results.
Konrath has been touring, speaking, leading workshops, and headlining sales conferences for close to 20 years now and served as a sales resident at HubSpot for the past seven.
Her active online presence, engaging content, quality thought leadership make her an absolute must follow for sales professionals seeking the guidance they need to take their sales games to the next level.
As I said, sales isn't always intuitive, and sometimes it takes some insight and inspiration to make the most of your professional development and individual effort. Sales influencers are a good place to turn for both, and while this list is far from exhaustive, all of these figures are worth a follow.