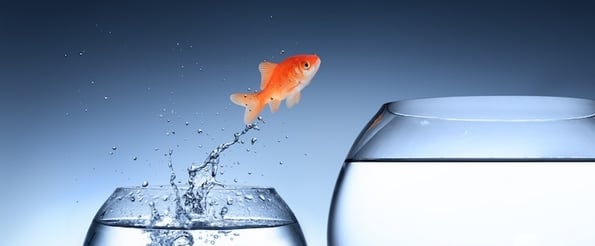 Thanks to your attention-grabbing subject line, the prospect decided to open your email.
But just because they've opened the message doesn't mean they'll respond -- or even fully read it. If the content isn't as compelling as the subject line, you'll quickly lose their attention.
How do you make your email more engaging? One strategy is to use "before-and-after" stories.
Not only do these mini narratives help you prove your product's impact, they're also far more interesting than a straight list of facts.
Ready to get started? Let's dig in.
When to Use Before-and-After Stories
These stories come in handy at multiple points of the sales conversation. If you've never spoken with a prospect before, including one in your outreach email can help draw them in and open the door for a phone call or meeting.
When you've already had a couple interactions, adding a before-and-after story to your email is a great way to reinforce your product's value, demonstrate a similar use case, and even create some urgency in your prospect (after all, if X company is getting Y results, your prospect want to get those same results as soon as possible.)
Are you sensing skepticism in the buyer? Along with testimonials, before-and-after stories give prospects more confidence in your ability to deliver. Nothing says "results" like, well, results.
Finally, you can use before-and-after stories to spark interest in prospects who have gone quiet. They might have gotten busy or lost interest in speaking -- but after getting another taste of what your product can do, they might be more likely to respond.
The Basic Structure
To write an effective before-and-after story, follow this simple formula.
Before: What was the customer's initial situation? What challenge were they facing?
Middle: Which solution did they implement?
After: What were the results?
Here's an example:
Before: Bluefin, a digital agency, was having its employees track their billable hours in Excel spreadsheets. After doing a time audit, they discovered they were under-billing 60% of their clients.
Middle: So, they installed our time-tracking software on each employee's laptop.
After: Now that their estimates and rates are accurate, they're making approximately $4,000 per project -- or $200,000 more per year.
The Abbreviated Version
Worried about making your email too lengthy? If you want to cut to the chase, don't describe the customer's previous situation. Instead, start with the solution and then describe the results.
To give you an idea, here are two versions of the same before-and-after:
Long version: eDoc's four-person support team was getting around 300 calls every day. They were only managing to handle 100 of those -- so they were getting tons of angry reviews online. But once they moved our live chat support, they've been able to help 400 customers per day. They haven't gotten a single negative review in the past two months.
Short version: After moving from phone support to our live chat tool, eDoc went from helping 100 customers per day to 400. They've also completely stopped getting negative reviews.
Use your best judgment about which length to use. Prospecting emails should generally be as short as possible. However, once you've started the sales conversation, you can usually get away with longer messages.
Make the Prospect the Hero
You won't always have another customer to reference. When that's the case, create a hypothetical before-and-after with the prospect as the main character. As a bonus, they'll automatically visualize their success -- which will make your product more compelling.
The same structure and format still apply.
Before: What's the prospect's current situation? What need likely isn't being answered?
Middle: How does your product meet that need?
After: What does the future look like with your product?
Here's how an imaginary before-and-after might look like in action:
Knowing whether the clothing manufacturers you buy from comply with workplace standards is challenging -- after all, everything probably checks out when you visit the factories, but that doesn't mean standards when you're gone.
That's where my team comes in: We do exhaustive pre-contract research, along with monthly follow-ups, to ensure the workers making your clothing are treated fairly. Not only will you feel more secure, but you'll be able to show customers your manufacturers have been verified by a credible third party.
Describing a better world for your prospects fills them with hope. And once you've gotten them thinking about the future, continuing the sales conversation is a natural next step.