February 14 is typically a holiday for B2C marketers — not salespeople. But that's to your advantage: A Valentine's Day-themed email will stand out in your prospects' work inboxes, make them curious, and ultimately, earn you the opens and replies you're looking for.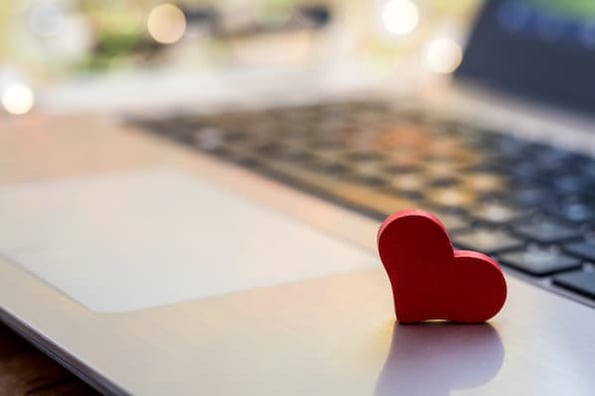 Two major caveats. First, keep your industry and specific audience in mind. Humor tends to flop with some personas. Second, make sure your message doesn't go too far. If you're not sure whether it will come off the right way, ask a coworker to review. Better to be safe than sorry.
Valentine's Day Email Templates
1. Prospecting Email Templates
Send these messages to new opportunities.
I can't offer you truffles, but …
I can offer you a free consultation on [your lead gen strategy, D&I initiatives, customer referrals plays]. I've worked with several companies in your space, including [similar company #1] and [similar company #2], and I'd love to share some of the things that worked for them — as well as some ideas I had just for [name of prospect's company].
If you're interested, you can book some time on my calendar here: [Link to Meetings tool.]
Best,
[Your name]
The intriguing subject line will get most people to click, and the offer to help free of charge (combined with the allure of learning what their competitors are doing) will convince at least half your prospects to take the bait.
Disappointed by your V-Day gift?
Hi [prospect name],
I'm sure what you were really hoping for this year on Valentine's Day was [a one-year subscription to a product, an upgrade to our Pro version, 100 shipments of Product A, etc.] But if you just got chocolates or flowers, don't fear — you can always treat yourself.
I'd love to show you how [product] can support your [Marketing, Sales, Customer Support, etc.] goals in 2021. Do you have 10 minutes this week to catch up?
Best,
[Your name]
Send this email on February 15 to a prospect who decided not to buy. The ridiculousness will (hopefully) amuse them, which is often enough to get a response.
2. Follow-Up Email Templates
Send these templates to buyers you've already connected with.
It's the best day of the year
[Prospect], you're probably wondering why.
It's not because I'm about to eat my body weight in chocolate-covered almonds (my mom always comes through.) It's because I have a good feeling you're going to schedule another call with me so we can pick up where we left off. Your [lead gen, recruiting, events marketing, employee wellness] strategy is important to me. :)
What do you say — make my day?
[Your name]
This cheeky email might just reignite the relationship between you and the buyer. If you want to keep the humor but make it a little more formal, delete the smiley face and the mention of your mom.
Don't go breakin' my heart
Hi [prospect],
I haven't heard from you in a while. Usually, when someone vanishes like this, it's because A) they've gotten caught up in other projects at work, B) this isn't a priority right now, or C) they're no longer interested.
If it's A) or B), will you let me know?
Thanks,
[Your name]
This Valentine's Day version of a traditional breakup email implies your prospect owes you a response without being overly heavy-handed. (After all, guilting them won't help the future relationship.) You may awaken some stale prospects — and if you don't, you know who to stop emailing in a few months.
3. Lost Deal Email Templates
Create a filtered list of "closed/lost" deals that are four-plus months old and send them customized versions of these messages.
Have you found the one? The perfect match?
Hey [prospect name],
Wanted to check in and see how you were liking [competitor product]. Is it the perfect fit for your process/set-up?
A) Yes, I love it
B) Honestly, things could be better
If the answer is B, let's talk about how you can get more out of your [tool for doing XYZ]. Here's my calendar: [Link to meetings tool]. Please grab some time whenever works for you.
Best,
[Your name]
This bold email takes advantage of your prospect's dissatisfaction with their current solution — reminding them there may be a better choice out there.
Life is like a box of chocolates …
Everyone always eats the caramel chews first.
But that's not why I'm reaching out today, [prospect]. As disappointing as it is to open that Russell Stover's box and be confronted with a few sad cherry cordials, it's even worse to deal with disappointing results around [relevant strategy or goal, such as "your blogging traffic goals"].
When we talked in [month] last year, you weren't ready to make a decision. If that's changed, let's discuss how you can jumpstart your XYZ efforts in 2021.
Best,
[Your name]
Your prospect will think they know where you're going with the subject line — hopefully, surprising them with your first line and a clever message will convince them to give you a second chance.
4. Customer Email Templates
Just because someone's a customer doesn't mean they should be off your radar. These email ideas will help you land and expand those accounts.
[Company name] loves working with you
Hi [prospect name],
Just wanted to shoot you a quick note to say I really appreciate your business. Looking at [my coworker's notes, my records, your usage data], you've managed to accomplish a lot since we started working together:
Accomplishment #1, e.g. "Hired 10 new people"
Accomplishment #2, e.g. "Doubled average number of applications"
Accomplishment #3, e.g. "Increased number of employee referrals by 20%"
Let me know if there's anything more I — or my team — can do to support you.
Have a great day,
[Your name]
This email reminds your customer of the wins they've gotten with your product and reinforces your personal relationship. It takes two seconds to send, but it might mean the difference between a contract renewal and termination.
Share the love?
Hi [prospect],
It's been [a week, a month, a few months] since you [started using Product X, joined the Company community], and I wanted to check in and see what you thought.
If you're happy, I'd love to [ask you a few questions for a customer testimonial, feature you in a case study, get your thoughts on Review Site XYZ].
If you're not happy, let me know why and maybe I can help.
In any case, hope to hear from you soon.
Best,
[Your name]
This follow-up email is valuable for A) capitalizing on satisfied customers and B) proactively helping unsatisfied ones.
Valentine's Day Email Subject Lines
Looking for more ways to make your emails stand out in your prospects' inboxes? Try out these Valentine-themed subject lines.
Love at first sight
Sweet deal on [product name]
Fall in love with [company or product name]
You'll love this!
Spread the love.
Why we love our customers.
Roses are red, violets are blue ...
Include common Valentine's phrases and terms like "love" and "sweet" in the subject line to make your message pop. And if you liked these ideas, check out these spring-themed email templates.
Editor's Note: This piece was originally published in 2018 and has been updated for clarity.