Customers today are omni-channel — meaning, they use multiple platforms and channels to visit your website, contact customer service, learn about and purchase your products, engage with your brand, and more.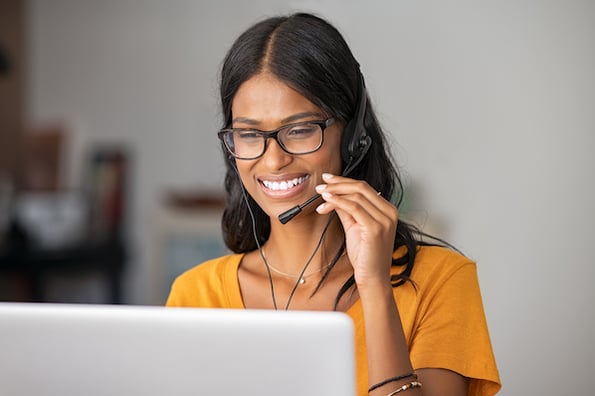 Although this opens the door to many good things for your company (e.g. more customers, larger target audience, increased interactions between customers/prospects and your brand,), it also means your customers expect and need more ways to interact and connect with your service and support teams. Not to mention, those channels for interaction and connection need to be reliable, engaging, speedy, and responsive.
With all of these factors in mind, offering a strong and consistent omni-channel customer service experience may seem like a difficult task — and to be honest, it can be.
However, there are a number of advanced customer service (CS) technologies that you can implement to streamline and simplify the process, especially as your company grows and the tech world continues to change.
These tools ensure reps have the resources they need to successfully support your customers, no matter where those customers are reaching out from or what they need help with. Advanced CS tools also help your service team maximize their value for customers and their time.
In this blog post, we'll cover the reasons this technology is critical to your service team's success and offer 11 different technologies you might want to introduce to your team.
What is advanced CS technology?
Advanced customer service technology is a fairly new type of tech such as artificial intelligence, speech recognition, and virtual reality, that offers great value to users. It hasn't reached maturity, but it's in the midst of proving its purpose and impact as it evolves.
With this definition in mind, let's briefly review what advanced CS technology is not.
What is not advanced CS technology?
Tools that are not advanced are considered standard — there are other synonyms you may hear, but for the purpose of this piece, we'll refer to them as standard. Examples of standard CS tools are support tickets, phone lines, email support, and voicemail system.
You may be thinking, "... but those are evolving technologies, too."
While that's true (after all, most tech these days seems to be constantly evolving and becoming more efficient and reliable), those technologies have been around for a long time and have already established themselves within the service field as integral parts of day-to-day customer service work.
Meanwhile, not all businesses, reps, and customers understand the benefits of technologies like AI, speech recognition, and virtual reality in customer service yet. These technologies are considered advanced — they have cutting-edge capabilities yet still have a long way to go by way of evolution, adoption, and proof of value within the industry.
Who needs advanced CS technology?
Given that your customers have high expectations of quick, omni-channel support — and that reps are already busy with an array of daily tasks — advanced CS technology should be something you implement across your team.
In fact, you should use advanced CS technology if you have any form of customer service and support at your company (whether you have dedicated reps or not).
Benefits of Advanced CS Technology
Here are some of the many benefits of advanced CS technology:
Streamline your customer service efforts.
Allow for faster response times between reps and customers.
Provide the value that your customers want and need, and do so efficiently.
Automate your customer service processes.
Provide a professional and reliable service experience for customers.
Connect easily to your other systems (e.g. your CRM) to streamline team-wide and cross-team work, communication, and reporting.
Save your reps time.
Personalize your support.
Remain available to your customers wherever they are, whenever they need assistance.
11 Advanced Customer Service Technologies You Should Be Using
Live Chat
Chatbots
Help Desk
Augmented Reality (AR)
Artificial Intelligence (AI)
Voice Recognition
Visual Search
Gamification
Video
Knowledge Base Software
QR Code
Now let's dive into some powerful advanced CS technologies you may want to implement on your team.
1. Live Chat
Customers want live chat. They want the ability to speak to a customer service rep without picking up a phone or having to communicate offline. Live chat uses messaging to connect your website's visitors with one of your representatives and can be easily installed via your website's HTML structure. It launches a browser once a visitor clicks the live chat button on your webpage. Then, customers and reps can begin communication.
Example of Live Chat CS Technology
HubSpot's Live Chat Software allows you to easily add chat to your website so you can start talking with visitors in real time. Customize the way your live chat button looks so it matches your branding. The tool automatically saves all of your conversations to a universal inbox with your CRM data — meaning, all members of your team (across CS as well as Sales and Marketing) can review your customer's information.
(Note: HubSpot's Live Chat software also allows you to create chatbots — another technology we'll talk about next.)
2. Chatbots
Chatbots are similar to live chat but instead of having a real-time conversation with visitors, you don't have to assign a rep to the chat — rather, the bot takes care of the interaction with your visitor. You can personalize your chatbot so it has the ability to answer your frequently asked questions and offer support on the most-common concerns your visitors have (e.g. "track my shipment").
This way, the bot can efficiently provide an answer while allowing your reps to focus on other, more complex customer conversations — or, if a customer does ask a bot an in-depth question, it can hand off the conversation to a rep.
Example of Chatbot CS Technology
HubSpot's Chatbot Software easily automates and scales chat conversations on your website. The bots can help you with a wide variety of tasks such as qualifying leads, booking meetings, and providing answers to FAQs.
You can choose a bot template that complements its purpose and then customize what the bot looks like and the conversations it has. Select the types — and format — of questions the bot asks and answers so it's on-brand and tailored to your audience.
3. Help Desk
Your entire support team can run on a help desk — hence why it's integral to your service software. Help desks are technology systems that allow reps to intake, manage, automate, report on, share, and respond to customer requests, questions, and concerns. Some examples of capabilities help desk tools have are: a shared inbox, ticket pipelines, ticket management, automation, and reporting.
Example of Help Desk CS Technology
HubSpot's Help Desk software is part of your advanced Service Hub, meaning it integrates with your CRM — therefore, collaboration is easy, reps can refer to conversations with customers in the future, information is shareable cross-team, and reporting is made simple.
Additionally, HubSpot's Help Desk allows reps to prioritize specific tasks, automate routing, tickets, and data entry, prioritize requests, save conversations, and create customized ticket pipelines to streamline all interactions.
4. Augmented Reality
Augmented reality (AR) is an altered form of reality where content lays over a users' real-world views. The technology allows people to add digital assets to a physical environment. In terms of customer service and support, AR allows businesses to create and offer customers engaging and interactive forms of guidance and education via visuals and videos that work across multiple device types.
(You can even use AR to offer reps an immersive onboarding and training experience.)
Example of Augmented Reality CS Technology
ROAR is a cloud-based, SaaS AR platform that helps you create content for your business. The software overlays objects with "digitally-immersive information" so you can augment with videos, sound, 2D and 3D graphics, animations, and more. Best part? No coding knowledge or technical skills necessary.
5. Artificial Intelligence
Artificial intelligence (AI) is the idea that you can program computers to perform tasks that normally require human intelligence. AI offers a manageable, practical, and valuable way to get certain tasks done that would require a person to do them in the past (which saves you time, resources, and money!).
It also streamlines your CS team's processes while offering a more interactive, thorough, and memorable customer experience. For example, AI can help you predict your customer's needs, automatically route customer requests, augment messaging, customize bots, and enhance phone support.
Example of Artificial Intelligence CS Technology
Netomi is an AI customer service and support platform that takes care of your customers for you. Netomi manages your standard, day-to-day tickets so reps can focus on the more complex ones that need their attention. The tool also gets ahead of common customer needs by taking action before those customers even realize they need and want support.
6. Voice Recognition
Voice or speech recognition is an effective tool for customer service teams as it makes the process of communicating with customers simpler and more efficient. These tools typically have the ability to recognize a variety of languages, nuances, and tones. They can take customers' spoken words and turn them into written words.
(There are actually a number of tools, that don't necessarily focus on customer service, that have voice recognition capabilities such as Google Docs.)
Voice recognition is often paired with AI in the customer service environment. For example, at a call center, a service team may have calls answered by a voice recognition AI system that asks the customer identifying questions (e.g. name, email, birthday, account number, etc.).
Then, that tool can respond to the customer in spoken words and either answer basic questions or transfer the customer to a rep. The voice recognition software translates and/or records whatever that customer was calling about while the AI asks those identifying questions and makes the transfer to the rep.
Example of Voice Recognition CS Technology
Nuance is automatic voice recognition software that enhances your customer service conversations. The tool understands 75 languages and dialects to make communication across the country and globe easy. Conversational interactive voice response (IVR), nuance recognizer, and natural language understanding are all features that contribute to the making of a positive, reliable, and seamless customer experience.
7. Visual Search
With visual search technology, customers take a picture of a product and are then directed to a webpage with the item they photographed on it — here, customers can learn more about its features and capabilities, connect with a rep, or place an order.
Depending on the visual search software's capabilities, customers may also be able to save the product or information that they were directed to for future reference.
Example of Visual Search CS Technology
Bing Visual Search by Microsoft allows you to implement visual search for your products so customers can easily and quickly get the information they're looking for via image.
Additionally, customer service can implement the software in a way so it provides product recommendations to those customers using visual search. There's also a customer activity tracking feature that offers insight into what information customers are looking for most frequently.
8. Gamification
Gamification is a great way to boost and encourage customer interactions and loyalty. It allows you to offer incentives for leads and customers that make them want to convert, sign up, make a purchase, connect with reps, and more. Gamification can be used across Service, Marketing, and Sales, among customers and employees.
When it comes to gamification and customer service, games and incentives are often accessible to customers via your business's app or their accounts.
For example, you may ask customers who speak with a rep to complete a survey after the conversation ends to learn about their experience (e.g. their level satisfaction and whether or not they'd recommend you to a member of their personal network/ NPS score).
In return for completing the survey, you may give your customer extra rewards points, provide a $5 coupon for their next purchase, or enter them into a giveaway.
Example of Gamification CS Technology
Influitive helps mobilize customers and brand advocates through gamification, interaction, engagement, and reward. The software makes it easy to integrate gamification so your customers are encouraged to interact with your business more frequently. These increased interactions may result in more feedback, reviews, and referrals, as well as a boost in loyalty.
9. Video
These days there are many ways you can use video to enhance customer service including demos, education, one-on-one conversations, and case studies. Reps can save themselves and their customers time by sending videos and speaking face-to-face, versus typing out directions, sending an email, or explaining something over the phone.
With video, reps can personalize conversations and the information they share to the specific customer they're speaking to — as a result, this can boost customer satisfaction. And depending on which video creation software you use, you can also keep track of which parts of certain videos customers are referring to, rewinding, or rewatching the most to understand what they're having difficulty with and where a rep can offer assistance.
Example of Video CS Technology
Vidyard is an easy-to-use video software that helps reps connect with, teach, and support customers. These videos can easily be shared with customers (and other reps) across different platforms. Vidyard also offers insight into the specific areas of the video customers are rewatching and pausing — this tells reps what customers are having difficulty with so they can reach out or explain in a different way.
Lastly, Vidyard integrates with your CRM — meaning, reps can create and share videos from their CRM support responses and the software automatically connects the videos to each customer case and contact record. Then, depending on your CRM and it's automation capabilities, actions like reaching out to a specific customer can be triggered.
10. Knowledge Base Software
Knowledge base software takes the concept of encouraging self help among customers to the next level. Your customer service and support organization can build and customize a library of help articles for customers to identify and apply to the challenges they're experiencing.
When you implement knowledge base software, reps can focus less on the repetitive, frequently asked questions they receive and more on unique and complex issues that arise.
Example of Knowledge Base Software CS Technology
HubSpot's Knowledge Base Software gives you the power to take your customer's FAQs and most-common tickets and turn them into search engine optimized help articles and documents that live in your knowledge base library.
You can manage all of the knowledge base content in your library as well as make it on-brand, organize your self-help documents in any way you choose, and preview your knowledge base across devices.
Additionally, this software integrates with your CRM, automatically records which knowledge base articles customers viewed, and comes with a reporting dashboard (so you can measure the impact of your knowledge base content and improve its effectiveness over time).
11. QR Code
In a world where fewer human-to-human interactions are happening, QR — or quick response — codes are becoming more popular. They contain information, typically URLs within the code. Upon scanning the code, users are redirected to a landing page (or wherever the QR code goes) to get the information they're looking for.
For instance, maybe your customers scan a QR code and are directed to your knowledge base library's landing page. Or perhaps they're taken to your latest product page — or to a list of your case studies. QR codes can be a great way to encourage customers to locate the information they want, when they want it, all from a smartphone.
Example QR Code CS Technology
To create your QR code, you need a generator. There are a number of options to choose from — Kaywa being one of them. The generator allows you to create a QR code for a URL, a contact (in other words, a QR code to share your personal contact information), or a coupon (that can be used online or in-store).
The generator also has features that allow you to design the look of your QR code so it's attention-grabbing and on-brand.
Grow Better With Advanced Customer Service Technology
Advanced customer service technology seemingly has unlimited potential. There's so much room for your business and team to apply these advanced technologies in ways that suit your needs and goals. So consider the types and examples of advanced CS technology we discussed and experiment with the different options to see what works best for your service reps and customers.