When we think of artificial intelligence or AI, we often think about robots, holograms, or any computerized villain we've seen in the latest sci-fi thriller. However, if we stop to think about how and where AI is actually used, we know that this perception is far from reality.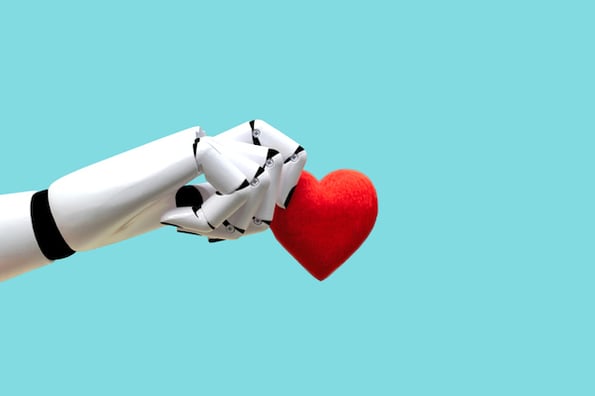 Nowadays, AI isn't seen as this mysterious technology that threatens us with a digital revolution. Instead, we use AI to enhance our current technology so that it's smarter and proactively anticipates our needs.
In customer service, AI is used to improve the customer experience and create more delightful interactions with your userbase. When implemented properly, it can dramatically influence how your team interacts and serves your customers.
In this post, let's review some of the ways AI is currently being used with customer service teams.
How AI Is Used in Customer Service
Chatbots
Augmented Messaging
Sentiment Analysis
Email Distribution
Channel Directory
Voice Analysis
Data Management
1. Chatbots
Chatbots are usually what comes to mind first when we think of AI and customer service. That's because they're one of the first AI tools to be used for serving customers.
Chatbots are programmed to interpret a customer's problem then provide troubleshooting steps to resolve the issue. This saves the customer from having to pick up the phone and call your support team every time they have a minor problem or simple question.
Instead, they can type out their inquiry through your live chat channel and receive instant responses from your automated agent. And, you can have your bot available 24/7 so your customers will always have support whenever they need it.
2. Augmented Messaging
While chatbots are great at troubleshooting smaller issues, most aren't ready to tackle complex or sensitive cases. For example, if a customer doesn't feel like they're getting the answers they're looking for from the bot, they may start to get frustrated with their service experience. Bots can only use pre-written responses, so it's hard to salvage a situation like this when the bot can only fire out a generic message.
This is where augmented messaging comes into play. This AI tool identifies opportunities where human agents should step in and help the customer. Then, the agent can either continue with the case or hand it back to the bot.
We can see how this interaction plays out in the image below.
This adds a level of personalization to the customer experience. While bots are great at saving time for your team and your users, they'll never produce the same customer delight as a human agent. This tool gives you the best of both worlds and helps you create unmatched service experiences.
3. Sentiment Analysis
In an ideal world, bots wouldn't have to perform this handoff. Instead, they would read the emotion behind a customer's message and decided whether or not the case is going well. If it wasn't, they could generate personalized responses based on their assessment of the situation.
The good news is, we aren't too far from that reality. Today, many bots have sentiment analysis tools, like natural language processing, that helps them interpret customer responses. This tool tells the bot how to respond when a customer behaves in a certain way, so your bot won't escalate the customer's emotions when it's trying to help them.
Sentiment analysis is useful when writing emails as well. Tools like Grammarly analyze your text and tell you how your message may be perceived by your audience. It uses an emoji to let you know if your email is optimistic, friendly, professional, etc.
We can see an example of this in the image below.
4. Email Distribution
While sentiment analysis is great for outgoing messages, it can also be used on incoming ones as well. Many brands are using this AI tool to read and tag customer emails so that their support team can respond to messages quicker. When an email comes in, the AI analyzes the customer's problem, emotions, and history with your business. Then, it tags the message and distributes it to the rep who's best suited to resolve the issue.
This process not only saves time for your customers but for your reps as well. Your most-experienced agents can handle your complex cases while newer ones can deal with simple tickets. Or, if a case is time-sensitive, your reps will know that they need to find an answer as soon as possible for your customer. When this case information is clear at the start of the inquiry, it becomes much easier for a support team to troubleshoot an issue.
5. Channel Directory
On this blog, we often talked about the importance of having an omni-channel support experience. However, the challenge that this presents is that you need to keep track of each channel that's used for customer service.
AI can help you manage this problem by directing customers to the support channel that's best suited for their issue. For example, if all of your chat reps are busy taking cases, the AI can tell the customer that they should call in for a quicker response. Or, if a customer is typing a very long question on your email form, it can suggest that they call or chat in for personalized support.
Here's an example of this AI being used with HubSpot's support team.
When reps are unavailable for callbacks or chat, HubSpot's AI doesn't let the customer select those support options. Instead, a message is displayed telling users that the channel is unavailable. That way, customers aren't stuck on an empty chat wondering why our team has yet to respond.
6. Voice Analysis
There's a reason why phone support is one of the last channels to implement AI features. It's simply much easier to read text than it is to analyze phone calls. That's because phone calls have background noises, sudden tone changes, and verbal slip-ups that can confuse machine learning.
However, some AI tools have found ways around these roadblocks. They can provide suggestions to your reps in real-time as they're speaking with your customers. These suggestions are based on the phone call they're having as well as past information gathered on the customer.
As technology in this field develops, it will become an excellent tool for upselling and cross-selling. The bot can look at the customer's current place in the buyer's journey and determine if there's an opportunity to sell an additional product based on their service needs. This reduces friction and makes it an easy handoff to your sales team.
7. Data Management
Not all AI features are customer-facing. In fact, some of the most useful tools are the ones that are integrated with your internal software.
For example, AI can be paired with your CRM to recall customer data for your service agents. Your customer success team can use this feature to proactively serve customers based on the information that the AI has provided. If a loyal customer hasn't engaged with you in a while, the AI can flag it and notify your team to reach out. This keeps customers interested in your business and demonstrates your investment in their long-term goals.
If you want to learn more about AI and customer service, read about customer service technology.