Remember when businesses transferred calls manually through a switchboard?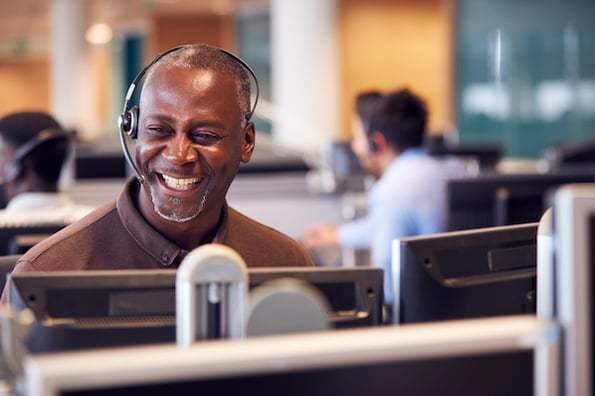 It's been nearly 40 years since switchboards were replaced by TSPS and other automated solutions that greatly reduced operator involvement. Now, VoIP is revolutionizing phone systems by routing calls through an internet connection rather than an analog telephone line. This works by converting your agent's voice into a digital signal and is much cheaper to operate than a traditional phone system.
VoIP call centers are not only more cost-effective but also have better features. These services have voicemail, three-way calling, and even video conferencing so you can communicate with customers face to face. And, they're easy to install, with many having integrations that are compatible with various CRMs and help desks.
If you're interested in switching to VoIP, take a look at our list below of the best phone systems available for businesses this year.
Best VoIP Phone Service for Business
RingCentral
Nextiva
Circle Loop
CallHippo
UberConference
Aircall
JustCall
OpenPhone
Jive
VoiceShot
CloudTalk
8x8
Ooma
Line2
Vonage
Dialpad
Price: Pricing available upon request
RingCentral is an all-in-one contact center that's ideal for both sales and customer service teams. It has skill-based call routing so inbound calls will be automatically assigned to the most appropriate agent, and it has outbound capabilities that empower your team to provide proactive customer service. Aside from calling, Ring Central also has an omnichannel inbox so your agents can manage incoming calls from different channels, all through one interface.
Price: $20/user/month for Essential Plan, $21/user/month for Professional Plan, $28/user/month for Enterprise Plan
Nextiva offers a complete suite of communication tools including a business phone system. With Nextiva, your team has access to features like unlimited calling, call queues, and a voicemail-to-email option that automatically translates voicemails into messages your agents can read on the go.
Price: 5£/month for Pay As You Go Plan, 15£/month for Unlimited Plan
Circle Loop is a "next generation" cloud-based phone system that not only replaces your current business phone provider, but also acts as a hub where you can integrate all of your customer service apps.
One valuable feature that this system provides is its built-in conference calling. Rather than installing a third-party app — that can potentially cost a small fortune — Circle Loop has a free service installed right into its platform. And, Circle Loop doesn't charge you for premium rate numbers so you can include external participants free of charge.
Price: Starts free, 15$/month for Business Plans
UberConference is a handy solution for businesses looking to couple their phone system with their CRM. Once installed, UberConference makes it easy to schedule meetings and call contacts from your CRM's interface. And, it can send confirmation emails to contacts once an interaction is scheduled.
Price: Starts Free, $10/user/month for Bronze Plan, $18/user/month for Silver Plan, $30/user/month Platinum Plan
CallHippo is a great option for businesses that are looking to adopt their first phone system. It provides fundamental features like call transferring, voicemail, and conferencing, as well as "smart call forwarding" which allows users to forward an incoming call to an alternative number. And, as a fun, added bonus, CallHippo provides catchy, upbeat music that enhances the customer experience while on hold.
Price: $40/month for Essential Plan, $70/month for Professional Plan, $85/month for Custom Plan
Aircall is a cloud-based phone system that integrates nicely with most CRMs. It lets you create toll-free numbers using your local area code and supports international calling as well. It also has an interactive voice response system that guides customers to the most appropriate service team to solve their problems.
Price: 14-day free trial; $29/user/month (Team); $49/user/month (Pro) — billed annually. Monthly and custom Business plans are also available.
JustCall is a phone service that makes it easy for customers to switch from their old provider to their new one. With JustCall, you can keep your existing phone number active and its customer service team will connect it to your account for free. JustCall also offers custom numbers, so you can spell your company name or a memorable message with your new phone number.
OpenPhone is a modern business phone solution that's best for teams looking to streamline their communication workflows. Along with professional phone features like phone menus, automatic call recordings, and voicemail transcriptions, you can work together with your team from a shared inbox to split responsibility for incoming calls and messages. You can even work together on responses to any conversation by commenting on internal-only threads.
Image Source
Price: $20/user/month
Jive is an easy-to-manage phone system that can be deployed in one day. Its interface offers one-touch logins and scheduled logout times so agents can take breaks without completely logging out. As for features, Jive provides agents with queued information when a call comes in. This includes things like call waiting time, call queue origin, and contact information from your CRM.
Price: $12/month/400 minutes, $20/month/1000 minutes, $25/month/2000 minutes, $80/month/5000 minutes, Customer Plans Available
If you're looking to arm your customer service team, VoiceShot is a virtual cloud-based phone system with features geared towards customer success and support. It has outbound voice broadcasting, urgent alert updates, and text messaging features that you can leverage for a delightful support experience. And, the VoiceShot API allows you to integrate the software into your website or CRM seamlessly.
Price: $15/user/month for Starter Plan, $20/user/month for Essential Plan, $35/user/month for Expert Plan
For some businesses, your call center's operations are unique and you need flexible software that you can customize. This is where CloudTalk is valuable because it lets you personalize different features of your call center. For example, you can create a short, five-digit phone number so customers can reach you quicker. You can also personalize your automated greetings and play music depending on the customer's situation (in a call queue, on hold, off-hours, etc.).
Integrate CloudTalk with HubSpot to unleash seamless data synchronization and save your team time for what really matters — increasing customer satisfaction.
Price: Pricing available upon request.
8x8 is an intuitive call center software that's ideal for customer service teams. For instance, one cool feature it provides is web callbacks. Web callbacks allow customers to submit call requests via a form on your website. Once the form is submitted, a new ticket is created and assigned in your inbox. This removes the point of friction of having to wait on hold for a service rep to field a call.
Price: $19.95/user/month for Office Plan, $24.95/user/month for Office Pro Plan
On its homepage, Ooma calls itself the "phone service designed for small business." Its software includes a virtual assistant that automates routing for incoming calls. It also has "ring groups" so callers can reach extensions, like your sales or marketing team, directly while still using one phone number.
Price: $8/month for Standard Plan, $12/user/month for Pro Plan, $16/user/month for Elite Plan
Line2 is a VoIP phone system that's great for small- to medium-sized businesses and it's one of the most cost-effective options on our list. Line2 syncs your business phone number with your personal phone, letting you manage personal and professional calls all from one device. And, Line2 will screen your calls so you won't receive calls from clients when you're not expecting them.
Price: Mobile Plan $20/month, Premium Plan $30/month, Advanced $40/month
Vonage has a bunch of cool features that customer service teams use to improve productivity. For example, it has a spam shield that checks inbound calls before your reps answer them. It also has a powerful receptionist console where agents can manage up to 50 concurrent calls.
Price: $15/user/month for Standard, $25/user/month for Pro
Dialpad offers everything you need to get started with a business phone system. It offers seamless integration with fast deployment, and also supplies options for hardware needs as well. With Dialpad, you can purchase headsets, phone setups, and anything else required to get your contact center up and running.
Not sure which hardware you'll need? Start with learning about call center headsets.