When I was working on HubSpot's customer support team, one of my favorite tools to work with was the CRM. I was amazed at how our customers were able to creatively use the product to achieve their business goals. The straightforward software did a lot more than just data management — it created opportunities for companies to improve their customer experience.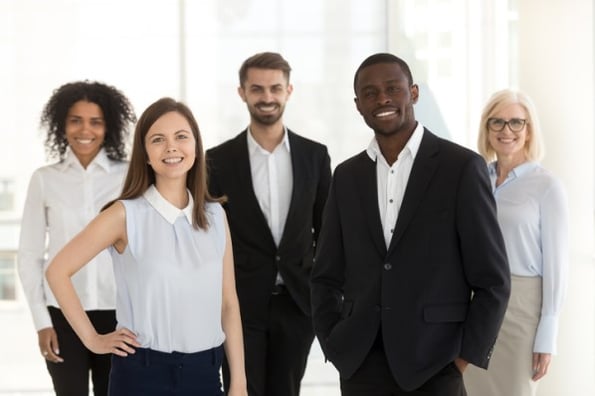 A CRM, or Customer Relationship Management, is a software that stores information about customers and their interactions with a business. Companies depend on this tool to organize important customer data that is used to enhance both customer-facing and internal functions. If used correctly, a CRM can play a major role in improving employee productivity as well as driving customer success.
If your company doesn't have a CRM, you may want to consider adopting one as you grow over time. CRM tools are often free and every business, big or small, can benefit from the functions they provide. In the next section, take a look at some of the ways a CRM can improve your customers' experience as well as the companies who are profiting from these benefits.
5 Ways a CRM can Improve Customer Experience
1. Create Self-Serve and Painless Onboarding
Customers are easily intimidated by the idea of learning a new product or service. This is because onboarding processes are often confusing and time-consuming. A CRM can assist with onboarding by making the process self-serve and painless. For example, employees can customize contact record fields to trigger workflows within your company. These workflows signal to employees which actions to take with a customer and when.
One company that's doing this well is WashCard Systems, a carwash payment service. WashCard Systems works with customers who have busy schedules providing car wash services and don't have the time to undergo a complex onboarding process — especially for carwash software.
Instead of expecting customers to learn on their own, WashCard Systems uses HubSpot's CRM tool to alert employees to set up onboarding meetings with new customers once a deal is closed. By taking these proactive measures, WashCard can guide their customers through every step of the onboarding process and ensure customer success.
2. Personalize Customer Communications
About 41% of customers churn due to poor personalization. However, a CRM puts all of your customer information at your team's disposal, allowing reps to personalize each new interaction with your customers. For example, they can pull up a customer's contact record, determine immediately if they have a history of poor experiences with the brand, then implement steps to avoid potential churn. Or in the opposite case, if the customer continuously shops at the business reps can keep track of their purchases and reward customer loyalty.
One company that takes advantage of CRM personalization is the British grocer and general retailer, Tesco. They use their ClubCard feature to not only reward loyal customers with points that can be used towards future purchases, but they also send out emails that include discounts and special offers. The content of these emails is dependent on the customer's purchase history as well as their most frequently purchased products. This personalization makes Tesco's bonus offers more appealing and adds more value to its customer loyalty program.
3. Strengthen Customer Relations
Customer relations are developed by building trust between the company and the customer. A CRM can help build this trust by storing important customer information that can be referenced at a later time. Customers often interact with a business more than once, so it helps to log each interaction for future analysis.
For instance, this is most beneficial for service teams that are working on long-term support cases. There may be a small detail or piece of data that was referenced early on in the case that turns out to be essential to finding a solution. Having your data properly organized makes your support team more reliable when finding an answer, which strengthens customer relations over time.
Bespoke Collection understands the importance of developing customer relationships during their experience with the brand. Bespoke Collection started as a small company focused on creating memorable experiences with its customers. As the company grew, it needed to use a CRM to ensure they treated all customers the same way they did when they were a smaller company.
They had the CRM automate communication functions and set up to alerts to make sure each customer was properly attended to. Employees knew whether to say "Welcome" or "Welcome back" when customers would visit their events. When returning customers would make a purchase, they would get a personalized email the next day with an custom offer. This allowed them to grow as a company while still maintaining the same high-quality customer service experience.
4. Quickly Access Customer Information
The primary function of a CRM is to organize and store quantitative and qualitative data about your customers. This includes past interactions with the company like support and service engagements. When a customer reaches out to your service teams, your reps can quickly look at the customer's communication history with your brand and avoid repeating the same responses. This is significantly helpful for technical support teams that work on long-term, customer-facing issues.
Midaxo is a SaaS company that offers management software to salespeople. Midaxo customers value speed and consistency, especially when working with customer support teams. When they reach out to support, they don't want to waste time repeating information to different service reps.
Midaxo safeguards against this by using Hubspot's CRM tool to easily reference customer goals as well as any additional information that was mentioned in earlier conversations. This helps build trust between Midaxo and its customers as people can rely on the company to provide timely support. Since Midaxo relies on customer referrals for company growth, building trust through positive customer experiences is an effective way to generate word-of-mouth praise.
5. Improve Customer Satisfaction
A CRM will improve customer satisfaction at your company because it acts as a roadmap to each customer's specific needs. Since each interaction is stored in a centralized software, reps can analyze past engagements to determine the best method for approaching a customer.
This is particularly important for retaining high-value customers. Studies show that the top 10% of your most loyal customers spend three times more per visit than the average customer. This puts significant pressure on your business to satisfy these customers' needs before they take their business elsewhere.
Munchery does this by integrating their CRM with its in-house delivery app. Users can make last minute changes to their order before the company delivers it to their doorstep. Munchery uses a CRM to handle these spontaneous changes as well as to request feedback on customer experiences. They then relay that feedback to their chefs and distribution teams to improve customer experience over time.
CRM's categorize data and provide your team with resources that produce positive customer interactions. Using the advantages listed above, businesses can use their CRMs to optimize their data management and improve the customer's experience.
For more ways to enhance customer experience, read about the importance of customer relations.