Have you ever heard the Hilary Duff song, "Beat of My Heart"?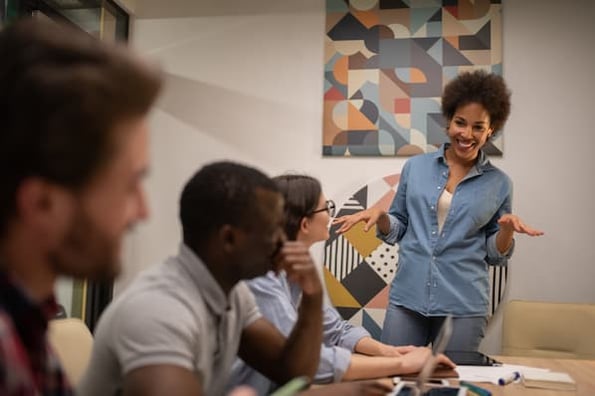 Not to brag, but as a 90's baby, I know every word.
Interestingly, this song perfectly personifies the role of customer service. As a customer service team, it's important to have a pulse (to the beat of their heart) for what's going on with your customers.
In fact, your customer service team probably understands your customers better than any other team.
When you truly know your customers, you can personalize their experience, deliver excellent customer service, and make better business decisions.
In this post, we'll review the top ways to collect customer data.
Customer Data Collection Methods
Google Analytics Website Data
Customer Service Software
Surveys
Interviews
Chatbot
Marketing Automation Software
Online Forms
Online Tracking
Social Media Data
Transactional Data
Focus Groups
1. Google Analytics Website Data
One way to collect customer data is through your website. Many people use Google Analytics to review website data.
However, whether you use Google Analytics or your content management system's reporting features, you should be able to see demographic and geographic characteristics.
Additionally, you should be able to see engagement data as well.
You can gather customer data such as referral sources, conversion details, page views, time on page, bounce rate, and more.
This is a great source of quantitative data. While you won't be able to extract analysis from your numbers, you can use other sources to further analyze your audience's behavior.
2. Customer Service Software
If you use customer service software like HubSpot, you can use this tool to collect data. You'll be able to see ticket volume, response time, and you can gather customer feedback through surveys.
Ultimately, your customer service software should help you understand when your customers need help, any problems with your product, and how your customers connect with you.
These analytics can help you determine customer satisfaction and understand product development needs.
3. Surveys
An excellent way to gather customer data is to ask for it.
You can send surveys or questionnaires to your customers. A great way to use surveys is to gather your Net Promoter Score (NPS). This is a customer satisfaction benchmark that measures how likely a customer is to recommend your business to a friend.
The most important thing when conducting a survey is to write the right questions.
With surveys, you can gather interests, tastes, and customer preferences. For example, you can conduct a survey to see which products are most popular among your customers.
Additionally, surveys are a great resource to gather both quantitative and qualitative data.
4. Interviews
Interviews are essentially an extension of surveys. With an interview, though, you'll ask more open-ended questions to gather qualitative data.
You can conduct interviews in-person, over the phone, or through a web chat service.
The reason you might conduct an interview instead of a survey is if you want a more responsive, customizable approach. For example, an interviewer can ask follow up questions and get to know why your customers answer the way they do.
5. Chatbot
If you work in customer service, your company might have a chat bot to route help tickets. This chat bot is actually a great tool to collect customer data.
You can use your chat bot to ask follow up, survey questions after a customer has been helped by a representative.
Additionally, you can gather data on your customer before a representative talks to them to help your customer service reps know more about them before they respond to an inquiry.
6. Marketing Automation Software
Another way to gather quantitative data is through your marketing automation software. Usually this software will have analytics tools and reports where you can see demographic and geographic information.
Additionally, your marketing automation software might include data from paid ads or SEO information such as organic traffic.
If you're interested in quantitative data, your marketing automation software is a good place to start.
7. Online Forms
Similar to surveys, you can use online marketing forms to gather customer data.
For example, whenever you're gathering leads, you should be gathering information.
If you use an exit intent form, an email subscription form, or a lead magnet, you should at least ask for the name and email address of your leads.
This is a way to gather customer data when your customers are still leads and prospects.
8. Online Tracking
Another way to collect customer data is to use online tracking.
To track visitors online, you'd put a tracking pixel code onto your site that records your website visitors. This can give you information that will help you remarket or target ads to previous website visitors.
Additionally, with this tracking information, you'll learn about conversion activities of your customers. Ultimately, online tracking can help you run more personalized campaigns.
However, keep in mind that to do online tracking you'll need to follow all GDPR rules and regulations.
9. Social Media Data
One place that your customers are most active is social media. You can use social media data and analytics to help gather customer data.
For example, you can gather engagement metrics such as likes, comments, and shares, and use your insights section to learn demographic information about your followers.
Additionally, you can use social media to gather customer data through social listening, and manage your overall online reputation and presence.
Other social media tools such as paid ads will help you target your customers with your messaging and content.
10. Transactional Data
Whether you have an ecommerce business or not, your customers are making purchases from you.
This means that you have data from every transaction. For example, when customers are completing check out, perhaps they have to input their name, address, phone number, and email.
If you run online sales, then you might also have information about customers who have left items in their cart. This means you can send marketing promotions to their emails reminding them to complete a purchase.
11. Focus Groups
An oldie but a goodie, you can collect customer data through focus groups. Focus groups combine interviews, surveys, and observation in one tactic.
The goal is ask open-ended questions to learn about their experience with your product.
With any data collection method, it's important to consider your sample. You can use random sampling (the preferred method), convenience sampling, or clustered sampling.
Random sampling is exactly what it sounds like -- it's a random group of customers. Convenience sampling is choosing the people who are easiest or closest to you. And the clustered sampling is gathering information from a specific population.
Collecting customer data is an important way to continue to engage and delight your customers. Just think, how can you innovate and create new products when you don't know your customers?