Your company's customer service team is no longer an added benefit that customers think about after they make a purchase. In fact, research shows that more than two thirds of businesses now prioritize customer experience as a distinguishing factor when competing in their industry.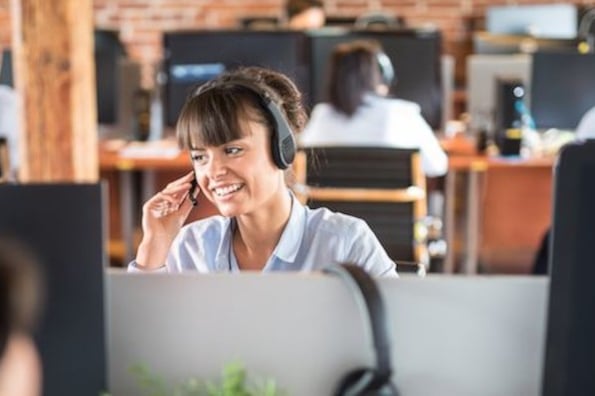 All too often, it's the case that customers are left waiting on hold or are unable to find information for themselves — even if they spend hours seeking an answer in a company's knowledge base.
Most of us can agree on some generalities when it comes to what a bad customer experience is. But what can we say about a good customer service experience? Or even an exceptional one?
In this post, we'll describe what exceptional customer service looks like and how you can provide it at your business. hith a little effort and guidance, you'll be able to stand out, differentiate, and maybe even pull some of your competitors' disgruntled customers over to your side of the fence.
What is exceptional customer service?
Fundamentally speaking, the ideal customer service experience is one in which the customer reaches their ideal outcome with as little friction as possible. This is somewhat vague, but that's by nature, as the ideal outcome can vary by industry, company, or product.
What you must consider is how you can go beyond good enough and really wow your customers.
What Does an Exceptional Customer Service Experience Look Like?
Customer experience — or CX — refers to the sum of every interaction a customer has with a business, both pre- and post-sale. An ideal customer experience can take many forms, depending on the type of interaction and the method of communication.
However, here are some aspects of an exceptional customer service experience:
1. It makes your customers feel special.
Every interaction needs to revolve around the concept of individual value, mutual respect, and a shared vision for your future together as their brand of choice. Consider how you can let your customers know that:
They are more than a transaction to your organization.
Their time and money allow you to continue to pursue your mission.
Their journey as a person is a part of your journey as a business.
2. It goes beyond their expectations.
Setting expectations is an integral part of customer service. On the flip side of the coin is delivering on those expectations you set.
If you fail to deliver, you create a bad experience. If you deliver, you fulfill the agreement, which is what the customer expects (no more and no less). They may be satisfied but not delighted. After all, why would your customers praise you for doing the job they paid you for?
However, if you go above and beyond what the customer expects, you pave the way for an exceptional experience from their perspective. This kind of customer delight has myriad benefits for your business.
3. It goes beyond what competitors deliver.
In some cases, you may think you're going above and beyond when you might simply be meeting the status quo set by your industry. Exceptional customer service doesn't exist in a vacuum. If your customers know what kind of experience your competitors offer, and it's equal or better than yours, you may not be delighting them the way you'd expect.
For example, that free 30-day guarantee may not be as big a selling point as you'd think if everyone in your space offers one. This is doubly true if it is more difficult for the customer to actually take advantage of the guarantee than it is for them to do so with your competitors.
Always keep a pulse on how your competition is innovating their customer experience.
4. It does all of this without friction or inconvenience.
Your customers want the process of doing business with you to be simple and easy. When they do come up with issues, they want the process of rectifying them to be simple, timely, and on a channel that feels comfortable to them.
Communicating with your customers to understand their needs and wants is a sure-fire way to find the friction points in your customer experience and eliminate them. Solving for the customer should be an ongoing process in your organization.
Ways to Create an Exceptional Customer Service Experience
To help you establish some best practices that revolve around these basic principles, here are some helpful strategies for creating a great customer service experience.
1. Begin and end customer interactions with "thank you."
The simplest solutions are often the most effective, and beginning and ending every customer interaction with a thank you is one of the best ways to improve customer service experience.
Starting every interaction with a thank you shows the customer that you appreciate that, out of all the places they could have chosen, they have chosen your business first.
Saying thank you after concluding your business — even if it doesn't result in a transaction — is simply good manners, and it leaves the potential customer with a positive view of both your people and your business. Simple courtesy goes a long way toward inspiring a follow-up visit to make a purchase in the future, too.
2. Use digital resources to put people first.
Thanks to the advent of the smartphone, people are more connected digitally than at any prior period of history. This presents a unique opportunity for service providers, retailers, and restaurants to leverage this connectivity to provide superior CX via smartphones and other mobile devices.
Allowing customers to manage account services and features is also absolutely critical to creating a desirable CX, as sometimes customers have a basic question or problem they need to resolve that can easily be handled on a mobile app or direct chat.
The ability to place orders for products or services online independently is also an absolute godsend to customers who have very limited time to commit to your business. Avoid over-directing customers to your app for assistance too, as this is a surefire way to irritate and turn them off to your brand.
3. Employ effective social media strategies.
Social media provides more opportunities for creating personal connections than any other publicly available resource. Individuals can comment, share, and demonstrate interest in your business, brand, products, and services anywhere in the world at any time of day.
If you aren't leveraging the personal touch social media adds to CX, you need to start right away. Using social media to make customers feel like insiders and close confidants with your brand is a high-level CX strategy.
4. Talk to your customers where they are.
Proactive post-transaction and post-visit follow up using customer contact information is vital to the success of your customer experience strategy. These calls and messages are opportunities to review the benefits of their potential or newly purchased product or services in case they have run into trouble or thought of new questions to ask since their visit.
More important to your CX strategy, it also demonstrates a tangible interest in their journey with your brand even after they have left your location or spent their money with you. Don't let those opportunities pass you by.
5. Get feedback from customers and implement it.
You don't have to guess when it comes to improving your customer service experience. Your customers will tell you if you actively obtain their feedback. Whether you conduct a survey via email or use an NPS scoring system, you can get a pulse on the satisfaction of your customer base and the areas where you're not keeping up with expectations.
Common Mistakes Brands Make Creating a Customer Service Experience
Here are some common mistakes to avoid as you improve the customer experience in your organization:
1. Going crazy with customer rewards programs.
Many customer reward programs have a tendency to over-reward potential clients and new business more than their existing customer base.
This isn't a prudent use of resources. You must keep your reward system for new and existing customers proportionate. As much as you want to focus on attracting new customers, existing customers who have shared your journey so far need to be rewarded for their loyalty and support, too. More often than not, even minimal customer rewards programs and incentives far exceed the expectations that most customers possess when you first bring them on board.
Overall, it's wisest not to overinvest your marketing and retention dollars into your rewards program. Instead, invest those resources in a customer loyalty or referral program to keep existing customers happy.
2. Making your customer's path to adopting your brand a difficult one.
Determining your customer's path to adopting your brand needs to be a point-by-point plan, not an open-ended discussion about the direction of hypothetical transactions.
You need to have a modular, adaptable plan for each customer that will guide them and their customer service representative every step of the way. Failure to have a solid plan, or a plan that is merely all talk or looks, is a recipe for CX disaster.
3. Forgetting that prime customer experience begins with employees.
Take care of your people, and they will take care of you.
Unhappy employees cannot and will not provide the individual buy-in necessary to make your customer experience strategies effective. You are looking to make true believers in your vision and your brand.
That means treating them in a way that exceeds their expectations for employer provisioning in terms of personal benefits, company perks, and individual incentives. The way you take care of your people matters to your customers.
A happy, satisfied employee is going to do more for you and the customer when their needs are met in abundance.
4. Making things complicated.
The more convoluted it becomes for a customer to get service from you, the less satisfied they will be (and the harder it becomes to scale your operations).
Your customer service experience doesn't have to be frustrating and awful. In fact, it can be delightful and can possibly shift detractors into being promoters if you're tactful.
It just takes a little bit of thought and care. Answer customer inquiries and frustrations where they appear (and quickly). Give customers resources to figure things out on their own. Make sure your customer service staff is polite and happy (their happiness is a powerful change agent for angry customers).
In general, start investing your customer service experience and it won't just be an expense, but it will be an investment in a real business differentiator.
Editor's note: This post was originally published in January 2018 and has been updated for comprehensiveness.