Welcome to the future -- it was made with you in mind.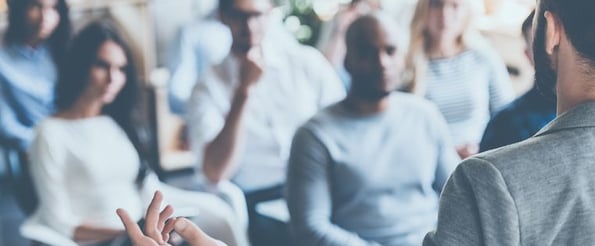 No, seriously, it was. And most thinkers and inventors throughout time predicted it would be.
In 1909, Nikola Tesla predicted the invention of the cell phone to send messages "so simply that any individual can own and operate his own apparatus." In 1987, Roger Ebert said we'll have "a push-button dialing system to order the movie you want at the time you want it" -- and Netflix launched 10 years later. Even the writers of The Simpsons predicted the invention of the Smartwatch in the 90's, where it was used in one episode to communicate a message and solve a problem.
Okay, but how does this have anything to do with customer success?
Well, look at the language -- for Tesla, the benefit of cell phones would be their ease of use and simplicity. For Ebert, the benefits of "Netflix" would be its on-demand functionality. And in The Simpsons, communication via Smartwatch saved the day.
Everything about products (and services) of the future, according to our 20th-century predictors, would be made to emphasize the success and experience of the customer -- better their communication, give them autonomy, and allow them to have choices.
Customer success has been on the mind for centuries -- just not in the context of SaaS companies. Now, the concept has shifted -- it's not all about the product anymore, but rather the whole package. And that's where our modern day thinkers and inventors will step in -- to tell us how we can take concepts from the likes of Tesla and Ebert and translate them into something that feels more real than science fiction.
Inspirational Customer Success Quotes from 5 Experts
1) Lincoln Murphy
Much has been written on what Murphy has to say about customer success -- as the author of the aptly-named Customer Success, Murphy is considered one of the pioneers of this revolutionary concept. But sometimes, short and sweet is enough. Pinned to the top of his Twitter feed is this tweet from April of last year, and it pretty much says it all:

Key Takeaway:
Talk to your customers. What do they want? What do they need? And what do you have to meet them halfway?
As a customer success manager, you should have a collection of questions already set out to ask them at the beginning of your interaction, but it's not one size fits all -- anticipating the customer's needs means research, both pre- and post-interaction. It also means prioritization -- putting their needs ahead of yours.
Focusing on your customer's desired outcome will help you envision the end result and make it easier to align both of your goals. It may also take negotiation –- the path to the customer's desired outcome might look different for you than it does to them, so being willing to adapt to their needs is paramount (but not so much that you risk the integrity of your brand and business). You'll get what you want by helping your customer get what they want -- it's a win-win for everybody.
2) Tomasz Tunguz
Tunguz, a venture capitalist at Redpoint and author of Winning with Data, has a brilliant blog on all things startups, where he talks about customer success, client retention, and basically how to start out as a human who wants to make it in business. My favorite, an anecdote on "oxidizers" in startups, narrates how a business can't function fully without identifying its weaknesses.
He says in his post:
"At the outset of a startup, engineering throughput can be a limiting factor; the team simply can't code fast enough. At some point, the product launches but no one knows about it. Marketing is the bottleneck. When customers come rushing through the door, money in hand, sales and customer support might stunt the growth of the company. Other times it's culture or product market fit or money or competition. But for each startup at every stage there is a limiting factor."
Key Takeaway:
Startup or not, identifying the areas where your business falls flat is an integral part of customer success. That's because success isn't just in the sale -- it should be at the core of your business strategy.
And while there might be a limiting factor at every stage in a sale or a launch, there is usually a simple cure-all: communication. Make no mistake: your customer success department is a separate team in your business, but they shouldn't be an island. There needs to be a web of communication between customer success and sales, marketing and product development –- not just a back-and-forth, but set discussions like monthly customer success team check-ins with each department, or quarterly Success strategy assessments.
This will not only help your business operate more smoothly, but help you actively find where your service is lacking. If one cog in the machine is stuck, the rest of them will grind to a halt, leaving the customer's experience up to the fates. Identifying your weak links will help you gain back control.
3) Ellie Wilkinson
Senior Manager of Customer Success at Moz, Wilkinson is a Princeton alumna and data-loving website design wizard with something to say. At Moz, she's in charge of all things strategy and direction with the customer success team. Her advice here comes twofold.
First, in an interview with Amity, Wilkinson explained her team's biggest advantage with their customers:
"I would say that our biggest advantage right now is that we're able to provide our customers with the support they need to succeed with Moz at any point in their journey."
And second, in a tweet:

Key Takeaway:
So how is a customer success team able to provide support across their journey with a company? By asking questions. And not just asking your customers questions, but asking yourself some, too. Reposition yourself as a buyer moving through your sales funnel. What do you want to know? What parts of your site are you attracted to? What do you wish you had? You can never go wrong assessing user experience -- in fact, it's central to making your customer success strategy work.
4) Carolyn Kopprasch
As the Chief Happiness Officer at Buffer, Kopprasch details her thoughts about customer success (and various running and health wins) on her blog. She was on the customer success train before people started hopping on, just with a different name (Happiness). In one of her older blog posts, Kopprasch details how one of the web developers at Buffer helped a customer by responding to his complaint himself. She details it in the beginning of the post like this:
"At Buffer and many other customer-centric startups, the product, marketing, and engineering teams all listen to customer questions and answer them directly. This has changed through the years as the needs and team have grown. In its current form, just about everyone in the company ends up hanging out with the Happiness Heroes for about a half day each month."
Key Takeaway:
Check out how the entire company takes responsibility for customer happiness. Take note of how they check in with each other. This can't be overstated: it's the entire company's responsibility to be on top of customer success, not just the customer success team. They're there to empower customers, proactively identify when they may not be using the product or service to its full potential, and ensure customer success deliverables are being met, but it's not up to just them to make sure that things are flowing smoothly with your customers -- it's up to everyone.
5) Dana Niv
Niv is the Director of Customer Success a writer for Oktopost, where she chronicles her social media, customer success, and content marketing advice on the blog. One thing Niv does is integrate the benefits of social media into the customer success mindset -- a.k.a., building relationships through social media. This is because she's aware of the customer's position even before they're a prospect:
"Today's B2B customers feel empowered. They demand a whole new level of customer focus, expecting companies to know them personally, recognize their challenges, and cater to their needs."
Key Takeaway:
Today's customers are coming to you with more knowledge than any other customer base before them. This is why new social media, podcasting and video tools work so well -- they engage an already-aware audience. By understanding that your customers know about what you do (and decided to come to you), you can adjust your strategy and step up your game. It takes effort to understand their individual needs, but when you do, you create an advocate for life.
The future is now, and customer success isn't just a buzzword -- it's an entire shift in business that will help you create constructive and rewarding relationships with your clients and allow yourself to take a hard look at what you're doing for them.
Thinkers and inventors saw it coming from a mile away -- they knew that the main component for business growth would be to ensure that the customer got exactly what they needed before they even needed it. When you invest in customer success, you invest in your business. It's as simple as that.