Every business dreams about "golden" customers. The customers that are so excited about your brand, they write positive online reviews, spread the word among friends, open every marketing email, and line up to purchase products as soon as they're released. As a customer service employee, it's your job to delight these customers and convert them into brand advocates.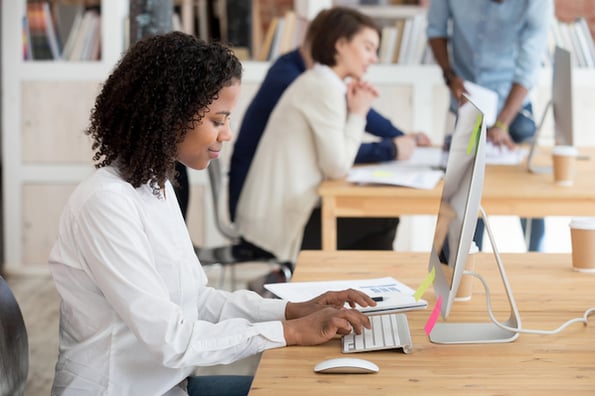 That's hard enough to accomplish on its own, but, when you do, what happens next? How do you make sure these people stay dedicated to your company?
Luckily, your service team can take steps to retain loyal customers. And, when you're proactive about customer retention, you'll convert new customers into loyal followers simultaneously.
Email is one of the best tools for converting and retaining customers. It's a flexible communication medium that helps businesses create delightful brand experiences and nurture customer relations.
Read on for some valuable tips on using email to effectively nurture customers.
How to Use Email to Nurture Customers
1. Focus on your email's timing.
23% of all emails are opened within the first hour of delivery. After 24 hours, if the email hasn't been opened there's a less than 1% chance it will be.
This means that timing is crucial because you need to send emails when customers are checking inboxes. Research has found that Tuesdays at 10 a.m. is the most effective time to send emails because open rates tend to be at their highest -- as depicted in the chart below.
It's important to research your industry, though, because while Tuesday at 10 a.m. is an average across all industries, if you're in the B2B or entrepreneurial fields, weekends tend to get higher open rates.
Additionally, you should look for opportunities to take advantage of major holidays and upcoming events. Customers enjoy receiving information that's relevant to them, so creating content about shared experiences like traditions during holiday seasons can be very beneficial.
2. Segment your customer base.
The key to reaching customers is understanding that they're not all the same. Thus, you should segment your customer base and send different emails that target each group. Even though you'll spend extra time creating emails, this investment will be small in comparison to the loyalty that you'll build.
For example, research conducted by Chronos Agency describes how fashion and lifestyle brand, Sommer Ray's Shop, benefitted from customer segmentation. The brand significantly boosted revenue by segmenting and customizing emails for each customer persona. Before the email strategy was redesigned, all customers at Sommer Ray's Shop were receiving the exact same messages. After the redesign, the e-commerce brand increased email revenue by 65%.
Customer Segmentation Strategy
An easy and effective segmentation strategy is asking customers which segment they'd like to belong to. This is known as the "Pick Your Own Adventure" strategy and it works by sending new subscribers an email with a list of things they might be looking to get from your brand. Customers then click one of the options, informing you of the type of content that will resonate most with each customer.
Whether you choose to segment based on customer behavior, analytics, or simply by asking them, segmentation is essential. Both open and click rates skyrocket because you can cater content to different customers' interests.
3. Map the customer journey.
A customer doesn't go from unaware of your brand to its faithful advocate in one day. There are many steps along the way, and, even though many companies recognize this, most have a hard time monitoring customers that are moving through this process.
That's why it's an excellent idea to create a customer journey map.
Mapping out the customer journey visualizes how customers make decisions about your products and brand. These maps identify customers that need to be engaged and when your team should take action.
To make a customer journey map, you need to deeply understand your customers. You should do some research into customer behavior as well as create personas that represent different portions of your target audience.
Once you've mapped their behaviors, use emails to guide people along the customer journey. When they're first starting out, your emails should increase brand awareness and share information about who you are and which needs you can fill. If customers are further along in their customer journey, they might be comparing your brand with the competition. This is a good time to show them how you're different by highlighting your strongest advantages.
Every customer will be in a different place in their customer journey, which is why it's important to have various emails going out at once -- and, as always, don't forget to segment your audience.
4. Optimize your "Thank You" emails.
It's standard practice to send an automatic confirmation email after an online purchase. Sometimes these emails include a thank you note as well. If that's all you include, though, you're wasting an opportunity to solidify your connection with customers.
Confirmation emails have tremendously high open and click-through rates compared to bulk marketing emails. Customers are interested in making sure their orders went through and will check that all the details look correct. Because of these high open rates, you have an opportunity to put other important content in front of customers.
Take advantage of confirmation emails by including other suggested products along with a thank you message. Suggest products that pair with a recent purchase or share tips on how to get the most out of their current products.
The post-purchase email is a critical moment in which you can convince customers that you'll provide value in future emails. It's important not to waste this opportunity.
5. Personalize every message.
Addressing someone by name not only grabs their attention, but it also shows respect and interest. In fact, research shows when a person hears their name, every region of the brain is activated in a unique way. This primes the person for hearing and remembering whatever information comes next.
Including a name in the subject line of an email boosts open rates by an industry average of 29%. Personalization is even more impactful on unique click rates, boosting them by 41%.
While the industry average for open rates is 29%, this number varies greatly depending on which industry you're a part of. As the graph outlines below, travel and consumer products are most affected by personalized email subject lines while media and publishing are least affected.
Shelley Kessler, Manager at Experian Marketing Services, stated,
"A brand that recognizes a subscriber by name in the subject line of an email is able to establish an immediate, personal connection with that subscriber and that is reflected in our research."
Including names in email subject lines is a simple step to improve open and click rates, but you can take personalization even further with email nurturing.
For example, personalized discounts can be highly effective at increasing both brand loyalty as well as revenue. You can send a small discount to a customer who has shown interest in a product, but has not yet made the final purchase. Sometimes that extra discount is just the thing to help make up their mind.
Depending on your company's budget, you may also want to implement artificial intelligence to predict which products your customer is likely to consider. When you send email discounts based on these predictions, your sales will skyrocket.
This strategy is common among large companies, but unfortunately high quality artificial intelligence isn't cheap. If you can come up with the budget, though, the ROI is tremendous.
As an increasing number of brands move towards personalization, customers are beginning to expect interactions with a brand to be personally relevant. If your brand is not relevant, there are other brands for the customer to choose from.
For more tips on customer loyalty, check out these customer retention strategies.