It's well known that loyal customers are valuable for your business. So, it's no surprise that we often talk about the importance of generating customer loyalty and doing everything within your power to fulfill your customer's needs.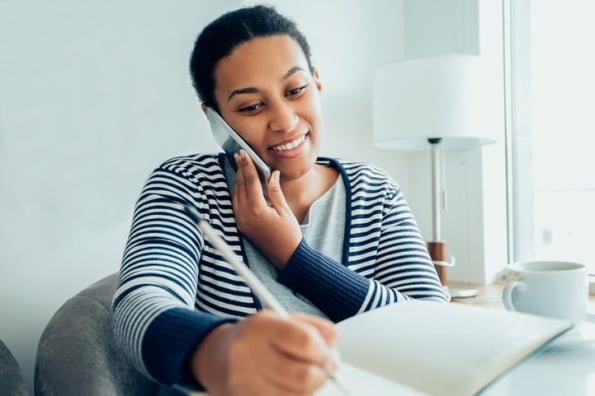 However, when you work in a customer-facing role, you might need to say "no" to your customers and that's difficult. You want to do everything you can to improve their experience with your company. But, sometimes customers expect too much from your business and ask for something you simply cannot provide to them.
Saying "no" might be necessary, but how you handle the situation can impact your bottom line. In fact, 14% of customers leave because the business doesn't know how to handle their complaints. In this post, we'll break down what you can do to resolve situations where you can't fulfill the customer's request.
How to Say 'No' to Customers in a Positive Way
How to Say No to Customers Requests or Demands
1. Thank them before responding.
First thing's first: You should always thank customers for wanting to do business with you. It's very kind of them to trust your business over others. Just as you would with any kind of rejection, you should soften the blow with a genuine thank you at the beginning. This will show the customer that you care about them and appreciate them reaching out to your business.
Keep in mind that genuine is the keyword here. You don't want your customers to feel as if you're responding in a scripted way (even if your reps are using a scripted template).
An example of what this might sound like: "I completely understand where you're coming from and just first want to express our gratitude for being a valued customer and bringing this issue to us."
2. Lead with empathy.
Besides showing gratitude, it's important that your customer service representatives and success managers lead with empathy. These situations should be handled on a human-to-human basis. Use language like "I understand why you'd need this done," or "I can see why you'd need this."
This shows the customer that your company isn't berating them for asking for a certain feature or change (as long as they haven't threatened you or made unreasonable requests).
An example of what this might sound like: "This request makes a lot of sense. I understand why you'd need this done."
3. Be transparent about why you can't fulfill their request.
Don't sink to lies and false excuses for why you're saying no. Instead, just be honest. Admit that their request can't be fulfilled at this time and explain why that is the case. Before you say no to a request, it's important that your team understands why something is against company policy. If you don't know why you're saying no, customers can get even more frustrated.
Additionally, it helps to follow up your explanation with some alternative options that may help the customer.
Your customer may take this well, or they may not. However, no matter their response, if you tell the truth you will always be able to explain why you're rejecting their request. If you lie, you can quickly get exposed if the customer decides to investigate the issue further.
An example of what this might sound like: "Based on [explanation], we can't accommodate this request because [insert company policy here]. However, there are a few solutions that I'd like to discuss so we can move forward."
4. Provide alternative options.
It's helpful to offer the customer a counteroffer if you can't fulfill their request. Begin with offering other services that your company can provide and see if you can create a workaround to achieve their goals. If not, look externally to see if there is another company out there that can fulfill their need.
Yes, that sounds crazy, but you should try to refer the customer to a competitor that you trust. You don't want to just reject the customer and bid them farewell. If you genuinely care about the customer, you'll help them find another credible option to get their job completed.
Sending them to a competitor also has multiple benefits for your business. Most importantly, the customer will feel grateful that you cared enough to find them another business to which to turn. Don't feel sorry for losing that customer as you couldn't fulfill their needs in the first place so they were likely to churn eventually. However, while you may have lost that one customer, you ended your relationship on a positive note and avoided a potentially nasty review which could have lost you a lot more.
An example of what this might sound like: "To make sure you get what you needed to be done, I have a few workarounds that might help. If these don't work, I know that 'Company X' has features that can help you achieve what you need."
5. Follow up about the referral.
If you end up passing on the customer to a competitor and the relationship commences, you shouldn't let them go without any further communication. Then, you truly have lost their business. Just because they're working with another company doesn't mean you can't still have a place in their life.
Follow up every once in a while to check in with how they're doing working with the competitor. You can also follow up with the business, itself, to see if the relationship has been working out well. Keeping a foot in the door will show the customer you still care about them and are ready to help if needed.
An example of what this might sound like: "Hi 'Customer Name'. I just wanted to reach out to follow up on how things have been going with 'Company X'. Were they able to accommodate your requests? Let me know how everything is working out because we're always here to help when needed."
6. Ask for feedback.
Once a customer has made a request that you can't fulfill, it's important to understand their workflow and process. Why do they need to do this task in this way? Is this a reasonable request that your product team can work on?
Gathering feedback and learning about your customers is the best way to continue to give excellent customer service and retain a loyal customer base.
An example of what this might sound like: "While we can't fulfill that request, we'd love to learn more about your company and processes. Could you fill out this brief survey so we can send this information to our product team?"
7. Share helpful content with the customer.
Keep in touch with the customer by sharing content with them that you know is of use. Ask them if they'd like to join your email newsletter. Or, if you don't have a newsletter, you can go to the next step by cultivating content specifically for that individual customer.
Put together blog posts, research, news articles, and more sources of information that you believe will actually benefit the customer or are related to the products they use. The customer will recognize that you're willing to go the extra mile for them, maintaining your position on their radar.
An example of what this might sound like: "Hi 'Customer Name'. I was thinking about your situation and gathered a few resources that I thought might be of help. I added them to the email below. Let me know if you need anything else."
8. Stay connected with them.
If your customer feels comfortable with you doing so, follow them on social media such as LinkedIn. That way, you can keep up-to-date on the happenings in their life.
Whenever something comes up that's related to your business, you can engage with their posts or tweets by liking, responding, or even sharing. Additionally, mention them on posts, articles, or threads that they may find of interest. Your continued awareness of what the customer likes to read about will further prove your investment in that relationship.
An example of what this might sound like: "This is great news, 'Customer Name'. I'm glad to see things are working out for you. Let me know if there's any way I can help."
9. Reach out when you can fulfill their request.
You don't want to come on too strong by forcing them to choose between your business and the competitor to which you referred them. However, you can shoot them a friendly email to let them know your company has made some changes and that you'd love to help them in any way you can. Make it clear that if they have any questions, they can send them your way and you would be happy to help. Perhaps, they still need to fulfill their original request and you can discuss options moving forward.
An example of what this might sound like: "Hi 'Customer Name'. I wanted to follow up with you about the feedback you gave us [timeframe]. That valuable feedback actually led to us making some company changes. If you're still in need or have any questions, feel free to reach out so we can discuss possible options moving forward."
Why You Aren't Saying No to Customers
Many businesses still embrace the idea that "the customer is always right." However, that ideology is mostly rooted in the fear that your company doesn't know what your customers really want. So, management uses that slogan to mask its true reasoning for being hesitant to reject customer requests.
Of course, managers and business owners have fears of saying no to a customer. Often, you want to maintain your company's reputation, your relationship with your customers, and retain all the customers you can.
However, you can't ignore your company's policies or standards every time a customer has a request. Your priority is doing a good job, not doing a lot of jobs, so you should never regret saying no if it's what's best for you, your existing customers, and the customer you're working with.
Editor's note: This post was originally published in April 2019 and has been updated for comprehensiveness.