Creating Instagram Stories and posting images of your latest products and promotional content is an engaging and profitable marketing strategy. But, dealing with customer inquiries is just as important.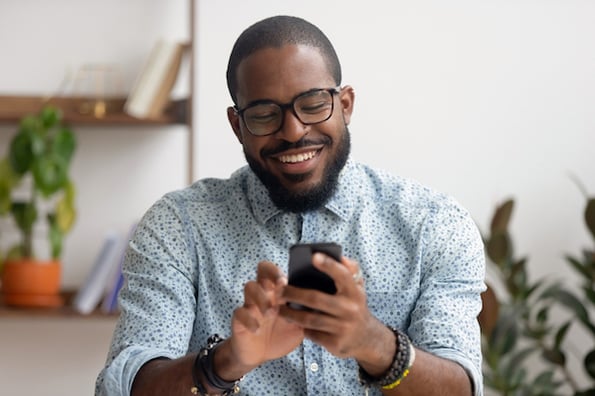 Instagram has over 1 billion active users and 90% of them follow a business account. If you think they're just looking for marketing content, you'll be surprised to find that 81% of users research products or services on the platform. Many of them have questions and will comment on your posts, or message you directly.
In this guide, we'll look at more reasons why you should use Instagram for customer service. Then, we'll explain how you can do it with your customer service team.
Why Use Instagram for Customer Service?
Instagram enables businesses to reply to customer inquiries quickly, and in real-time. Additionally, if a significant segment of your customer base uses Instagram, you can chat with them via direct message (DM).
Now, if you're thinking, "Couldn't it get out of hand quickly if hundreds of customers are sending me DMs?"
The reality is it's no different than answering an inbox full of emails. Plus, Instagram's direct messaging system has a good deal of functionality. For example, you can group conversations and assign them names, as well as add or remove people from groups to redirect them to helpful resources.
This is one way to build an omnichannel customer experience. If someone asks a question on Instagram, they shouldn't have to go to your website or call your support team for an answer. They should receive a response immediately so they can go back to looking at your content.
Now that we've made the case for Instagram customer service, let's look at how you can implement it into your customer service strategy.
Step-by-Step Guide to Providing Customer Service on Instagram
There are three key steps to providing excellent customer service on Instagram:
1. Handle all customer inquiries consistently.
2. Adhere to social media best practices.
3. Treat every customer with the highest level of care and attention you can deliver.
Take your followers through these steps and you'll build up a reputation for being a brand that listens and cares about its customers.
1. Handle all customer inquiries consistently.
Having Standard Operating Procedures (SOPs) is vital when replying to customers. SOPs enable anyone to pick up a service case and handle it in the same fashion as any other service employee. This creates consistency in your responses so you can replicate success.
SOPs don't have to be overly complicated. In fact, they can be as simple as:
Assigning different members of your response team a specific time or day of the week or weekend.
Flagging messages based on urgency or escalation.
Establishing a timeframe in which to respond.
Flagging is important when dealing with customers on social media. Social media is a public platform, and word travels fast. Flagging places emphasis on conversations that require urgent or special attention, so your team knows how to prioritize their caseload.
2. Adhere to social media best practices.
While your approach to each customer should be consistent, there's plenty of room for flexibility in how you talk to them. A lot of it comes down to the nature of your business as well as your brand image.
Regardless of what you choose, below are a few best practices you should keep in mind when communicating on social media.
Reply to as many questions and inquiries as possible.
The number one best practice when managing social media accounts is to reply, comment, like, and acknowledge as many comments, questions, and inquiries as possible.
Customers want you to hear them out. This is especially true when they reach out on social media and comment on public posts. A simple inquiry can easily escalate into an angry customer if they feel like you're ignoring them.
Reply to important inquiries as fast as possible.
You may not have customer service reps covering your accounts 24/7, but when you have a rep working, they need to monitor Instagram for urgent messages and reply ASAP. After all, 89% of customers may change their decision to buy if a company doesn't respond to their inquiry quickly.
Know when to take conversations private.
Not all customers start conversations with brands through direct messages. They can also reach out to businesses by leaving a comment on a post. People usually contact a brand this way because they want to make their inquiry public.
You can reply publicly and demonstrate how quickly you respond to your customers. Or, you can take the issue into a DM, which is a private, 1:1 interaction.
When you want to help a large number of people without sending individual messages, communicating on an open platform is advantageous. However, if things go poorly, or require the exchange of sensitive information, you need to take it to DMs.
Be personable and genuine.
This can make a huge difference in how your customers react to your service on Instagram. By simply including your name and/or putting a face to the messages, it humanizes the response. This helps your customers feel more at ease and it also makes them realize they're communicating with a real person.
Start by using the customer's name and speak in a friendly tone to match theirs. Don't be afraid to talk to them like you know them – while keeping it professional, of course.
3. Treat every customer with the highest level of care and attention you can deliver.
Every customer wants you to treat them seriously and hear them out. This applies no matter how big, small, or costly their complaint may be. It even applies to short Instagram comments and questions.
That's why you need to dedicate a customer service rep to your social media channels. If your customers are using Instagram to ask questions and provide feedback, you need to meet them where they're most comfortable.
Don't make it more difficult to find solutions, instead, be proactive and bring them the answers they're looking for through the medium where they first had the question.
With good procedures in place and an understanding of these best practices, customer service on Instagram can meaningfully contribute to your business goals. Start now to increase brand loyalty, improve your customer retention rate, and solidify an online reputation as a business that cares about its customers.
For more social media customer service tips, read our guide to Twitter customer service.