There's no doubt that social media is a powerful marketing tool.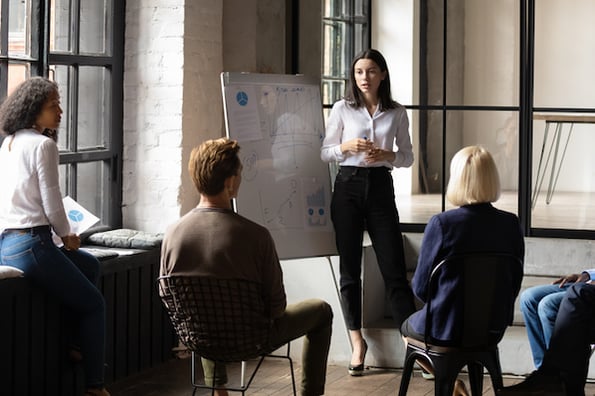 But, while it's great for engagement and acquisition, it's also an ideal channel for customers to ask questions and voice their opinions about your brand. In fact, social media is the preferred customer service channel for people under 25, and last year, nearly two-thirds of the world's shoppers messaged a business on social media during the holiday season.
If your business is active on social media, then your support team needs to be prepared to handle customer inquiries on this channel. This creates a more complete customer experience which boosts your marketing and sales efforts over time.
In this post, let's review some tips from HubSpot's customer support team regarding how you can train reps for social media cases and what they need to do to provide excellent customer service on this channel.
How to Train Support Teams for Social Media Customer Service
1. Create an omni-channel support system.
Adopting a new support channel can feel daunting for some customer service teams. Not only do they have to redesign their ticketing systems, but they also need to train their reps on how to support customers using this new channel.
This is where it's beneficial to have an omni-channel support system. With an omni-channel system, all of your service platforms are linked together and support tickets are uniform regardless of the channel they originated from. This makes it easier to adopt new channels like social media, because reps can use a shared inbox to keep track of all of their open cases, regardless of where each one came from. Reps don't have to switch between platforms to locate tickets; they can access email, phone, and social media cases all from one place.
2. Prioritize quick responses.
83% of people expect businesses to respond to social media inquiries within a day, and nearly half of these people expect a response within an hour. However, research shows that 45% of brands take more than five days to respond to customers on their Facebook pages and 49% of social media complaints are never responded to at all. This presents a valuable opportunity for brands to stand out by responding to customer inquiries faster than their competitors.
To do so, you'll need to dedicate support reps to each one of your social media accounts. Depending on the size of your following, these reps may work solely on social media cases, or they might flex between channels in their spare time. Regardless of what you choose, their primary responsibly should be social media cases and they should prioritize these tickets over every other type at your business.
3. Log previous support cases for future use.
Support cases are valuable pieces of customer data. They give you information about an individual customer experience and your customer base as a whole.
For example, if a customer has a problem and it's gets resolved, then returns with the same problem in the future, it helps to have their past support ticket on hand for reference. Having it saves both your team and the customer from having to repeat troubleshooting steps which adds friction to the service experience.
Ben Lawlor, Principal Customer Support Specialist at HubSpot, offers this advice.
And, if you notice a slew of tickets coming in that are all related to the same issue, you'll know that you need to escalate the situation and make a more significant adjustment to your product or service.
4. Transfer cases to other channels when needed.
Ideally, your team should solve the customer's problem on the same interface that they reached out to you on. This creates a smooth experience for the customer because they don't have to switch between platforms to get information or to continue troubleshooting.
However, your team's top priority should always be to solve the customer's problem. If that means you need to transfer the conversation to another medium — like phone or email — then so be it. At the end of the day, the customer is more concerned with getting an answer quickly, then they are with remaining on social media.
If you do have to make this transition, it's important to explain why it's beneficial to the customer. You don't want to make it seem like you're pushing them away from a public channel — especially when the customer is having a poor experience. Instead, you want them to feel like it's in their best interest to move the conversation to a channel that's more conducive to troubleshooting so they can resolve the issue faster.
5. Ask meaningful questions.
When you're supporting customers on social media, sometimes you need to do a little more work diagnosing the problem than you would on the phone or with an email. You can't just ask a customer for sensitive information nor can you listen to their tone of voice to interpret how they're feeling. You have to ask meaningful questions to get enough information to solve the problem.
Matthew Gaw, a HubSpot Support Team Lead, offers this advice.
6. Remember that your followers are watching.
The biggest difference between social media and traditional customer service channels is that your customer interaction is on display for the world to see. Everything that the customer says can be liked, commented on, screenshotted, and shared by your followers in a moment's notice — which means your service reps need to be on top of their game for every comment, question, and criticism that comes their way.
Emma Ogg, Senior Customer Support Specialist at HubSpot, offered this tip based on her experience as a social media support rep.
7. Follow up with your customers.
Some social media inquiries won't turn into formal support tickets. These are typically one-off questions where the customer is looking to collect some quick information from your business. Or, they may just want to share an opinion, and they aren't expecting a response from your support team.
In these cases, your support team should always try to follow up with the customer if the conversation ends suddenly or unexpectedly — especially if the customer is unhappy with their experience. Even if they don't respond, making this effort shows other followers that your business is active on social media and they can use it for service inquiries if needed.
Molly King, a HubSpot Customer Support Specialist, recommends this.
Follow these tips and your support team will provide excellent customer service on any social media channel.
However, if you're looking for advice that's channel-specific, read this guide to providing great customer service on Instagram.