The COVID-19 pandemic poses a unique challenge to businesses across the world. While some industries have seamlessly transitioned to an inside sales model, other sectors aren't immune to virus-related shutdowns, and there is no option but to continue offering on-site services.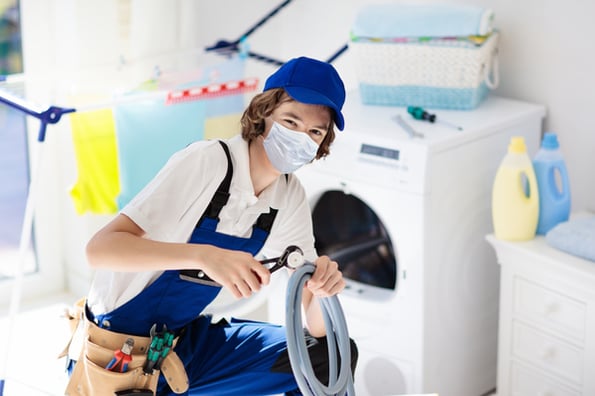 Even though some businesses have continued offering on-site and in person service, they've still needed to reduce costs and operations for various reasons like loss of money, employees, and health and safety regulations. However, despite these obstacles, customers still want, and sometimes need, on-site service. Some issues they face — like a medical procedure or a broken furnace — can't be fixed over a video conference or through a home instruction kit.
If you're one of these critical businesses, this piece will outline various scenarios that make the case for on-site visits, as well as what to do when you simply cannot offer on-site services.
When to Provide On-Site Service
Deciding to provide on-site service during a time where in-person interactions are risky should come from circumstances where there is no alternative. Let's go over a few of those situations:
Financial institutions - These businesses will have a tough time conducting business online. While it may be possible to incorporate online chat support or increased phone call capacity, people still need loans, to deposit checks, and to withdraw money. Banks still need to verify that they're doing business with account owners, and internet security may not make this possible. Providing on-site service makes sense for these businesses.
Health care services - While telehealth has gained popularity, there is no safe way for customers and clients to solve their medical issues at home. In this case, the decision to provide on-site service is critical and valuable, as failing to provide these services can significantly impact public well-being.
Niche service providers - Service providers can make a case for providing in-person service to their clients. For example, while some people work from home, essential workers with cars still need to drive to work. While some people can fix cars independently, most people will need an automobile shop to solve their issue. Even more, niche service providers like plumbers and electricians cannot do their jobs without on-site service in customers' homes or businesses.
Grocery stores - Supermarkets have continued to provide on-site service during this pandemic in order to ensure that the public has access to nourishment.
Community outreach organizations - Some non-profit and community outreach programs may pivot to online service, but others can't. For example, those that provide outreach for houseless communities must continue providing on-site shelter and services for communities they work with.
While there are other businesses and sectors that may make a case for continuing to provide on site-service, these are just a few examples. If you've realized that your business falls into this category, there are measures to take that can ensure safe on-site and field service jobs.
How To Safely Provide On-Site Service
The most important factor when providing on-site service during the current pandemic is clear communication. For on-site home visits, this means understanding the full scope of customer issues to ensure employees have all the necessary equipment before they arrive to eliminate the need for repeat visits. When customers enter your workplace, like doctor's offices, let them know exactly what will happen when they arrive. This means giving them instructions on how to enter the office, like whether or not they are required to wear Personal Protective Equipment (PPE).
Hand-in-hand with communication is outlining required health and safety measures. You should ensure that customers and visitors are aware of what you and your representatives are going to do to prioritize health and safety, like in-home service representatives bringing PPE and disinfectant equipment or grocery stores requiring social distancing and clearly marked aisles for safe store navigation.
In addition, whether on-site or in a customer's home, aim to minimize all possible areas of contact. For example, for non-profit organizations providing shelter could consider rotational shifts and flexible work hours, so fewer employees are on location at any given time. This can also mean digitizing specific processes, like providing receipts and invoices via email to eliminate close contact for paper handoff. Doctors can also email necessary paperwork to their patients ahead of time, so they don't sit in the waiting room filling out their information.
All in all, certain businesses will risk closing down entirely if they stop offering on-site services. Not all industries can work from home, so understanding when to make the decision to provide on-site service and how to do so safely is important.
With that being said, let's go over a few best practices for businesses that have found themselves unable to continue providing on-site service to their customers.
What to Do When You Can't Provide On-Site Service
The most significant benefit to on-site service is interacting with customers, creating rapport, and nurturing positive relationships that inspire customer loyalty. Although face-to-face interactions may not be possible per safety precautions, there are still ways to delight customers, address their issues, and entice them to continue doing business with you at a distance until in-person interactions are safe.
This pivot to crisis management customer service can happen quickly, so we've outlined a list of actions you can take to aid in this transition.
Draft Business Procedures
The current pandemic could not have been predicted, nor can possible events in the future. This isn't anyone's fault, but creating business procedures that detail how you'll respond to changing requirements will ensure continued success.
These procedures can include identifying essential employees and plans for any absences, business functions that will continue occurring, emergency communication plans, and any key changes you'll make to continue providing service. For instance, if you run a storefront business, these plans can detail how you'll pivot to supplying a seamless virtual shopping experience until customers can return to in person shopping.
Be Transparent
It's important to understand that what customers value most during times of crisis is transparency. They want you to keep them updated; they want to know why you can't continue providing service as you did before and how changes will impact their ability to do business with you. Essentially, this means that they'd rather know that you're needing to take a few days to figure out how you'll continue operating rather than not hearing from you for a month.
You can think of it like this: if you're a restaurant owner, your business success hinges on your customer service. Also, depending on where you're located, you may not even be able to stay open because of safety restrictions. Let customers know what will change and how you'll continue providing service, like partnering with local delivery services or offering at-home meal kits.
Use Customer Service Software
When you can't give your customers face-to-face service on-site, meet them online. Using customer service software can help you continue to satisfy and delight customers with your existing practices through a different medium.
For example, HubSpot's Service Hub comes with various tools that can help you seamlessly transition to providing digital solutions, like the Help Desk & Ticket Automation tool. With this tool, customer requests for support are all stored in one place, sorted by urgency, and assigned to service representatives to ensure they are addressed.
The software also includes Live Chat functionality for chatbots and real, human interaction. Chatbots can quickly perform simple service tasks like offering price estimates or directing customers to knowledge base resources, and service reps can communicate with customers in real-time to address pressing issues.
Implement Customer Self-Service Options
If you're a business that is able to give customers the resources they need to address issues on their own, it's worth considering. Self-service enables customers to quickly get the information they need without waiting to get in contact with a representative, and shows them that you still care about their success.
For example, a licensed and registered technician is likely the only person who is safely able to fix a broken air conditioning unit. A service business like this will have a more challenging time transitioning to online customer service and will likely need to continue providing on-site options. In contrast, a cable company may create online guides and resources that help customers solve their problems, like a step-by-step guide to restarting their WiFi.
A knowledge base, an online library of articles and FAQs, is a common self-service tool. It's created to address specific and common issues that customers may face to troubleshoot themselves. It's time saving, as no back and forth conversation is required, and it also shows customers that you still care about their success, virtual or in person. While health and safety measures are still enforced, it also reduces the need for on-site service or in-home visits.
Leverage Video and Streaming
Video and streaming are highly effective means of communication. Although they're most often used in marketing, businesses can stand to leverage their power for customer service means.
There are various ways to offer customer support through this medium, like Q&A and live stream sessions to answer customer questions, creating video courses or How-To instructional guides, and making videos to attach to emails that are unique to individual customer issues.
Use Advocacy Language
It's essential to recognize that customers are nervous. Not because of your business specifically, but because of the current health and safety situation. They're contacting you because they need help with something, so reassuring them by using advocacy language can reassure them that you're ready to help them regardless of their situation. Essentially, they won't be exposed to additional sources of stress from conversations with you and your service representatives.
In short, advocacy language is how customer service representatives communicate with customers by using language that prioritizes customer satisfaction and issue resolution. Advocacy language conveys that you care about their success and are on their side. For example, instead of saying "You've misheard me," you would aim to say "What I'm hearing you say is [XYZ]. Is that correct?" While phrases convey the same meaning, you're not placing blame on the customer but instead showing them that you care about understanding their perspective and their experience.
It's Still Possible To Satisfy Your Customers
COVID-19 is a threat to business functions. While health and safety guidelines must be followed, certain industries simply cannot work without on-site service. Providers like plumbers and doctors must stay open, while other businesses can easily pivot to online strategies.
Whichever category you fall into, it's still possible to devise strategies that prioritize the safety of all parties involved and allow you to continue satisfying your customers and providing the excellent service they're used to.