Developing an app is no small feat. From coming up with the idea to writing the code and testing the interface, there's plenty of things to do before your app is ready to hit the marketplace.
But, even when it's ready for launch, the work doesn't stop there. You still need to promote the app, attract new users, fix unforeseen problems and glitches — oh, and let's not forget regularly supporting customers and updating the app over time. You may even have to find a way to make your app profitable, which is a whole different story altogether.
With so much to do, you may be wondering where the best place is to start — and that's why we put together this list of WordPress themes.
A website is an excellent place to showcase your application and demonstrate its value. You can provide a brief overview of how your app works, offer demos and product tutorials, and promote customer testimonials that highlight how great your app is.
Check out the WordPress themes below and take the next step in growing your business by building a website that effectively promotes your product.
Best Mobile App Themes for WordPress
Hello
MobileApp
Intact
Massive Dynamic
MyApp
TheGem
App Mojo
CleanApp
Applay
Stratus
X
Mobera
Appster
Appdev
Pandora Box
Appstack
AppTheme
Hype
Ekko
RocketApp
Sway
Cian
AppsWorld
Price: Free Basic Plan; $49/year for Essential plan; $99/year for Annual plan; $199/year for Expert plan
Hello is an Elementor theme that boasts about its speed. It calls itself the "fastest WordPress theme ever created," and backs this claim by saying it's because the theme's code is empty of unnecessary styling and scripts. This also makes it an ideal starter theme because it's compatible with most WordPress plugins.
The other benefit of this extra speed is that it makes the theme very seo-friendly. The non-intrusive code is simple and the fast-loading pages will help you rank well on search engines. Ranking high on the search engine results page (SERP) is critical to successfully promoting your app.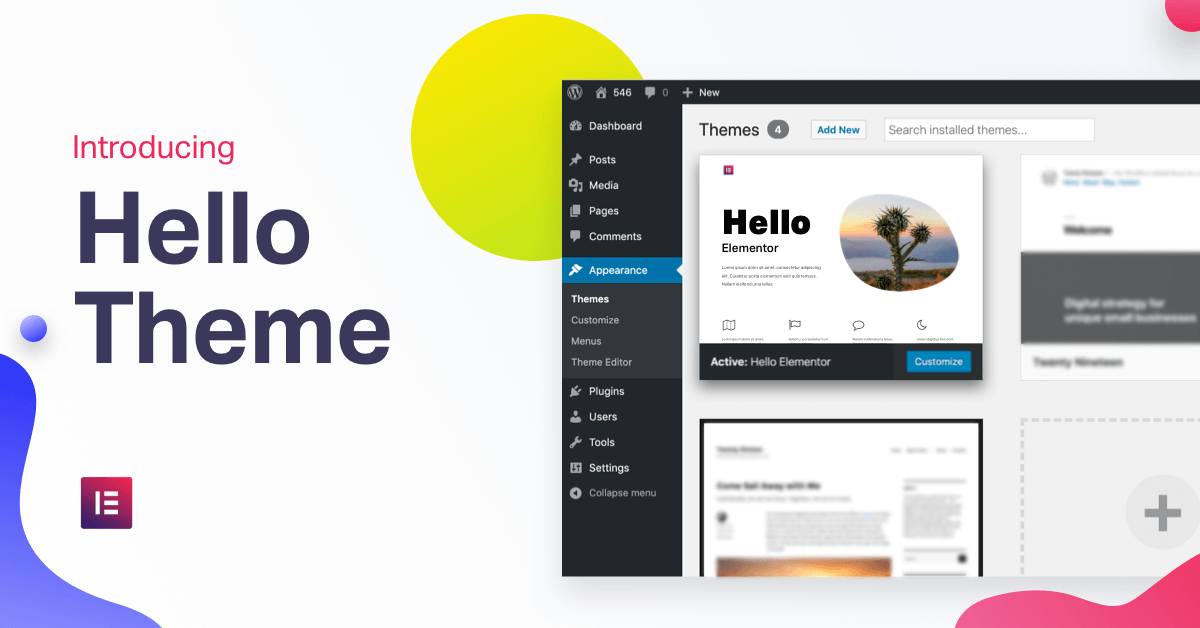 Price: $59
The MobileApp theme is designed specifically for mobile applications and software. It lets you animate screenshots and text, add unlimited sections to your webpages, and integrate download buttons so new users can access your app directly from a landing page. There's also unlimited colors, so designing a site to match your branding is never difficult.
Additionally, it would be a little awkward if your mobile app site wasn't mobile-friendly. After all, mobile users are your target audience and if your site doesn't look right on their phone or tablet, that's a big red flag for a prospective customer. That's why this template is fully responsive, so it will render properly no matter what device a customer is using.
Price: $59
Intact offers a one-click installation, which means all of its elements, features, and tools are installed with one click of your mouse. You don't have to install a bunch of different plugins and software to get this theme up and running. Everything you need is included in the initial download.
Some notable features of this theme include a drag-and-drop visual composer, a Revolution Slider plugin, and a powerful admin panel that allows you to customize nearly every aspect of your website. The theme is also fully translatable, meaning you can translate it to any language without having to use an external tool. This is particularly useful as you grow your business and need to translate content so you can reach a broader audience.
Price: $23
The Massive Dynamic theme is a full-screen WordPress theme that includes a large background image on its homepage and landing pages. You can also enable the parallax option for this image, which gives the impression that the image is moving as the user scrolls up and down — making your site more interesting to look at.
The theme itself is pretty flexible. It uses a drag-and-drop builder that allows you to simply drag the elements you want directly onto the page. The theme's grid system lets you test out different page layouts, so you can create a design that effectively showcases your product.
Price: $49
The MyApp template is designed for someone who may have more experience building an app, but less experience creating a website. This user-friendly WordPress theme has a visual composer that lets you alter text and images by deleting existing content and adding your own. You don't have to delete the module then add in a new one. Instead, you can keep the default layout and just update the elements with your business's information.
There's also a color customizer that shows you changes made to your site in real-time. That way, if you're trying to decide which color scheme works best, you can get instant feedback rather than having to manually switch between the preview and the live version.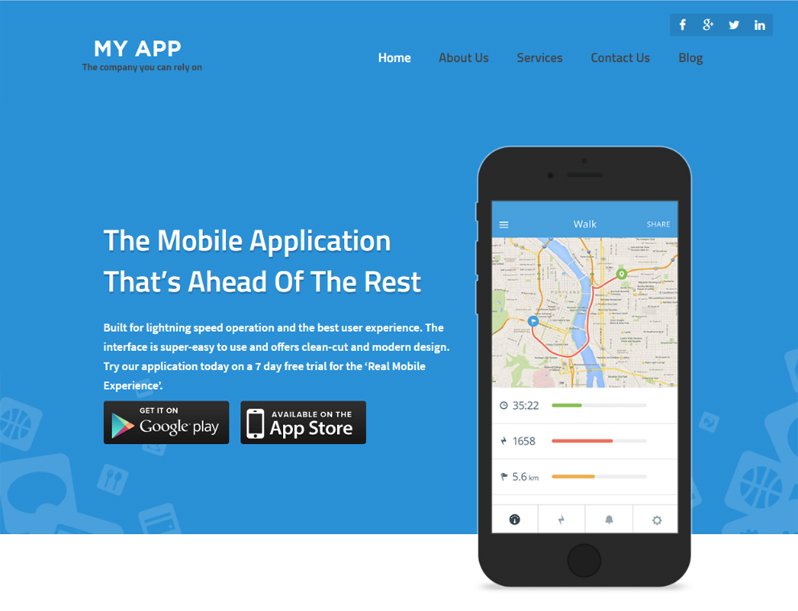 Price: $35
TheGem is a multipurpose WordPress theme that can be used for all types of websites including mobile apps. From cryptocurrencies to gyms and restaurants, TheGem has over 400 templates to choose from, and each one is mobile responsive and can be customized using the Elementor page builder.
This theme is also compatible with WooCommerce, which makes it easy to turn your website into a convenient online store. With WooCommerce, can promote your company's desktop software while offering a download button for your mobile app to create a one-stop-shop for your customers.
Price: $59
App Mojo is a landing page theme, meaning it doesn't have all of the page layouts and features that some of the other themes on this list have.
What it does have, however, is a visual shortcode builder that allows you to build buttons, tables, and more without having to write code. You can customize these shortcodes as well and change how they appear on specific pages of your site.
App Mojo also offer a typography management feature where you can change and upload fonts. You can change their colors, size and more all from the admin panel.
Price: $59
CleanApp is another WordPress theme that's designed specifically for mobile apps. It has features that are intended to show off app interfaces, product screenshots, and customer testimonials. It also has animated scrolling effects that keep readers engaged as they travel down a page.
Other notable features include an off-canvas mobile menu, editable categories and sections, and unlimited backgrounds. There's also a Google Maps feature where you can embed an interactive Google Map on your webpage. That way, customers know exactly where your office or brick-and-mortar store is located.
Price: $59
Applay is a great all-around WordPress theme for mobile apps. It's responsive and speedy, which makes for a delightful user experience, and it's flexible, so you can edit features and tailor elements to your exact liking.
And, Applay has some really positive reviews. In fact, on Theme Forest, it has a near-perfect rating.
This reputation is in part due to the theme's support team. The developers are always around to answer questions and are quick to update the theme when there are problems or glitches. This makes Applay a reliable WordPress theme to use for your company's website.
Price: $59
Stratus has existed since 2016 and a few variations of this theme have been created since its inception. This one, Stratus 3, is the most recent version and it comes with the theme's newest feature: a visual library.
The visual library lets you import demo pages from Elementor directly into your Stratus WordPress theme. You won't have to recreate pages within Stratus, but rather, upload the layouts and content you want from the demos provided.
There's also a live editor mode, so you can see how your changes look in real-time. This works in tandem with the drag-and-drop page builder and saves your team valuable time when designing your site.
11. X
Price: $59
With this WordPress theme, you can start building your website from three different places. You can build your site from scratch, use a pre-made template, or clone an existing piece of content and use that as your starting point. X fits seamlessly into your team's design process no matter what point you're at in your site's construction.
One unique feature for this theme is its row element. The row element comes with a variety of different layout options, allowing you to organize content in several different ways. This can help you showcase your app, its features, and any screenshots that you want customers to see.
Price: $49
Mobera is a retina-ready theme, which means it can display retina-ready graphics on your website. Retina-ready graphics are higher resolution images that have sharper details and more vibrant colors. These images can really make your product or service stand out on a webpage and make your app look more impressive to your target audience.
Mobera comes with over 100 different Google fonts, multiple color schemes, and layered PSD files for added customization. There are also seven custom widgets you can add, including a contact form, Google Map, and social network links.
Price: $39
Appster is a one-page WordPress theme that's typically used to create landing pages for mobile apps and software. It comes with 12 different home sections, each one offering user-friendly customization options. It's responsive and light, and features a minimal design with unlimited color schemes.
There are also some new features that have been recently added to this theme. For instance, now it comes with a live theme customizer so you can see your changes render in real-time. There's also a one-click demo importer and a new child theme included in the download.
Price: $49
Appdev is another one-page theme designed specifically for mobile app developers. It's built using the SiteOrigin page builder and comes with over 35 unique custom elements and widgets. There's also 70 different shortcodes you can use to further personalize your webpages and content.
From a design standpoint, Appdev has a lot of useful tools you can use to build engaging webpages. It offers parallax backgrounds and custom animations like float and hover effects that keep your reader's attention. The template uses a responsive grid system, too, so you can trust that all of this added customization will still look good on a mobile device.
Price: $34
This theme has so many unique features you might think that you've opened a Pandora's box by mistake (pun very much intended).
Dad jokes aside, this theme does come with a selection of useful features. One cool one is the customer testimonial carousel. It rotates and shows different customer stories as you click through each slide. This makes for a more convincing argument for your product as users read through several positive reviews stacked neatly in a row on your homepage.
Price: $44
AppStack is a one-page WordPress theme, but it has enough features and design elements that you could use it to build an entire website as well.
For example, it comes with customizable headers and page templates, animated modals, and FontAwesome icons. It also has a Contact Form 7 integration and a color customizer that gives you unlimited options when picking colors for your website.
Price: $59
AppTheme is a WordPress theme that's used to make corporate portfolios, but you can also use it to promote a mobile app as well. Not only is it customizable, but it comes with features that are designed to showcase a single app or a collection of different projects.
For instance, there's an "app screenshot" feature that shows images of your app's interface on a cellphone or mobile device. You don't have to borrow your friend's iPhone to take a blurry picture of your own phone with the app running, and then photoshop the background out of the image. Instead, this feature gives you a pristine, professional example of what your app looks like when customers are using it.
Price: $13
Excuse my next pun, but the hype around this WordPress theme is very real. No, seriously — it has a near-perfect score on Theme Forest.
The Hype theme has three different homepage variants to choose from. There's also eight color schemes and over 130 SVG icons included with the download.
Similar to AppTheme, Hype offers a screenshot feature as well. And, you can pick what type of device to use for the screenshot — like IOS, Android, or Windows Phone. That way, you can be more relevant to your target audience and show your app working on the same device they're using.
Price: $59
While the Ekko WordPress theme has a lot of customization options, what makes it unique is how easy it is to use them. You can build product pages, create an online store, and compose blog posts all without having to write a single line of code. That's because the Ekko theme uses a drag-and-drop builder, so you can create impressive webpages without needing any prior design experience.
If you're looking to save some time, this theme has over 250 template blocks, 40 content elements, and over 60 predesigned webpages. Not only do these features make it easy to build an engaging website, but you can do it in record time too by taking advantage of Ekko's pre-made layouts and elements.
Price: $44
If you're searching for a more subtle approach, the RocketApp theme is a good option for those who want a sleek and modern look for their website.
This theme has a neutral color scheme and comes with a light and dark variation. It uses a visual composer for customizing webpages and has plenty of elements that you can use to educate visitors about your mobile app's features. It's fully responsive and integrated with MailChimp too, which allows you to collect contact information and follow up with customers.
Price: $59
Some themes on this list offer pre-made webpages. Well, how about one that offers a pre-made website, instead?
Sway comes with over 45 pre-built websites that are ready to be launched in just a few clicks. Each one is specialized, too, and there's an option available for mobile app websites.
If you'd rather build one yourself, you can use Sway's intuitive page builder. It has countless page elements and powerful theme options that let you edit details of your site like colors, fonts, logos, and more.
Price: $39
This is the third version of Cian that's been released on Theme Forest and this one comes with a one-click installer, a powerful WPBakery plugin, and an engaging Revolution Slider. Some other notable features include CSS3 animations, a fully-responsive page design, and over 600 different Google Fonts.
What's cool about Cian is that it has a minimalist design. It features a large background image then highlights your app with screenshots in the center. You can see what this layout looks like in the screenshot below.
Price: $49
AppsWorld is an excellent choice for those who want to build a complete website for their mobile app. It has three different homepage layouts and a variety of page types like landing page, contact page, and team members page.
AppsWorld also offers 24/7 support which means you can get immediate help from its support team whenever you need it. Support options include email, help desk, and even Skype sessions with AppsWorld's support agents. They can help you navigate roadblocks and provide web design expertise as you build and grow your website.
Showcasing Your App on WordPress
If you want your app to be successful you need to put as much time into promoting it as you did building it. Creating the app is the first step. The next one is attracting users and retaining their business. Having an engaging website is one of the best ways to acquire new customers and ultimately grow your business.
Editor's note: This post was originally published in Jan 2020 and has been updated for comprehensiveness.