Some businesses — like landscapers, painting companies, and artisan retailers — need to wow their customers right out of the box. From the moment someone visits their website, they need to be stunned by the quality and presentation of its content. That's because for many businesses this is their big chance to make the right impression on their prospective customers.
One of the best ways to show off your company's work is with a full-screen WordPress theme. These themes typically include a large feature image in the background of your homepage and a variety of visual features that draw readers' eyes straight to your site's content.
Below is a list of the best full-screen themes available for WordPress this year. Read on to choose the right one for your business and create a website that visually stuns your target audience.
Best Full-Screen WordPress Themes
Price: $89/year
Divi is a full-screen WordPress theme that offers a variety of features for customizing the look and feel of your WordPress website. For instance, the drag-and-drop page builder comes with a plethora of modules that you can use to build different page layouts. Divi also offers a selection of full-screen designs which can be customized to your liking as well.
For example, one interesting full-screen feature is the shape dividers. The shape dividers separate background elements on your page and you can change the style, color, and design of these elements to highlight different pieces of content on a particular web page or blog post.
Divi also comes with a number of different header design options, making your site look completely unique. You can play around with the placement of the logo, the navigation, and other header elements. Additionally, the mega menu offers a variety of options for presenting your navigation area, so you can create a stylish header that appears on every webpage.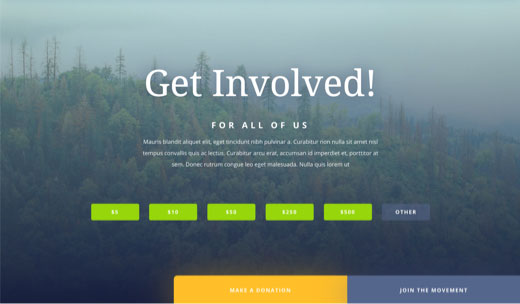 Price: $69
Zelle Pro is a great option for those looking to get started quickly. It has a one-minute setup and demo import, so you can jump right into building and customizing your pages. It also has one-click updates, which makes it easy to maintain your site over time as new features become available.
One standout for this WordPress theme is its live customizer. You can see how your changes look in real-time as you work with the drag-and-drop page builder. It's a pretty useful feature, too — especially when you're experimenting with custom backgrounds and mega menus, and don't want to lose time flipping back and forth between the preview and the live version.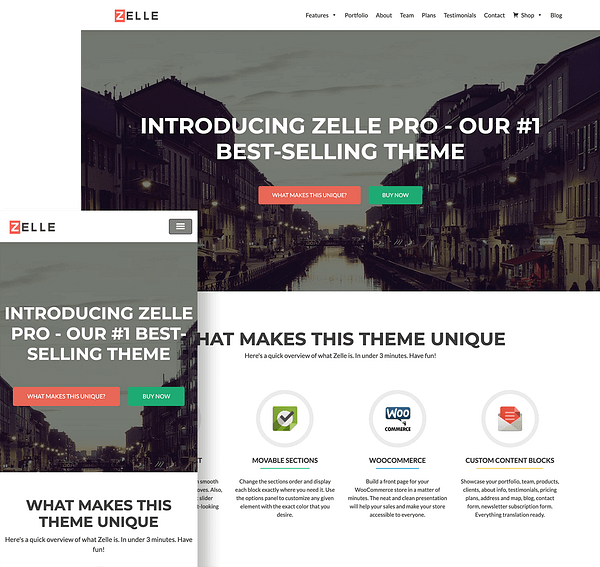 Price: $17
Storm is a popular WordPress themes that comes with a full-screen background image. With Storm, you have some customization options to choose from as there are 25 gallery styles and six different gallery layouts. This makes it the perfect theme for businesses that want to showcase their products or services in a variety of different ways.
However, there's one catch. The makers of Storm caution that to adapt the contact form, it helps to know a little PHP. However, their documentation is so extensive that you'll probably be able to figure it out without any coding experience.
Other features of this theme include transparent content areas, smart background preloading, and a background switcher that controls the background images of all your pages from one, central location.

Price: $59
As the name suggests, this is an ecommerce theme that you can pair with a WooCommerce plugin to create an online store. It has unlimited header styles and four layouts to choose from when designing your product listing pages.
Additionally, while Shopkeeper is intended for ecommerce, that doesn't mean it solely offers ecommerce features. It also comes with a variety of other page-building tools so you can build a complete website for your business.
For example, if you're a writer and want to create a simple blog, this theme has some amazing blog designs to choose from — all of which are extremely unique, fast-loading, and SEO-friendly. Or, if you're a freelancer, you can choose from one of the impressive portfolio designs to create a website that showcases your work in style.
Price: $59
X is a multipurpose WordPress theme that allows you to create any kind of website including one with a full-screen image. This theme is flexible because it uses "stacks," which are sets of multiple designs included in one WordPress theme. There are four stacks available and every stack is updated regularly, so it's like you're getting access to new features and designs all the time.
X also offers two drag-and-drop website builders, the Visual Composer and the Cornerstone. Both are created by the X developer team and are designed for this specific theme, so you won't have to hire a developer to customize your site or make it unique.
X works perfectly with bbPress, BuddyPress, and WooCommerce plugins, so you can use this theme to create an online store and build a community that's loyal to your brand.
Price: $59
Uncode is another multi-purpose WordPress theme that's suitable for most businesses. With this theme, you can import over 70 different demo layouts. And, if paired with Uncode Wireframes plugin, you can import over 400 section templates and create customized landing pages.
Uncode also offers a tool called, "Content Block," which is a feature that's unique from any other theme included on this list. Content Block allows users to create custom sections of content and embed them into different locations on your website.
Worried that there's too many customization options to keep track of?
Uncode helps you manage site building with features like hierarchal theme options and advanced grid systems. These tools help you create a website that looks great no matter which customization options that you go with.
Price: $59
Looking for more than just a full-screen background image? How about one that slides, too?
The Fullpane theme comes with a sliding image section that can slide both horizontally and vertically. And, you can edit the font, colors, and background of each section, creating a unique look for each slide in your gallery.
Fullpane also comes with an assortment of page layouts. For example, there's a portfolio post type, a testimonial post type, and a team post type. Each type of post is responsive, too, so you can trust that every page of your website will look clean regardless of the device you're viewing it on.
Price: $75
One of the best features of the Monstroid WordPress theme is that it uses the Elementor page builder. Elementor is a drag-and-drop page builder that saves users time when creating and customizing webpages. All you need to do is choose the section you'd like to add and drag it into the webpage.
Other features of this theme include WPML and RTL compatibility, pop-up widgets, and SEO-optimized page layouts. Monstroid also has a 24-hour support team, so you can reach out to one of its specialists if you have questions about the theme.
Price: $65
SOHO is a beautiful, full-screen WordPress theme for photo- and video-related websites. It comes with a stunning homepage design that's animated, which not only attracts visitors but keeps them engaged.
This WordPress theme uses a GT3 drag-and-drop page builder that can help you create custom webpages without writing any code. SOHO is automatically coded with HTML5 and CSS3 which makes it a light and SEO-friendly WordPress theme.
Additionally, this theme comes with a one-click demo import feature that makes your site look like the demo theme with just one click. The demo theme loads very quickly and offers you an advanced options panel to help you manage every detail related to your site. Some other pages that it offers are a full-screen contact page, coming soon page, custom 404 page, and more.
Price: $35
TheFox is a multipurpose WordPress theme that offers great all-around features when building your website.
For example, its shortcode generator saves you time by saving shortcodes that are used often when building your website — like Hex codes when picking colors.
There's also CSS animations that you can add to your website with a single click of the mouse. You don't have to have any coding experience to make your content pop off the page and grab your readers' attention.
If you want to customize things even more than what the default features provides, TheFox gives you access to the HTML and CSS stylesheet. You can write, edit, and remove code as needed and build a site tailored to your exact specifications.
Price: $49
Ronneby is another multipurpose WordPress theme that can be customized to your company's specific website needs. There are ecommerce features that can help you build an attractive online store and there's blog and portfolio page options that you can use to educate viewers about your products and services.
Some other notable features include one-click installation, a coding-free interface, and multilingual support. There's also the fully responsive and retina-ready design, 48 styled widgets, an expansive mega menu, and eight pre-made header designs.
Price: $79
Inspiro's background section supports YouTube and Vimeo files, so you can upload a video as a background element and have it play as visitors enter your site. Or, you can add it to a product page and show off how well your product works in action. Whichever route you choose, this video element is a great way to keep visitors engaged with your website and improve your time on page metrics.
This theme also has a responsive layout, an integrated page builder, and a "theme options" panel that allows you to customize every detail of your site. There's also an image gallery module where you can create an organized portfolio for your work and promote your company's core offers.
Price: $23
Massive Dynamic is a popular WordPress theme that has plenty of positive reviews on Theme Forest. It has modern features like the parallax effect and even offers a float animation so you can highlight a particular piece of content. The elements are highly responsive, too, meaning the animations will work even on a mobile device.
When it comes to writing content, there are over 700 Google fonts to choose from with this theme. There are also eight different widgets you can add to a page including an Instagram widget, a subscribe widget, and more. Lastly, this theme has been browser tested, so its features should work regardless of the web browser your customers are using.
Price: $59
Kalium is another full-screen WordPress theme that uses the Elementor page builder. Aside from the content-creating features that Elementor offers, there's also the added benefit of increased page speeds. This theme has 30% less CSS and 75% less Javascript than traditional WordPress themes, making it an extremely light, fast-loading theme.
Other benefits of this theme include free updates, multilingual compatibility for over 18 different languages, and the ability to add breadcrumbs to webpages. Breadcrumbs are secondary navigation features that show where a user has traveled to on your site and makes it easy for them to return to a previous piece of content.
Price: $35
The Gem describes itself as a "multipurpose high-performance" WordPress theme. This means it can be used to build any type of website and the theme is optimized for SEO, so it'll rank well on search engines regardless of how you customize it.
With this theme, there are over 400 different demos to choose from and over 30 unique theme elements that you can add to your pages. You can also make use of the Elementor extensions and add features like fullpage scrollers and custom breakpoints to your website. These elements make your content really pop off the page and improve the user-friendliness of your site.
Price: $59
What makes Jevelin stand out on this list is its contact form. Its contact form uses Contact Form 7, which is a popular WordPress plugin that manages forms and allows you to customize how you track their submissions.
Another notable feature is the slideshow builder, which uses the Slider Revolution plugin that helps you create stunning, high-quality slideshows. These presentations can be embedded directly onto your site and they're optimized for mobile, too, so they'll be responsive regardless of the phone or tablet you're using.
Price: $75/year
Like other themes on this list, Studio 8 offers a variety of features that can help you build an attractive website. For example, it comes with a responsive design, child themes, and unlimited color schemes. There's also the custom social sharing icons, the WooCommerce compatibility, and a shortcode generator. With all of these features present, Studio 8 stands toe-to-toe with any other theme on this list.
One cool feature that Studio 8 offers is the custom logo option. You can upload a custom logo and seamlessly insert it into the theme. While this may seem like a small perk, it can saves you loads of headache down the road when you're trying to match your company's branding with your website's color schemes.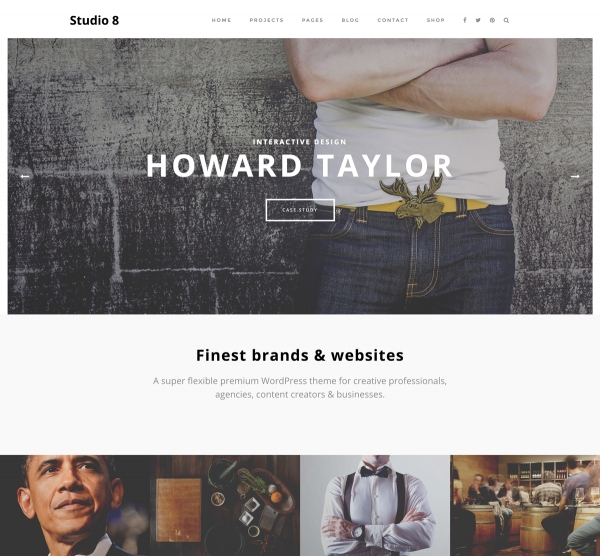 Choosing a Full-Screen WordPress Theme
Some businesses need to showcase their products and services early on in the customer's journey and explain the value they bring to customers. Full-screen website layouts are one of the best ways to focus a viewer's attention on your company's offer because the featured image shows your product or service in action and demonstrates your brand's value. Choose one of the themes on this list and you can get to work building an eye-catching, lead-generating website for your business.
Editor's note: This post was originally published in January 2020 and has been updated for comprehensiveness.