Content locker WordPress plugins are a very effective tool in making your WordPress blog a success — when they're used properly. These tools let you hide some or all of your content and then make it available when your users support you by completing pre-set actions.
Content locking can also increase your social engagement dramatically, which will help your site get a good amount of traffic and rank higher in search results.
The key lies in creating high-quality, valuable content on your site which captures user interest and makes them willing to share your content on social media or join your subscription email list.
In this post, we'll showcase nine of the top content locker WordPress plugins to help you boost user engagement, increase email opt-ins, and drive social sharing.
Top WordPress Social Content Locker Plugins
Content Locker Pro
Bloom Plugin
Opt-In Content Locker for WordPress
Adwork Media Content Locker
Social Video Locker
Optin Monster
Private Content
Super Social Content Locker
Opt-In Panda
One of the best content locker plugins, Content Locker Pro can help you get more shares and likes for your content.
The plugin works with any WordPress theme, so you can take advantage of it right away. If you have basic knowledge of SEO, you know that engagement, bounce rate, and social sharing are some of the most important algorithm parameters, and all of them are taken care of by this plugin quite effectively.
As far as the design is concerned, this plugin offers you 16 different locker design options to choose from, and an advanced options panel to fine-tune it as per your requirement.
One of the best email opt-in plugins for WordPress, Bloom offers you a content locker option as well as some other options to increase your email list. We've also written a detailed review of the Bloom plugin if you're looking for an in-depth review of this tool.
If you're a member of the ElegantThemes club, you'll also get access to this plugin with more than 87 amazing themes, including Divi theme as well as the Monarch social sharing plugin.
Bloom is a comprehensive plugin that will help you increase the number of email subscribers by offering them an easy-to-use and modern interface to subscribe to your email list.
Opt-In Content Locker is a premium content locker WordPress plugin that allows you to lock important content on your WordPress website, and display it for subscribed users only.
You can place the widget anywhere with the provided shortcode, and users will see all of the content at once if they subscribe with their email address. All the saved data can be exported to your email service through a CSV file.
This plugin supports email service providers such as MailChimp, AWeber, GetResponse, contact, Campaign Monitor, Mad Mimi, Benchmark, Sendy, and MyMail.
AdWork not only helps you gate your content, but also helps you monetize your site by accepting more than just email addresses to unlock hidden content. With this plugin, if a user completes a deal or fills out a survey, then they're given access to their desired content.
AdWork allows you to lock eBooks, videos, images, games, coupons, and more, so long as you own the copyright for the content you're trying to lock. The plugin comes with several pre-made designs and templates that you can customize with over 50 different settings.
To install the plugin on your site, you just need to copy and paste a short snippet of code into your HTML and Javascript files. After that, you're gated module should appear over the content on your desired page.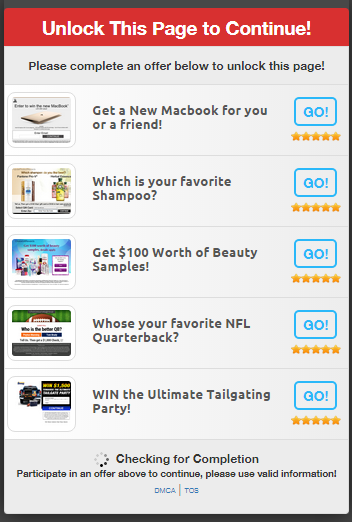 Social video locker is a premium WordPress plugin that allows you to gate compelling video content behind social sharing requirements. The plugin works with both YouTube and Vimeo video links and can also lock short youtu.be links.
Gaining access to any of your videos is simple for users — once they share your content on Facebook, Twitter or LinkedIn, the video of their choice is unlocked.
Social video locker offers 10 overlay patterns with 2 color schemes and uses cookies to keep track of which videos have been unlocked by which users. The caveat? To make best use of Social Video Locker, you'll want to provide at least some accessible video content that showcases why users would want to like and share your videos to gain additional access.
OptinMonster is a massive WordPress plugin suite used by more than a million sites to help grow email lists and monetize content creation.
Along with site creation and optimization, OptinMonster also features a robust content locker solution that allows page administrators to blur or remove content below a specified point on any webpage. This makes it possible to give users a quick snapshot of the compelling content on your site and convince them to opt-in for regular emails or newsletters to gain complete access.
Worth noting? OptinMonster is a premium WordPress plugin with a substantive feature set, meaning you'll want to take the time to watch the demo and get the hang of using this solution before locking down any content.
Private Content shifts the focus of content locking to specific site users. By leveraging unique shortcodes, Private Content lets site owners restrict content access to users based on their roles.
For example, Authors can be granted access only to content they've created, while those in Editor roles can be given complete visibility.
This open-source content management plugin is simple to install, straightforward to use, and free to download.
The Super Social Content Locker is all about providing access to website content once users share links to your site on the social media platform of their choice.
As a premium plugin, the Super Social Content Locker offers unlimited locker building along with MailChimp integration, email CSV export functionality, and free 24/7 support via an online portal.
Opt-In Panda hides content on your page by blurring it or covering it with a customizable widget. To unlock, users will need to submit their email address to your mailing list — thus growing your mailing list as well as your contact base.
Once visitors submit their email, you can initiate marketing campaigns using Opt-In Panda's integrations with MailChimp, Aweber, and GetResponse.
If you really want to target high-quality leads, you can make use of Opt-In Panda's double and quick email confirmation features. These features ensure that when users submit their email, they're submitting real email addresses and are actually interested in viewing your content. That way, you don't receive countless fake emails and contacts just so visitors can access your gated content.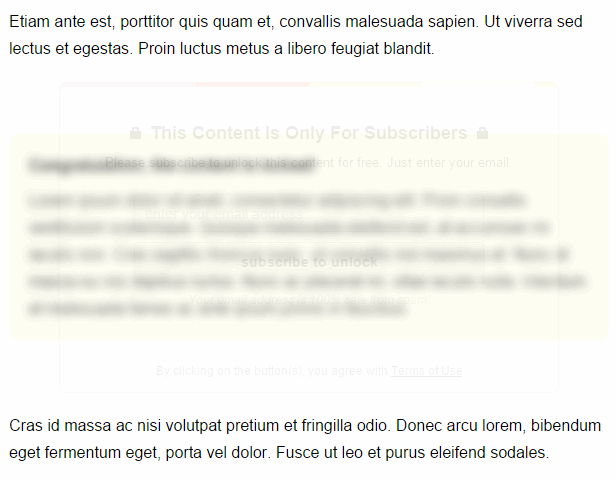 Choosing the Right Content Locker WordPress Plugin
WordPress content locker plugins can play a critical role in your success by increasing your social sharing number, traffic, and domain authority.
The caveat? You need great content to make the most of a content locker plugin. If your blog offers timely insight and information, visitors are more likely to sign up for emails, newsletters, or special offers that will unlock your premium content — and will be more inclined to share it online.
Editor's note: This post was originally published in January 2020 and has been updated for comprehensiveness.